Pattern: 🌕🌕🌕🌕🌑 (4/5)
Completed Garment: 🌕🌕🌕🌕🌑 (4/5)
Size: 4
Overall:

2021年這件露背在網路上非常流行
大家一直在做這件讓我也很想跟著做一件
剛好去年也很流行從印度網購布料
我就跟著也買了好幾碼的布
這塊是棉布,有白色刺繡類的花紋
我覺得很適合這個版型
我給洋裝做了一些修改
把 dart 裁掉然後從兩邊剪掉1.5寸
最後肩帶剪掉1.5寸
今年夏天去 Las Vegas 熱到爆
穿這件洋裝非常適合!
I am very weak to the powers of social media and influencers, which is the reason I no longer use Instagram. However, for a brief period last year when I was in my post grad school and no job limbo, I found myself back on Instagram perusing the crafting the internet. For a brief period, it seemed like everyone was making the Hallon dress by Paradise Patterns. I, too, wanted to be wrapped in a swath of flowy fabric looking like a resort-going bougie millennial, which I am 100% not.
Either way, I kept trying to talk myself out of buying the pattern, but I am weak-willed. I found some cheap fabric and then there was a pattern sale and the rest is history.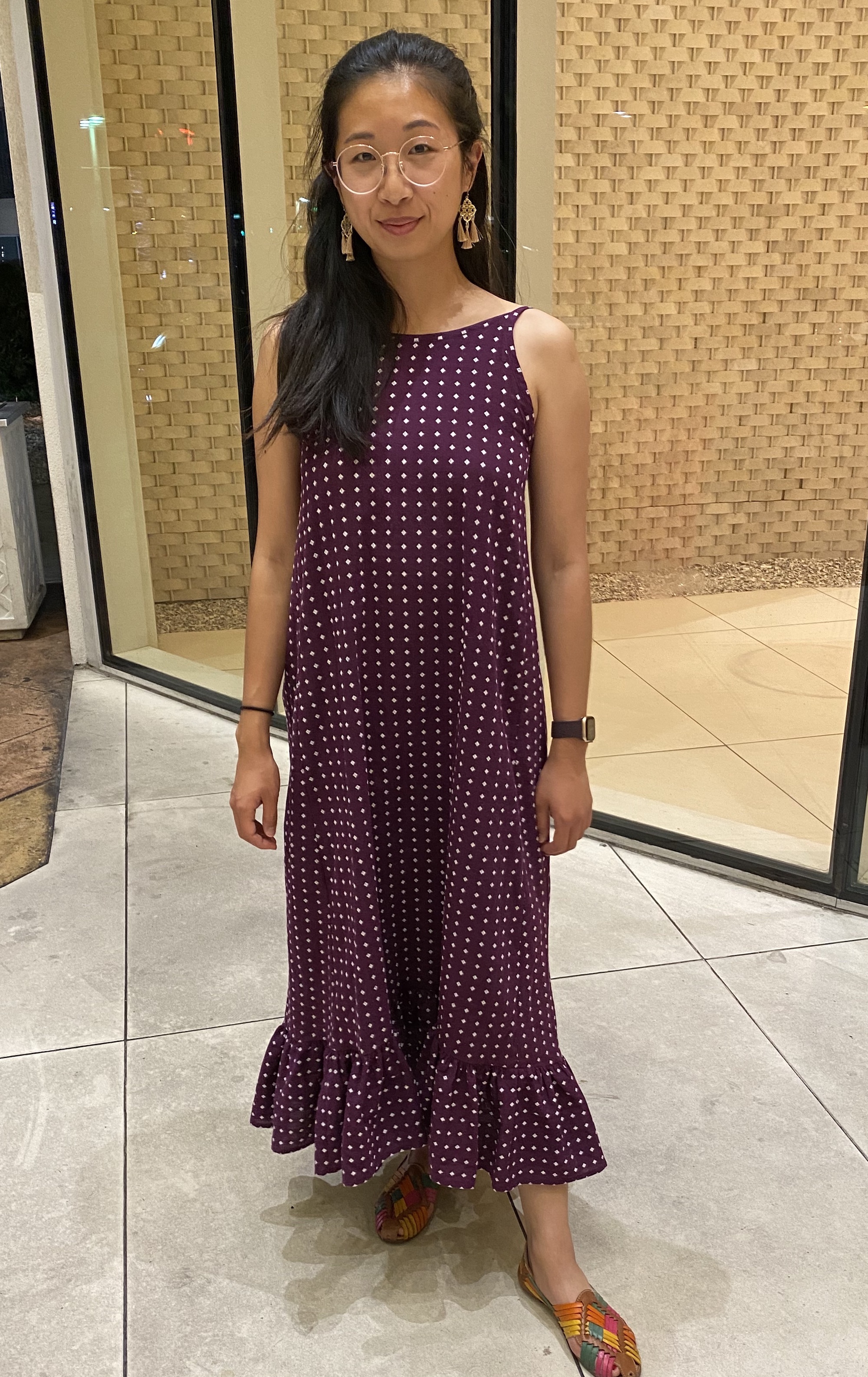 Fabric
During this same period of Instagram usage, everyone on sewing Instagram was buying fabric from India, namely two stores, Itokri and FabricLore. Finally, early December last year, I decided to also give it a shot at ordering some fabric from Itokri. Most of the fabric on Itokri is less than $5/meter. I ended up picking 4 fabrics and ordered a total of 10.5 meters of fabric, which with shipping ended up at around $70.
I ordered 3.5 meters of this wine red/purple fabric with the goal of making the Hallon dress. This fabric is a cotton with running stitches that form the little diamonds throughout. The fabric was pretty narrow, so the bottom ruffle band I had to cut crossgrain in orer to fit everything. Otherwise, I'm pretty pleased with my choice of fabric for this project.
Construction
I cut a size 4 as per my measurements and shortened the entire dress by 2", removing 1" from the main part of the dress and 1" from the ruffles. After binding the neck and back but before adding the straps, I sewed on some ribbons to test the fit made the following changes:
Removed darts, which I decided was unnecessary for this dress.
Took in 1.5" from seams, resulting in 3" removed in total.
Shortened straps by 1.5".
Making the gathers in the back even was a pain and despite my best effort, I think it's still a bit lopsided. And then gathering the panels for the bottom ruffles – oh my god. It took FOREVER.
The dress felt way too big before the adjustments I made and basically swallowed me whole. The changes made the dress more proportional for my body. After finishing the dress, I didn't love how shape of the straps and armhole looked. I didn't love how the front body near the straps sort of narrow in and then back out into the armpits. I don't mind it so much anymore, but I think in future versions of the dress, I'd want to adjust that.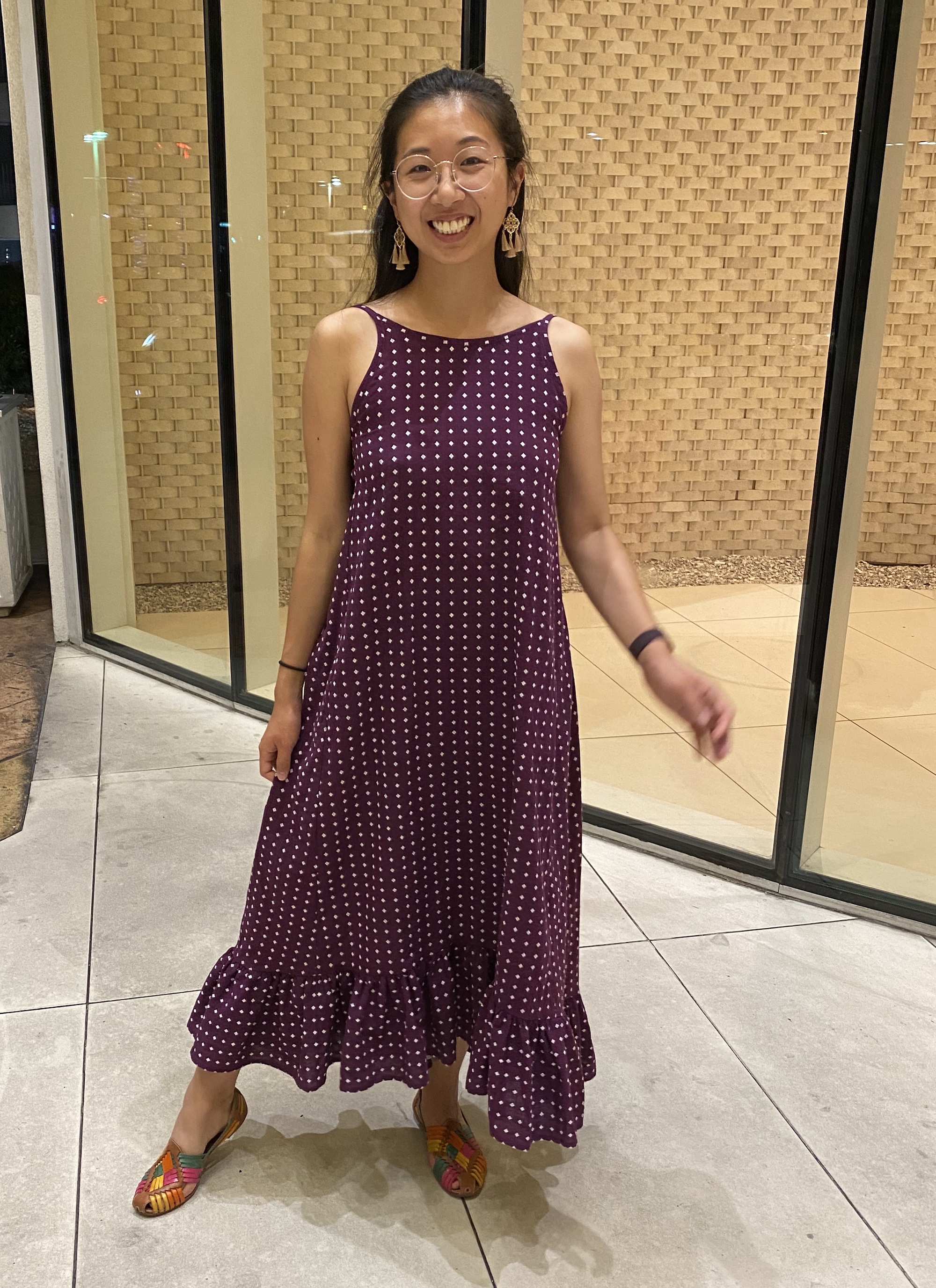 Summary
This is a great summer vacation dress! I wore it in the hundred degree weather back in July. I wore it to watch the US open at the end of August. I've also worn it to various hangout with friends. The only downside of this dress is the lack of pockets. Seems like even though I'm not a bougie resort-going millennial yet, this dress might bring me there.
Start date: April 19, 2022
Finish date: June 5,
Pattern: Hallon Dress from Paradise Patterns ($9)
Fabric: Cotton from Itokri (about $15)