Top Pattern: 🌕🌕🌕🌑🌑 (3/5)
Completed Top: 🌕🌕🌕🌕🌕 (5/5)
Size: small
Skirt Pattern: 🌕🌕🌕🌑🌑 (3/5)
Completed Skirt: 🌕🌕🌕🌕🌑 (4/5)
Size: 10
Overall:

原來 2020 年要跟匹茲堡 salsa 的朋友一起去一個 salsa congress
因為 COVID,活動被取消然後延後,今年終於舉辦了
每天晚上的派對有不同的主題
禮拜六的主題是動物圖案
剛好我去年亂買布的時候買了一個 subtle 的動物圖案布
所以決定做一套衣服去參加派對
平常做東西,做到無聊或者是出了問題,常常就會把 project 丟到一邊
因為這次的 project 是要穿去一個活動,衣服非得要做出來
遇到問題的時候只好堅持下去
Fabric
This outfit is ALL ABOUT the fabric.
I had purchased this fabric as part of a Fabric Mart order in November, along with the ugly cotton twill that I made the Olya Shirt with. I have never in my life ever thought that I would wear animal print. However, the fabric a) was inexpensive and b) had a very subtle black-on-black animal print that I thought it would maybe make a cute little cocktail dress of some sort.
When the fabric arrived, I was shocked by how plastic-y the taffeta felt. Not knowing what to do with it, I just cast it aside and moved on to the rest of my ever growing fabric stash.
Then, in March, as I planned to attend a salsa congress with some friends, I found out that one of the party themes was animal print. Seemed like the perfect opportunity to use this fabric!
The next step was figuring out what to make with this plastic-y fabric. I googled "taffeta dress" but everything that popped up was those ugly 90's/00's taffeta prom dresses. I started looking up "taffeta" in all the higher end retailers instead and found a lot of ruched items and decided to go for a crop top of some sort with a ruched skirt. Some of the taffeta items that I found that I liked: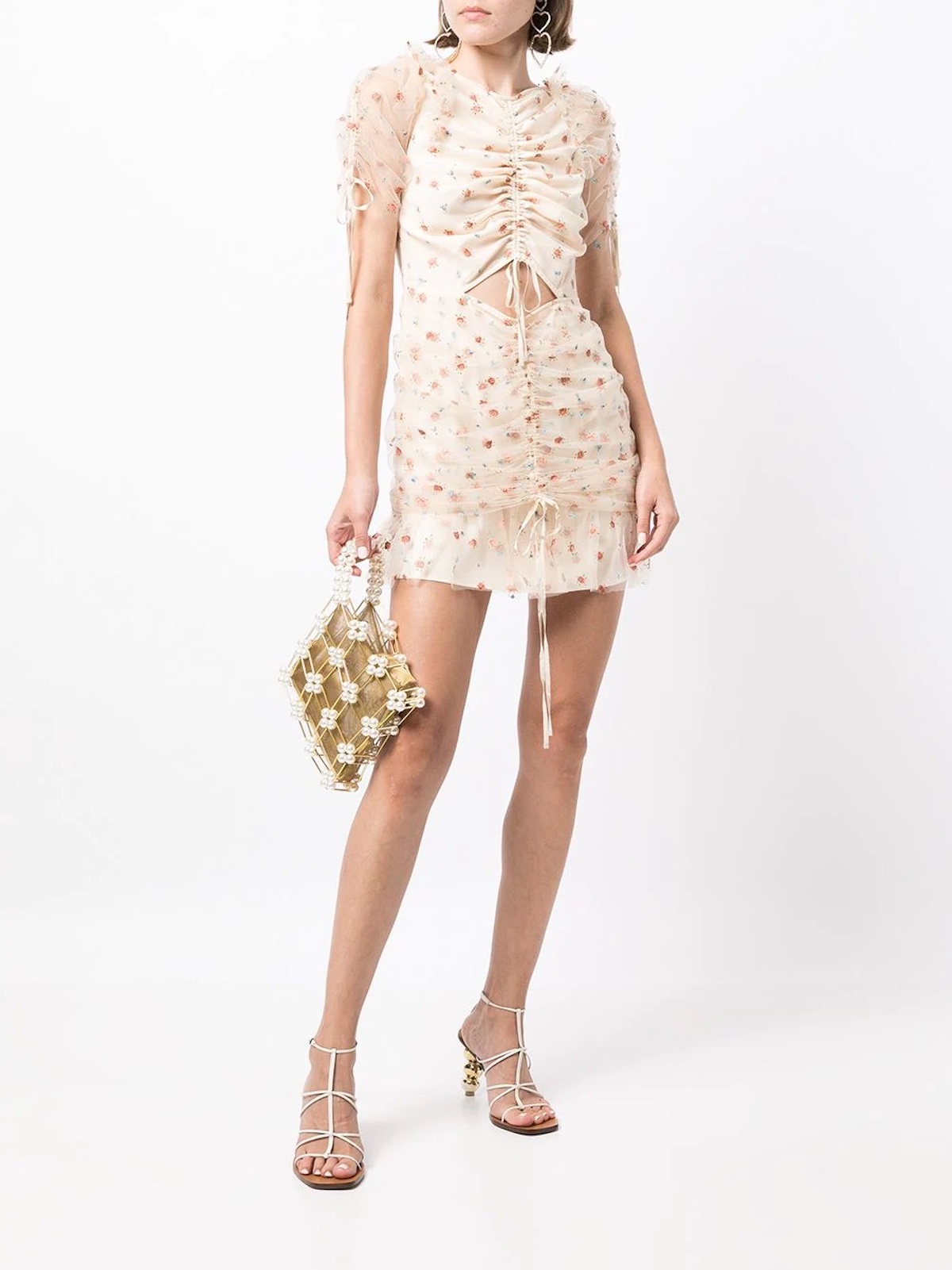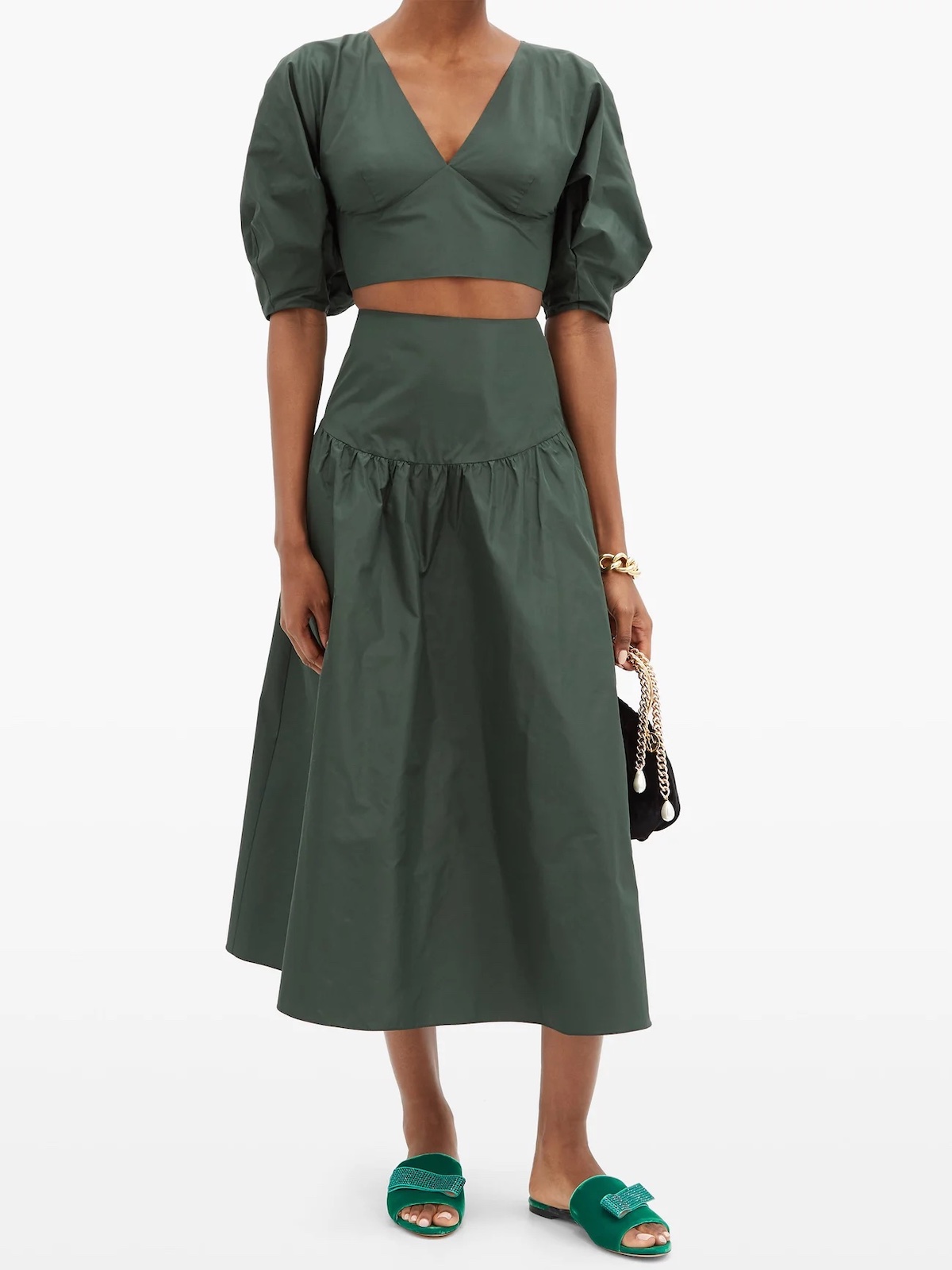 Pattern
For the top, I went with the Elliot Top by Cool Stitches, mainly because the pattern is free. For the skirt, I started with looking up some instructions for making a ruche front skirt. I came across these instructions and used that as a guide to sift through my pattern stash to find a darted straight skirt to use as the base pattern. I ended up going with Vogue 8766.
Let's start with the top. The Elliot Top pattern is free and has a video tutorial on youtube. The markings on the pattern weren't the best (as in there are no notches or markings other than the dart), but also it's free and it turned out pretty cute so it's whatever.
Vogue 8766 is a pattern that I have from attempting to take a Craftsy course, Sew the Perfect Fit. I had cut out the pattern pieces for the course but never got to the part where I actually sewed up a muslin. Will I ever do it? As much as I would like to, it's unlikely at this point. At the very least, the pattern has come in handy for this outfit!
Construction
First of all, it's incredible how fast I made this outfit. Normally, I will start something, get annoyed when something goes wrong. Sometimes, I get stuck because I'm missing a notion. Or a step seems tricky and I don't want to attempt it. Or I just get distracted and want to work on something else. With a two week deadline, I had to make it work! This outfit required a lot of problem solving and decisive action that I don't typically use outside of my work life.
I cut out the pieces for the Elliot top the first weekend of April and sewed the darts and seams. I hemmed the neckline and set it aside.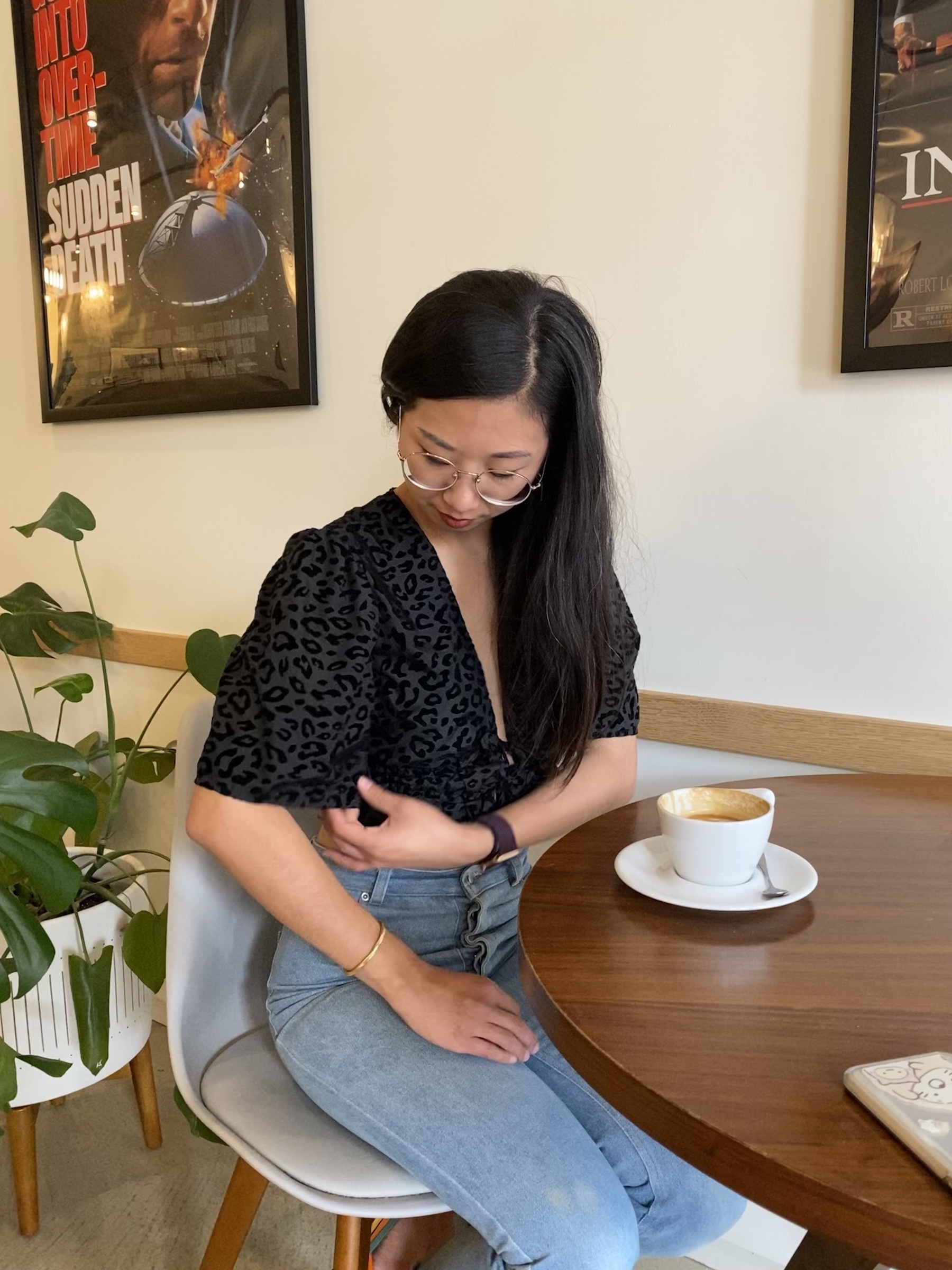 Then, during the week after work, I sewed the sleeves on. I skipped the gathered detail in the sleeves mostly because I was lazy. In addition to finishing the main parts of the top, I also followed the Thread ruching instructions to alter the skirt front pieces for the ruching detail. I didn't want the rounded edges in the tutorial so I just left the edges square.
During the second weekend of April, I cut and sewed the skirt. After trying on the skirt, I decided that the straight slit looked a bit wonky, so I took a triangle out on either side of the slit so that the slit sat properly.
At this point, I had a mostly completed outfit that had a lot of little finishing bits. I did the most important thing, which is try on my outfit and attempt to dance in it! I used some clips to keep the skirt zipper portion closed and tied a ribbon around the shirt, which was supposed to have ties inside a channel. I put on some music and did some dancing in my apartment and thankfully the outfit was danceable! I had been a little worried about whether I would be able to lift my arms in the shirt but the Elliot top is drafted with a small armscye and a nice big sleeve so I was able to move my arms in all directions.
Completely unrelated, but I then had to go on a work trip, which meant that my Monday night was gone! I flew back home on Tuesday and spent Tuesday night installing the invisible zipper and facing for the skirt. I followed these instructions to draft the facing and install the facing.
Finally, on Wednesday night, the night before the flight to the salsa congress, I was just TOO TIRED. The only thing I had left to do was install the ties for the top but it just seemed like too much. At 7 pm, I decided that I had a skirt and a little jacket. That was good enough for the animal print party.
But it just didn't seem right! I needed the full outfit! When else was I going to have the perfect opportunity for this animal print outfit? I sat down at the sewing machine at 8 pm and made the ties for the top and sewed on the channeling.
And voila!! I had my perfect animal print outfit, which I unfortunately only managed to get mirror selfies of during the salsa congress.
Summary
Start date: April 3, 2022
Finish date: April 13, 2022
Pattern: Cool Stitch Elliot Top & Vogue 8766
Fabric: Leopard Print Taffeta from Fabricmart Fabrics ($5.25/yd)
I cannot even begin to express how thrilled I am with this project. I had to actually perservere and finish this project, even when things didn't look right or I was puzzled as to how to do a certain step. I had to make it work! It's funny because as I type this, I have 3 projects in the "doesn't fit right" or "the next step is a pain" stage that I've basically tossed to the side. I haven't yet had an opportunity to wear the skirt out but I have successfully worn the top multiple times, including last weekend when I travelled back to Pittsburgh for my graduation. All in all, this project was a big success in my books!