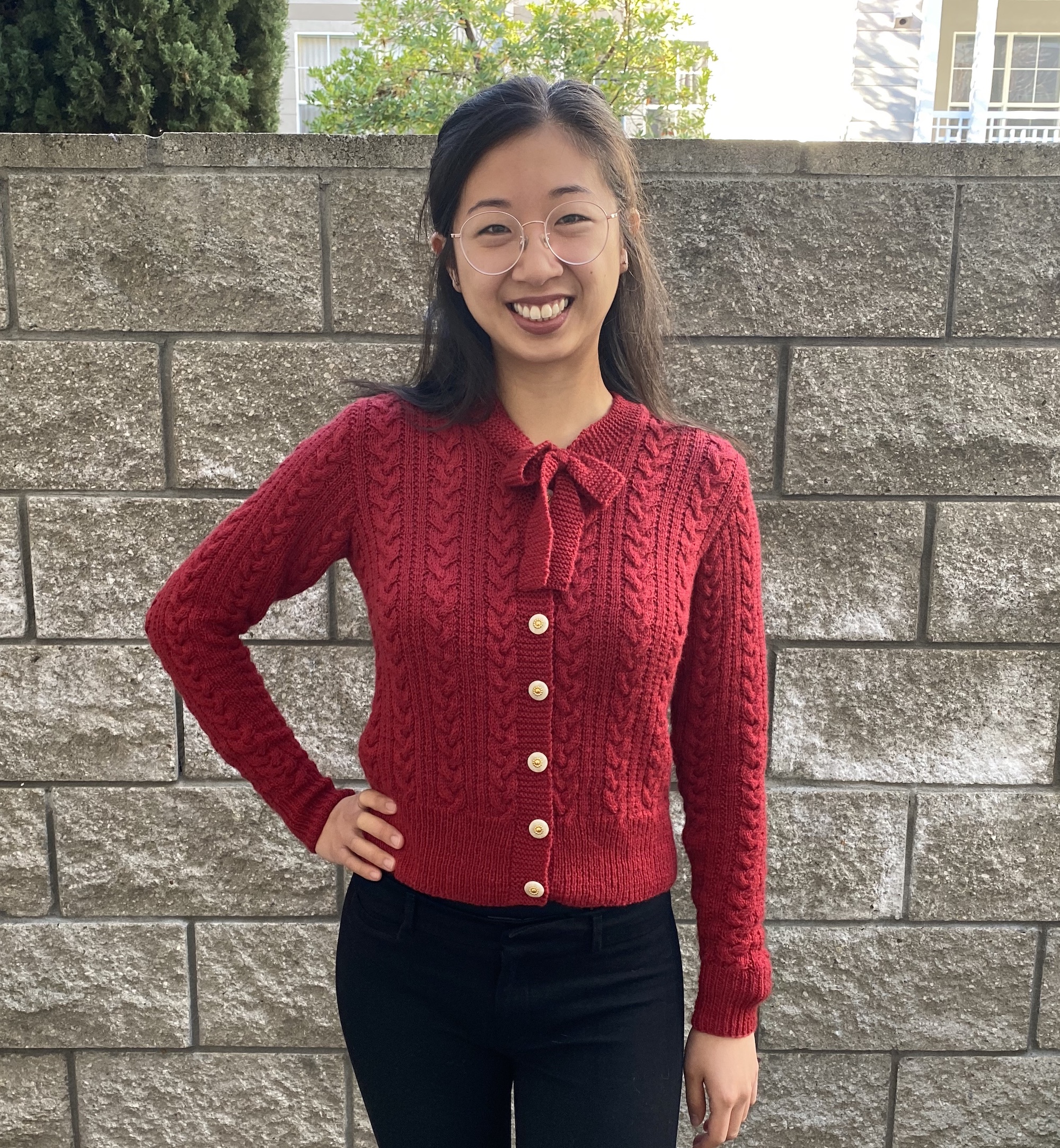 新年穿新衣!今年的新衣是這件麻花毛衣
我竟然完成了這件毛衣,實在是太不可思議了
這件毛衣是一個 大工程
先把後面一片打完,再做前面兩片,袖子兩片,最後做領子蝴蝶結的帶子
每一片打完以後,再一片一片縫起來
最後還要選扣子然後把扣子縫上
從頭到尾這件毛衣花了一年的時間!
I meant to post this sweater during Chinese New Years but too busy with work and whatnot. I'm a couple weeks out from the official New Years season but happy year of the tiger! A new year always calls for new clothes and this year, it's my Tri-Cable Stitch Jumper.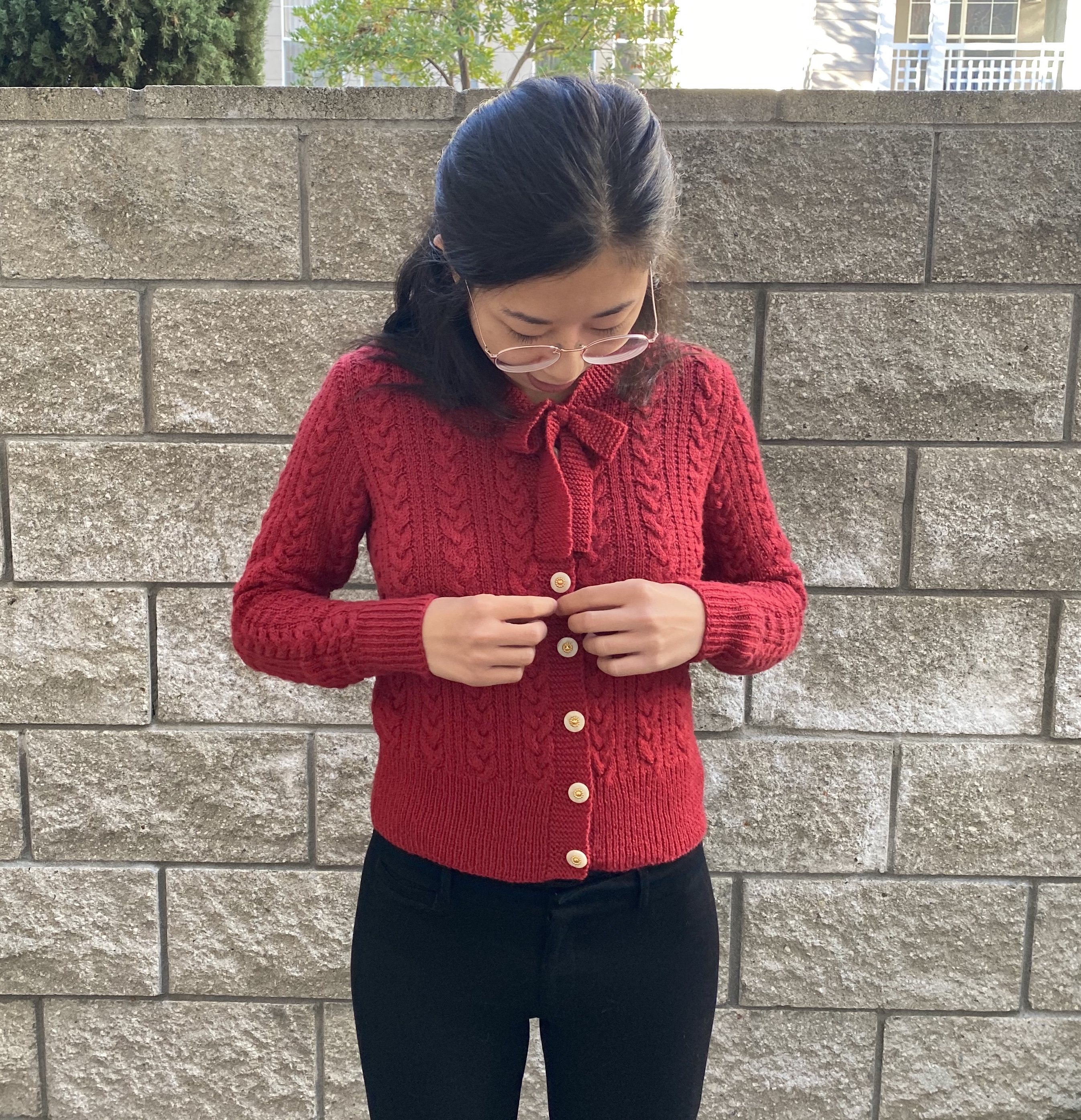 I first saw this sweater on this video on The Crimson Stitchery back in the end of 2020 when I was quarantining at home in Taiwan. Anushka was showing her progress of her tri-cable sweater, which was this vibrant chartreuse color and I was OBSESSED. For most of the end of 2020/early 2021, I was trying to talk myself out of starting this sweater. At that point I had just finished knitting the mom and me throwback sweaters and was planning on doing some easy projects. But who wants to knit something easy? Not me!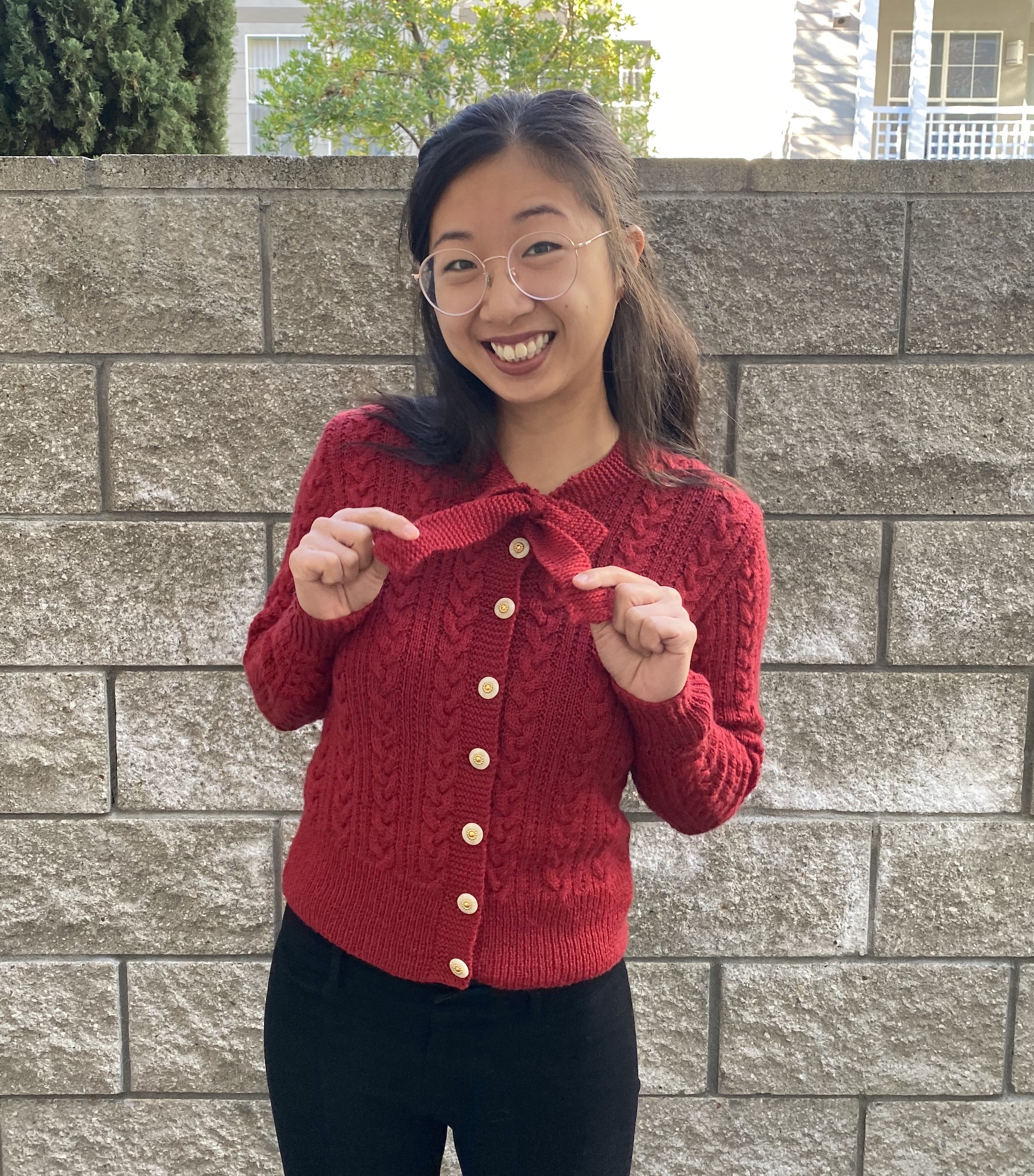 Yarn + Swatching
I really wanted to knit something red. Since I started knitting in 2017, I have knit a bunch of blue things but I've since realized that I don't even like wearing blue! Anyway, I found this yarn on sale at WEBS/yarn.com and bought it. The whole time I was knitting this cardigan, I felt like this was quite the red I wanted but I figured that it would be fine once it was knit up and I was right! The color kinda mellowed out just a tinyyyy bit after blocking which made it perfect.
According to my very haphazard notes, I made three swatches. The first swatch I made using the recommended needle size, which is size 5. I washed and blocked the swatch and the gauge was too lose. I think I then knit a second swatch using one needle down, unravelling swatch #1, but then I wasn't sure if having washed the yarn would change its properties. So finally I knit swatch number 3 using new yarn but the same as swatch #2 (also with size 4 needles) and decided that the size 4 needles were good.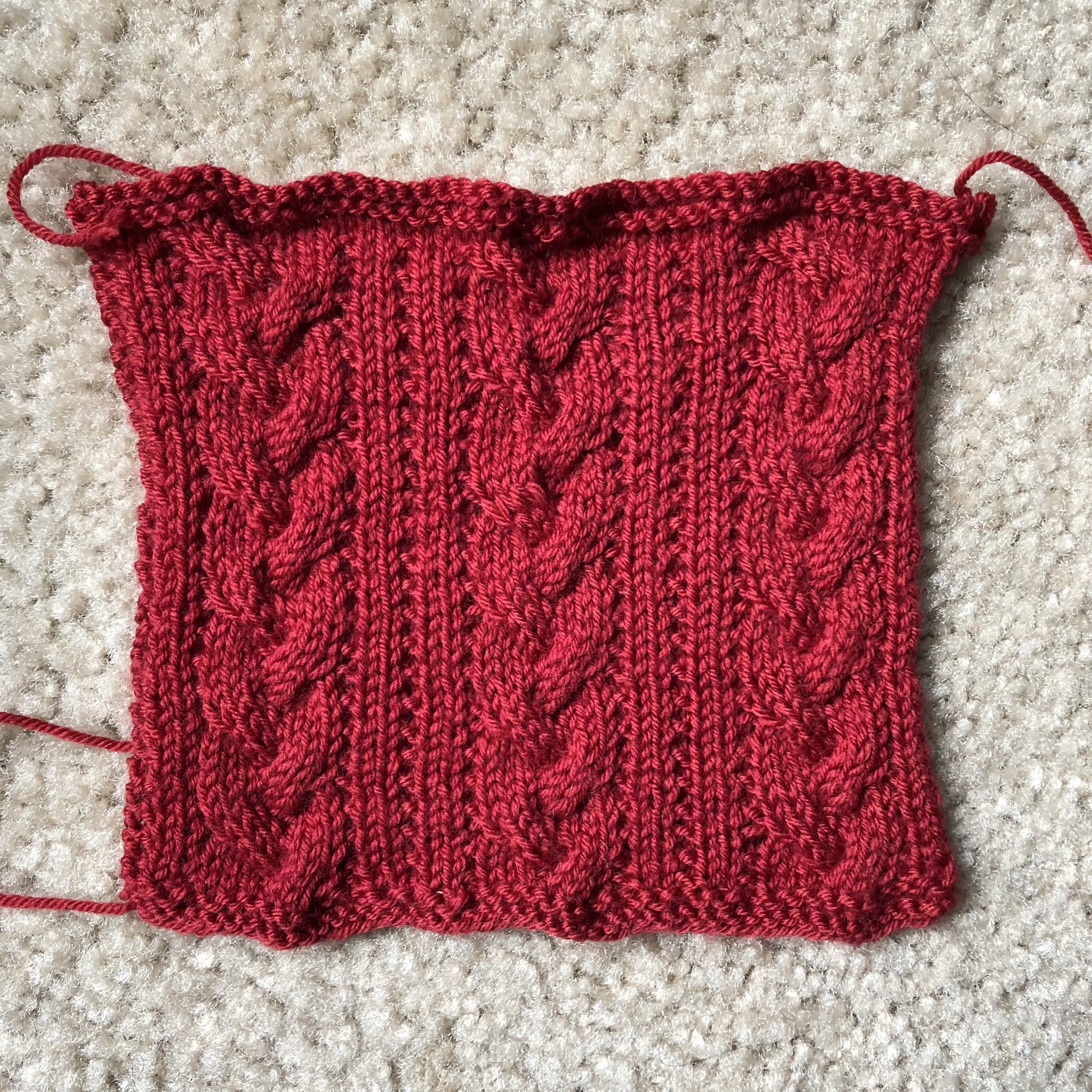 Oh, the other thing I noticed about this yarn, not sure cuz if it's superwash, but when I made it wet it grew a ton. It was so big I couldn't even try to shape it when I was blocking it. But it shrank back nicely to the perfect size after it air dried. Yay!
Knitting
This cardigan was knit in pieces and seamed. This was my first time knitting a garment flat and then seaming. I knit the fronts and the sleeves two at a time because I was worried that if I didn't, I would end up with the two halves being completely different tension-wise. This was definitely the right decision.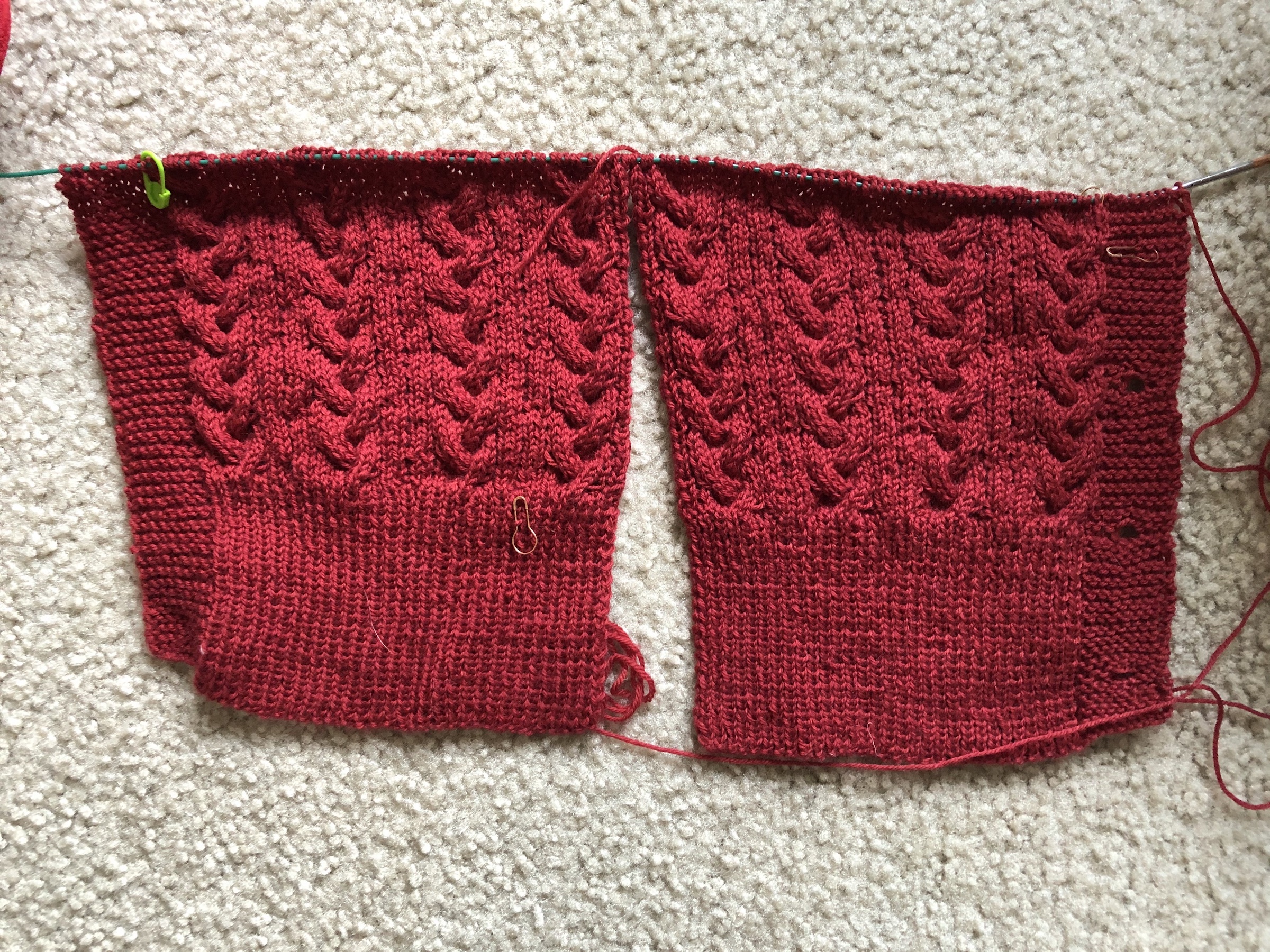 Here are the notes I have from this knitting process:
1/29 - CO 128 st. Sz 2 needles for ribbing.
1/27 - finished back piece
End of march - cast on front
4/6 - ripped back ~ 8 rows to add buttonholes, ugh (see pic below)
4/24 - realized that I forgot to shape neck. Need to rip back 24 or so rows
4/29 - cast on sleeves
8/3 - finished sleeves (at Andresa's); cast on neck tie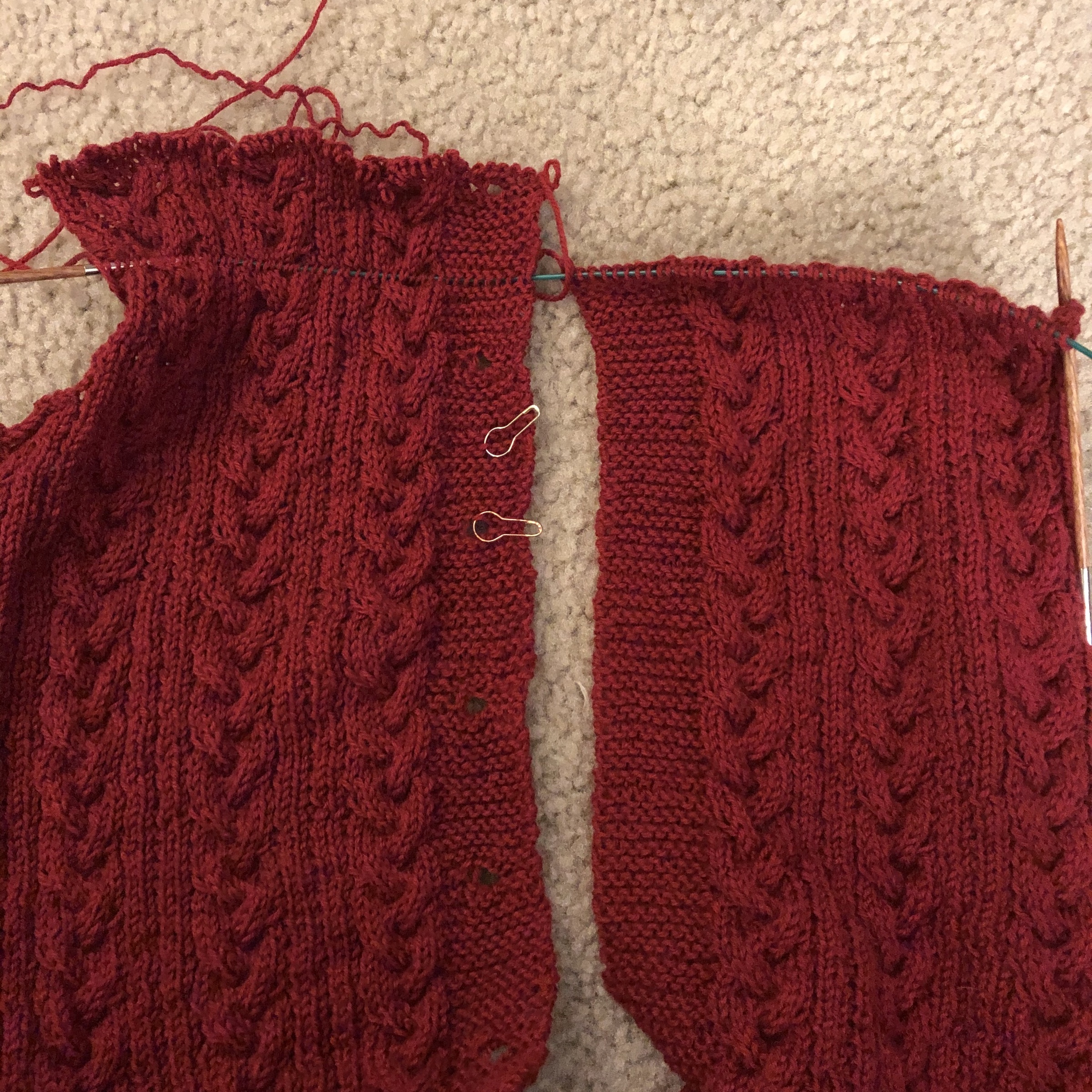 Knitting this many cables was a lot. I still can't believe I completed this crazy project. I missed a ton of cables and would end up dropping stitches down to fix it. Amazingly, there was only one cable I missed that was too late to fix. I had already casted off those stitches by the time I noticed and since it was in the underarm, I decided it wasn't worth fixing. Can you find the cable I missed in the pic below?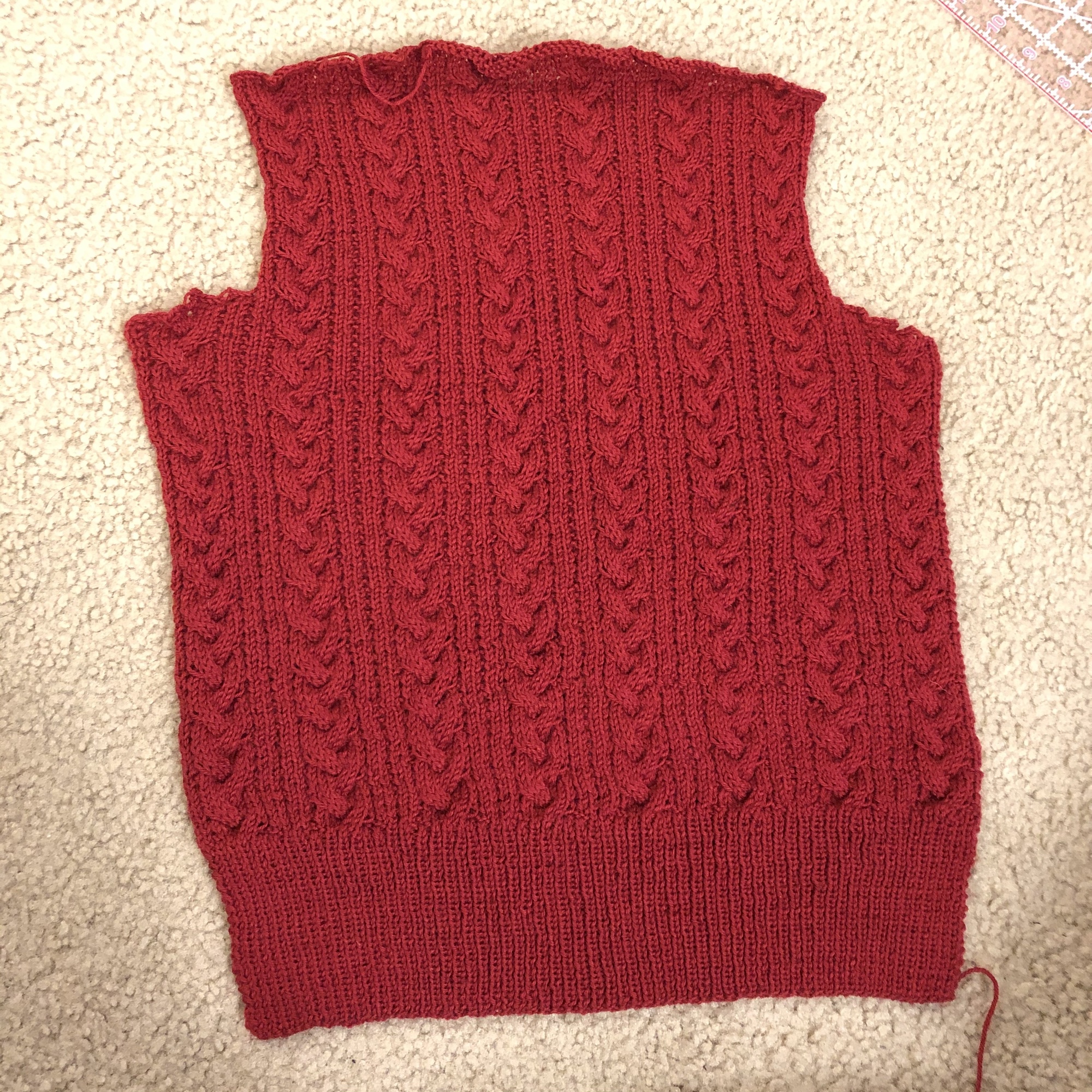 Finishing
I started seaming the pieces in October, after having the project sit in a project month, during which time I moved across the country and started a new job. Seaming was painful! I don't know that I'll doing a flat project for a while. Or a cable project, since fixing cables was also really painful.
late Oct - sewed shoulder seams
while in LA in Dec - connected sleeves to body
1/14 - finished sewing on the neck band!! only buttons and weaving in the ends left!!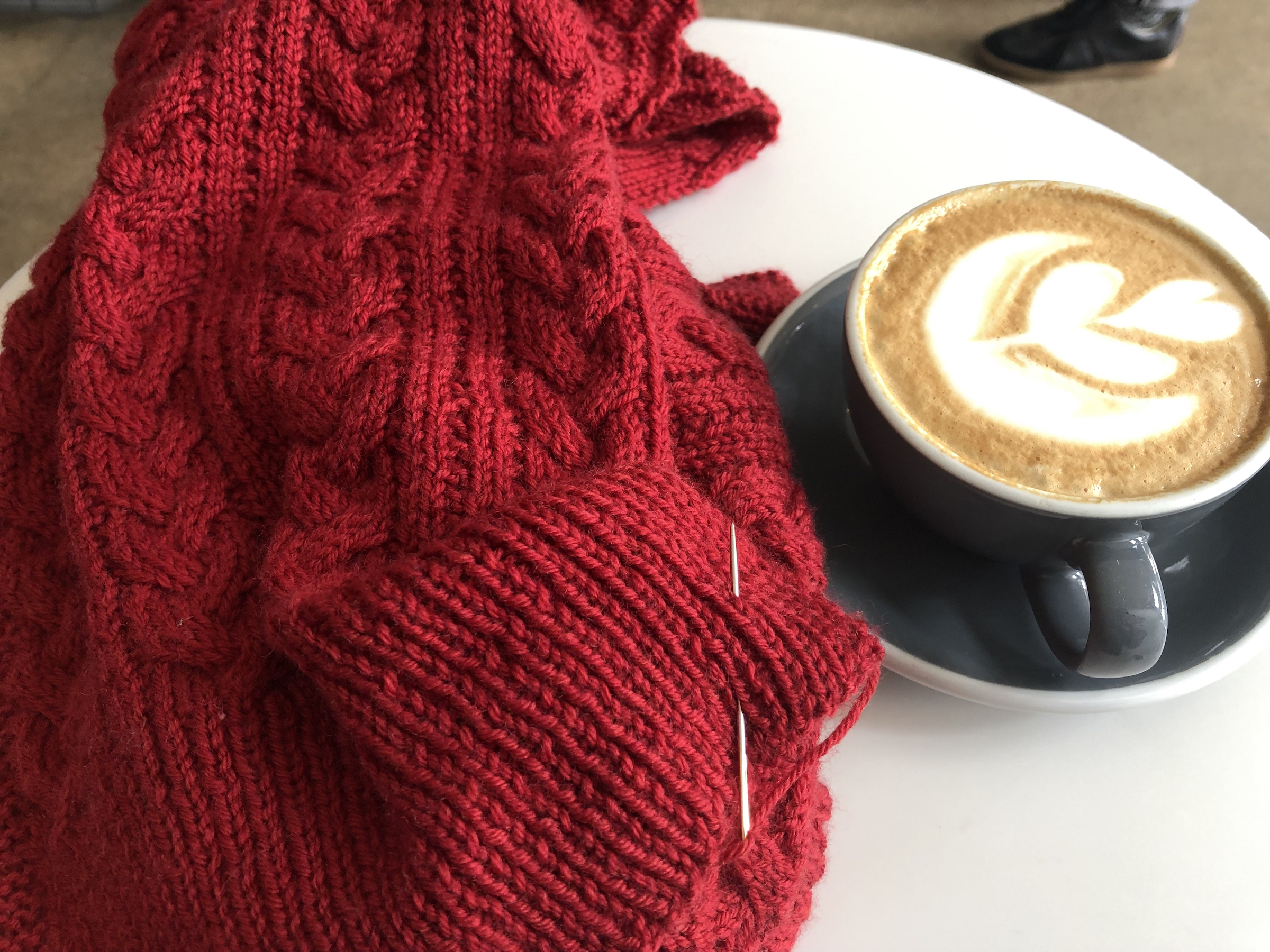 I was a bit worried as I was seaming that the sleeves would be too long. Every time I put on the partially seamed cardigan with the sleeves hanging open it seemed like the sleeves looked a little balloon-y. I guess it was just gravity pulling the sleeve down because after I finished closing up the sleeves, the length was perfect! Yay!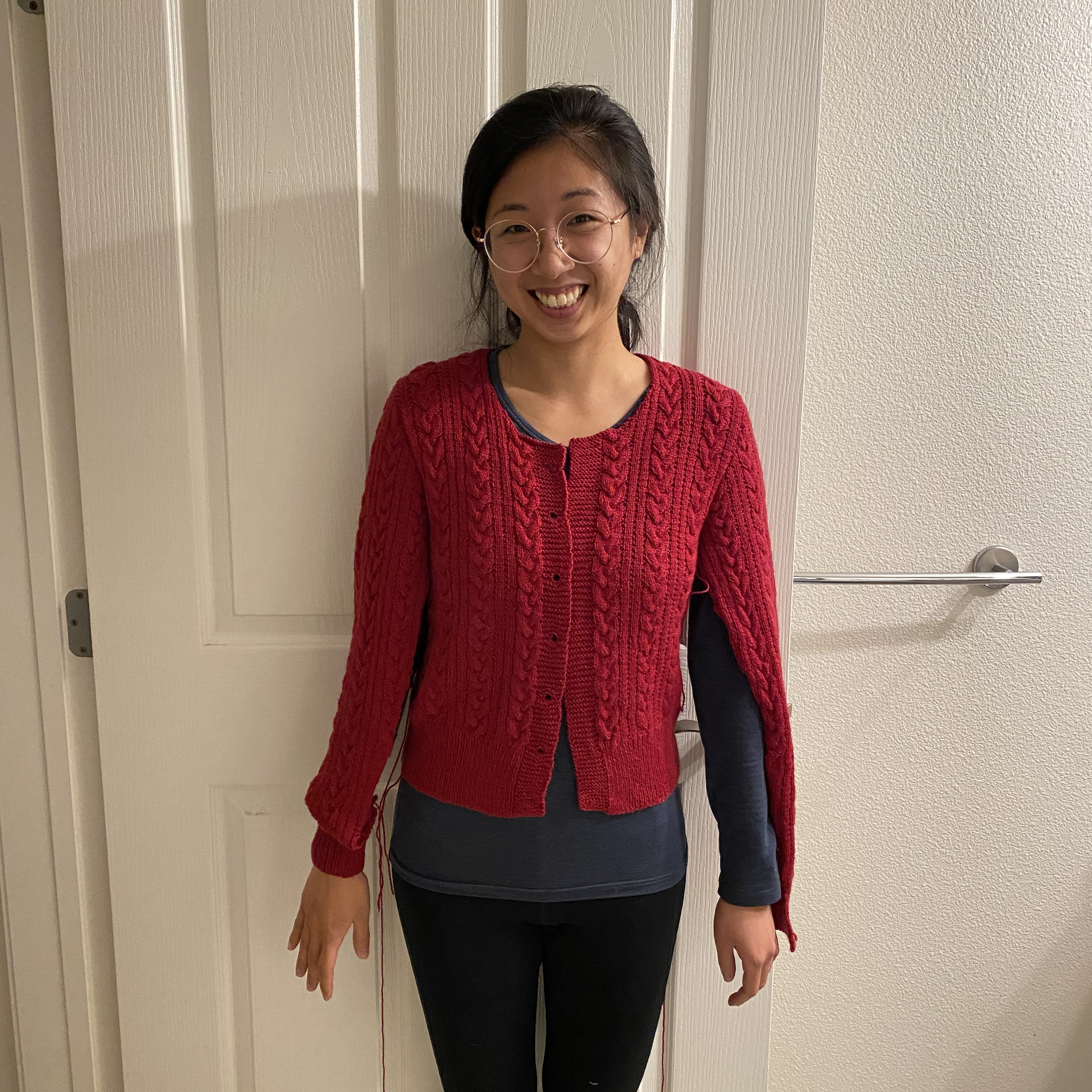 The last thing with finishing the cardigan – BUTTONS! I tried looking for buttons in the fashion district in LA but didn't find any button area. Then, I stumbled upon a picture someone had posted on insta (during my brief return to using insta) and saw that Stonemountain & Daughter Fabrics had a button wall. Eric and I went there to pick up buttons for his birthday outfit and get buttons for my cardigan. The staff at Stonemountain & Daughter were SUPER helpful and helped me look through basically their entire button wall for an option. These are some of the ones I was looking at and decided to buy the plain white buttons.
AND THEN, I went home and kept seaming and I just kept looking at the white buttons and thinking these are not it! First of all, they seemed too small, like they would just fall right out of the buttonholes. So then I planned another trip to Berkeley to hang out with my college roommate who lives in the area, but really for the purposes of exchanging the buttons.
Definitely the right choice because I love these bougie looking buttons. I absolutely love them and it's super extra and exactly what a New Years cardigan should be!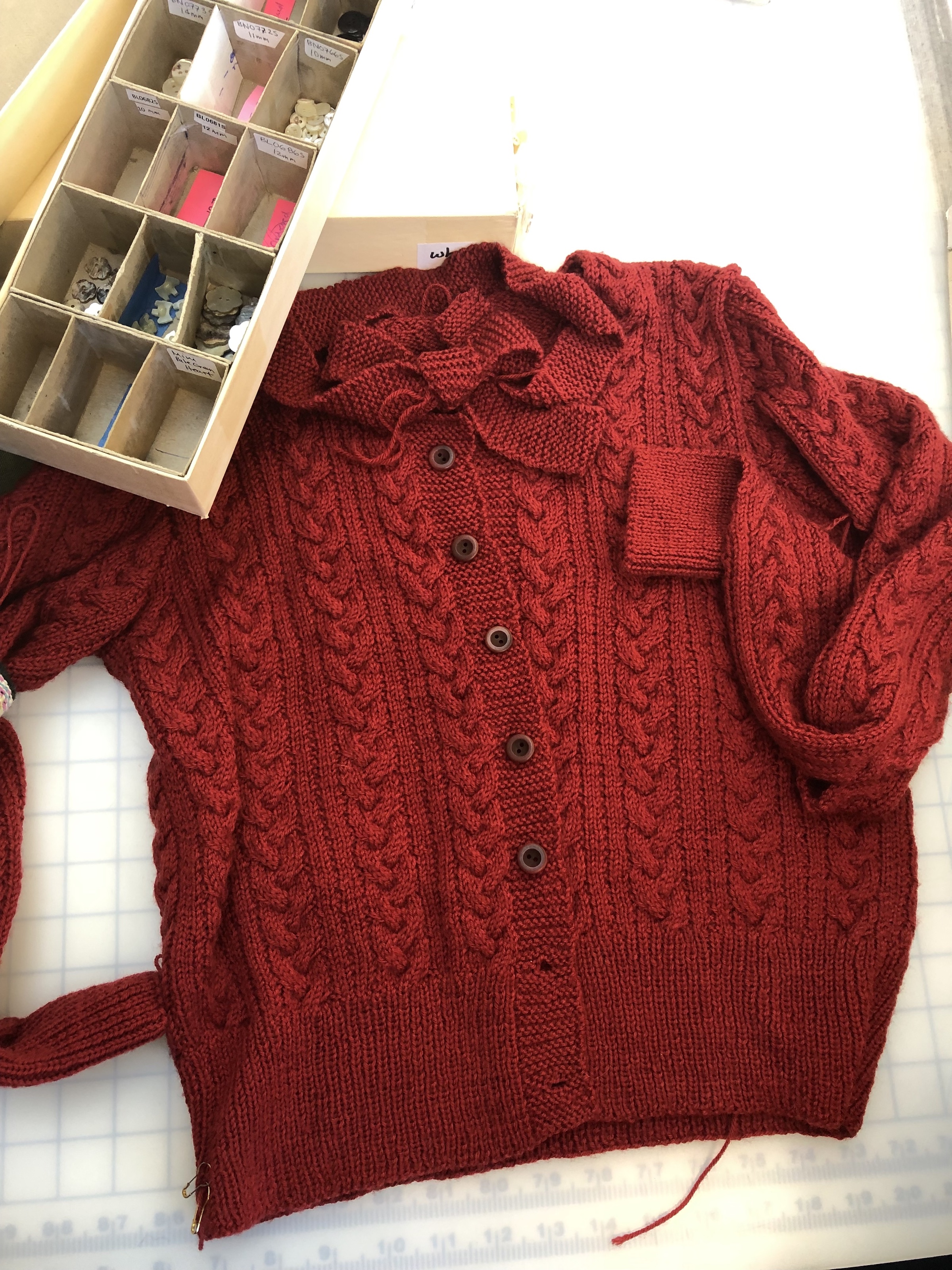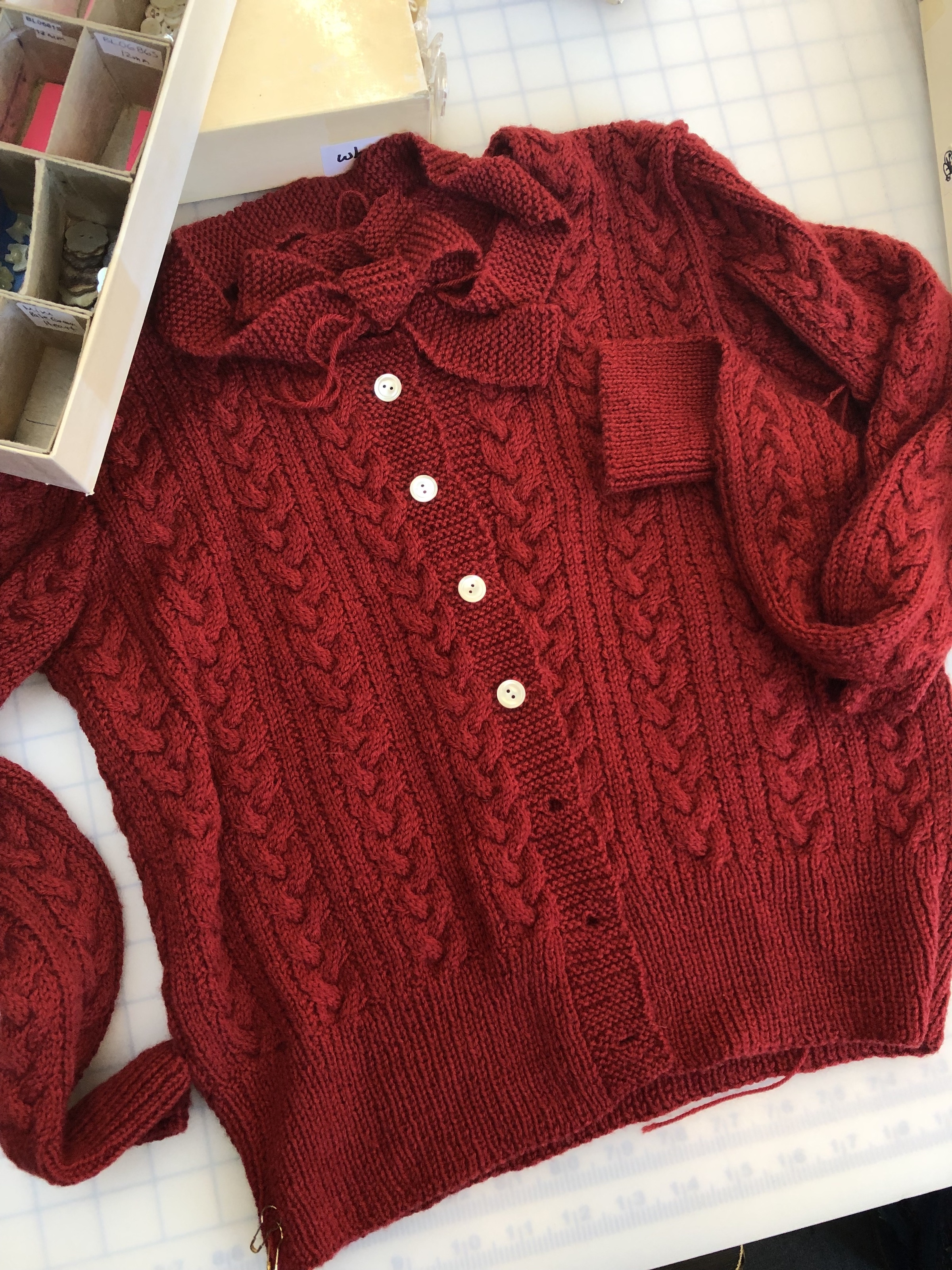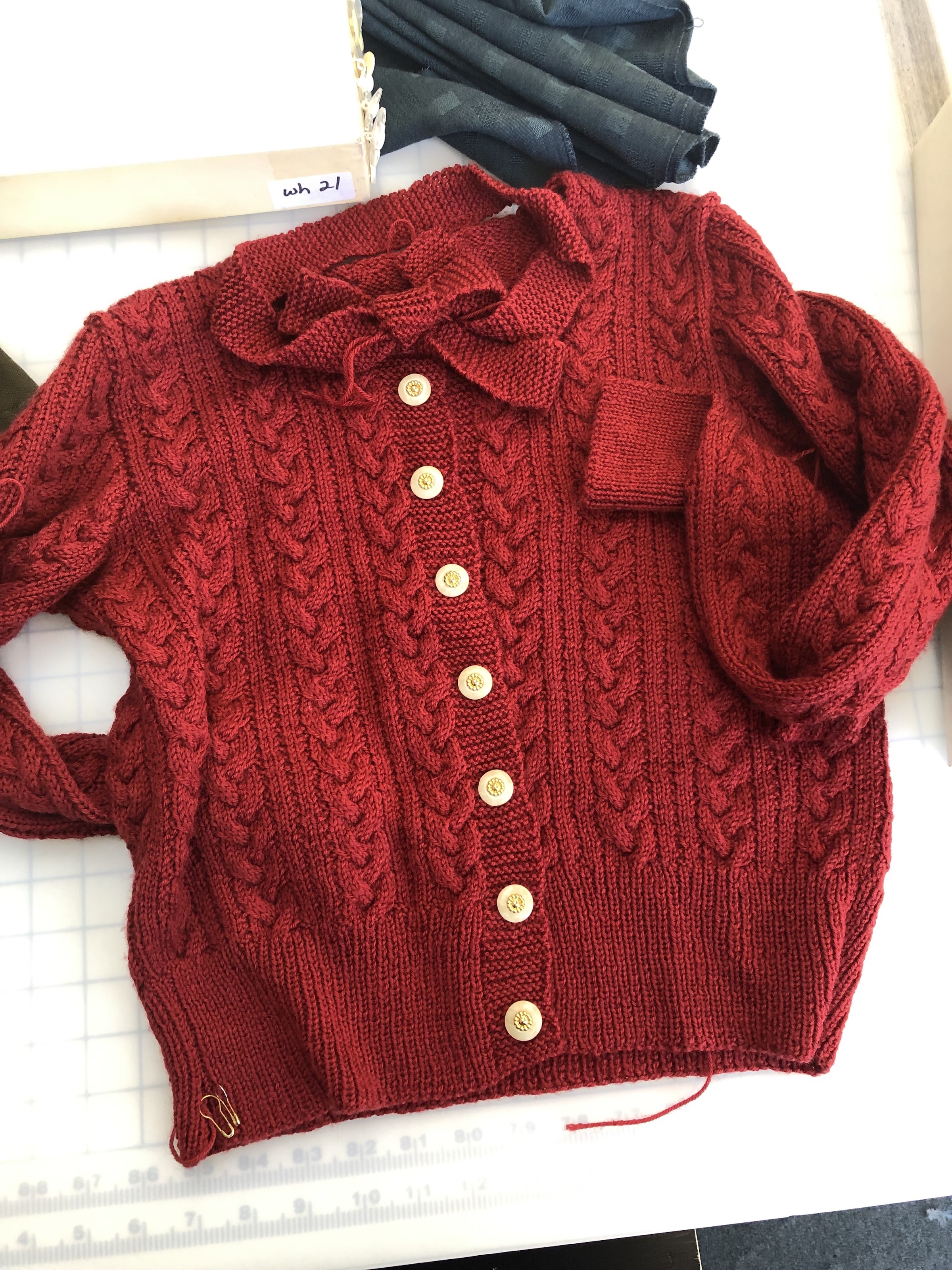 Summary
Yarn: Cloudborn Merino Superwash Sock Twist in scarlet
Start: Jan 29, 2021
Finish: Jan 30, 2022
Pattern: Tri-Cable Stitch Jumper by Susan Crawford size 32-34
Needles: Size 2 (3mm) for ribbing, Size 4 for cables
Where: Pittsburgh, the Bay Area, LA
First time: knitting a seamed sweater!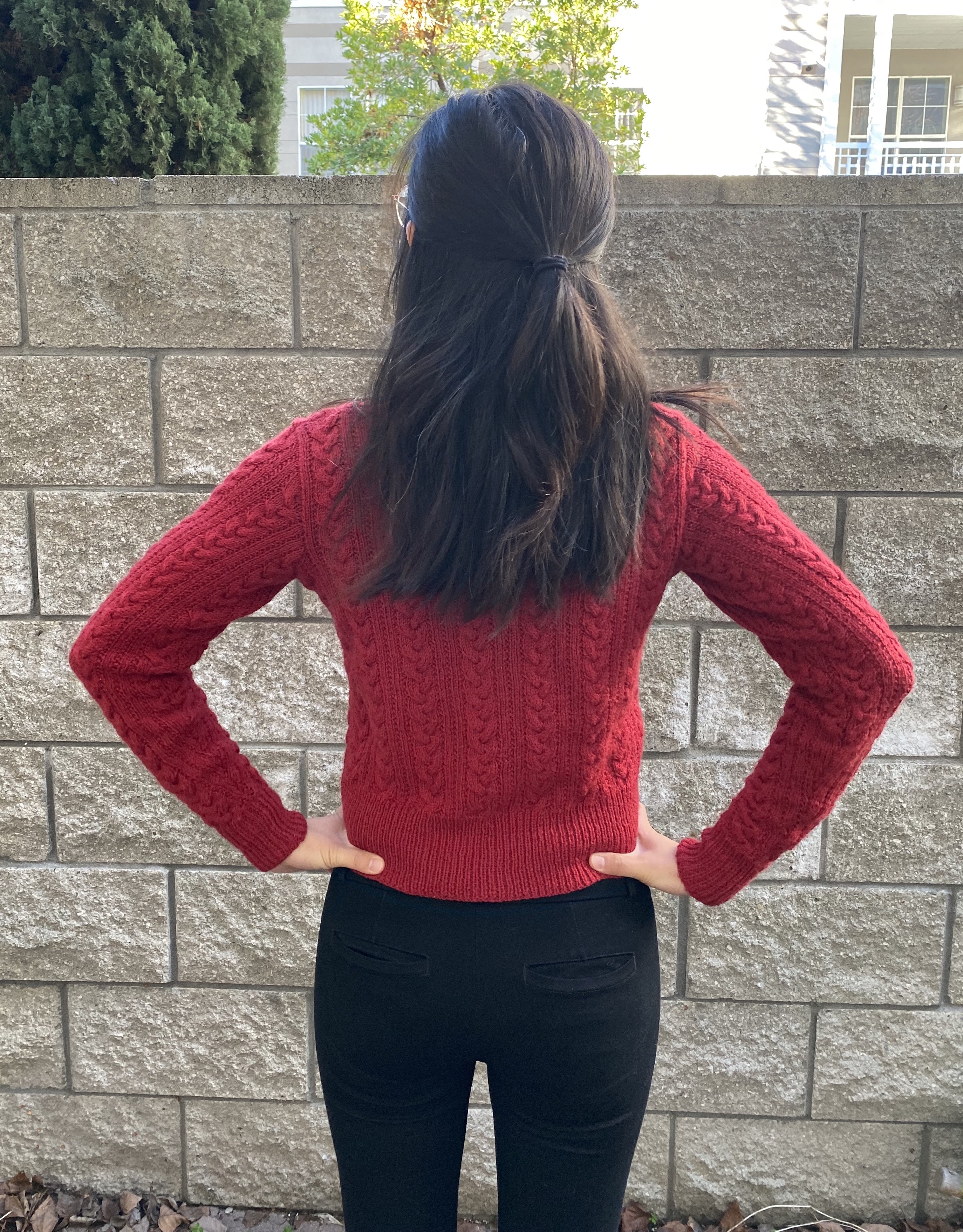 Is this the most amazing thing I've ever knit? Yes. Definitely. I've worn this cardigan to work a bunch of times already and the amount of compliments I get about it is actually a little gross. Every time I wear this cardigan I immediately squeal "OMG I LOOK SO CUTE!" Because it's true. There are some downsides with this cardigan, the main one being that it has to wear exactly like this. It doesn't really work if I wear it open or if I don't tie the bow. I had some aspirations of making this cardigan a part of a little twinset and am actually currently knitting the shirt part of this supposed twinset but they're just going to be two separate pieces at the end of the day. And that's ok.
Alright, here's a bonus to end my very long-winded and picture filled post about this cardigan: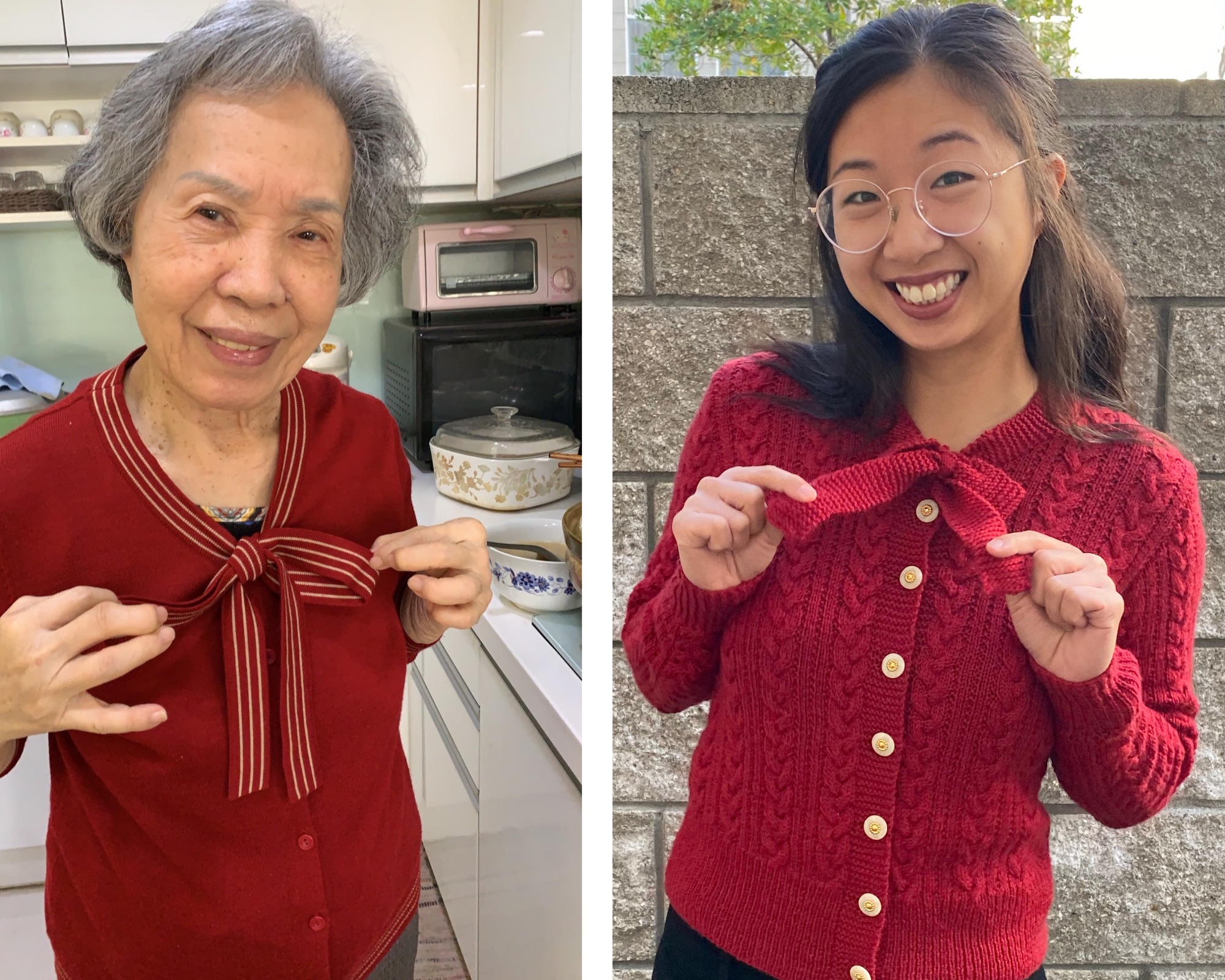 I sent a picture of my new cardigan to my fam group chat on New Years day. My mom sent back a picture of my grandma wearing basically the same cardigan, red with a bow. I'm so hyped by this!