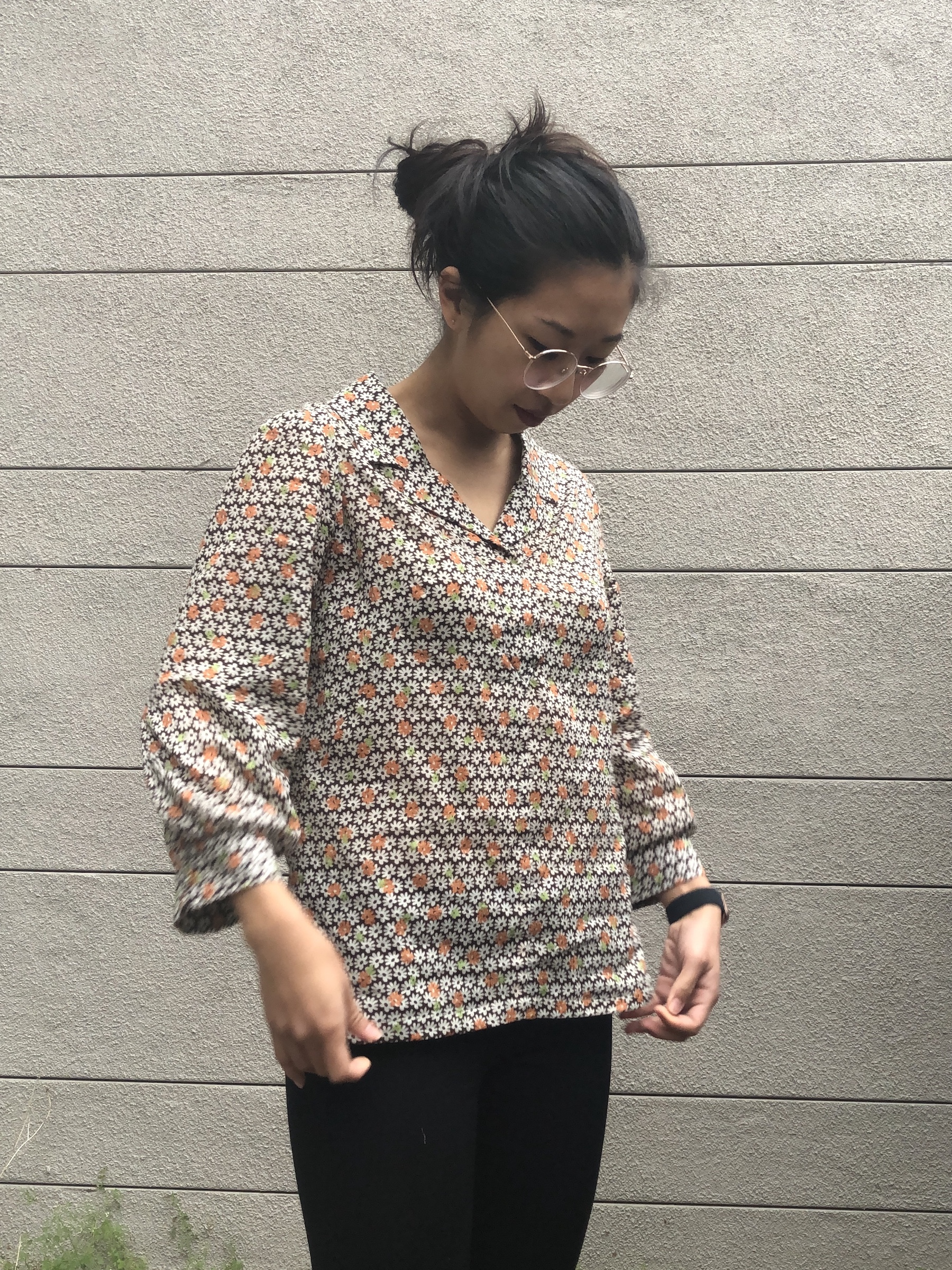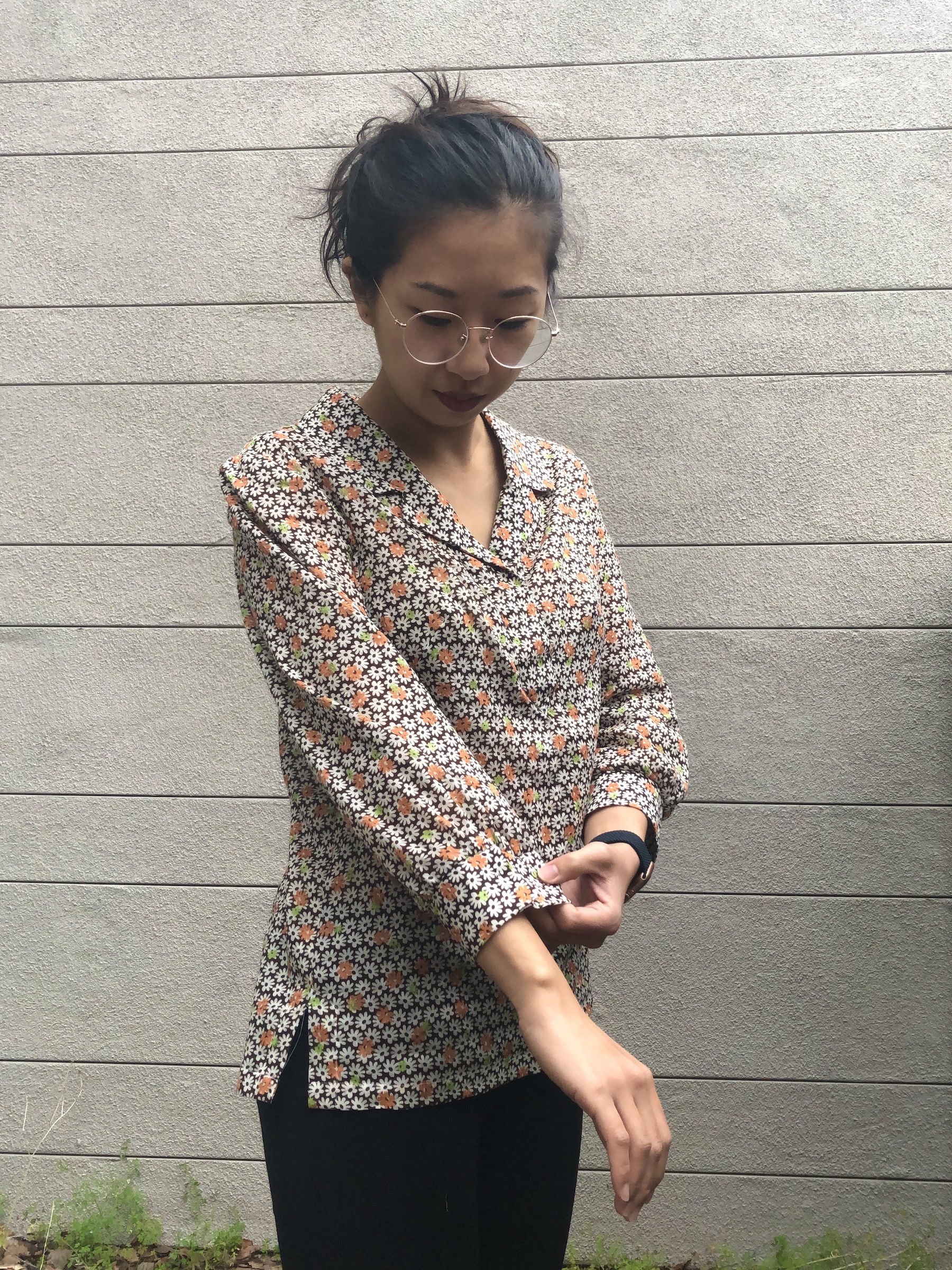 我去 LA 古董店看到一些 1960 年代的版型
買了兩個樣式還蠻好看的上衣版型
兩個都太大 還得試試把版型改小
這塊布是從一個「福袋」得到的
反正布完全不是我的風格 所以拿來做實驗
版型的說明很簡陋 我很不習慣 做出來的這件上衣真的很不像我穿的衣服
顏色和花色完全不對! 但是我覺得樣式還不錯!
下次換個素色一點的布再來試試看
Over the winter holidays, I visited the greater LA area and learned that antiquing in Pasadena is a big thing. One of the things I miss from Pittsburgh is going estate sales and antiquing seemed similar enough – basically shopping other people's old things.
Well, as it turns out, "antiques" are much fancier and there was definitely very little I could afford. However, I did come across a basket of vintage patterns. While I know there is a big vintage sewing community out there on the internet, I had never bought a vintage pattern before. At 5 dollars a pop, this seemed like a great way to get myself a souvenir from antiquing and try out a vintage pattern.
Pattern
I got two patterns, Vogue 3020 and Butterick 4836, which are both from the 1960's according to the internet. Both of the patterns are one size too big for me based on the measurements on the envelope (this is not accounting for the whole Big 4 sizing being way too big thing, which is definitely a thing for modern Big 4 patterns but I don't know for vintage patterns). I figured this would also be a great chance for me to learn how to grade a pattern!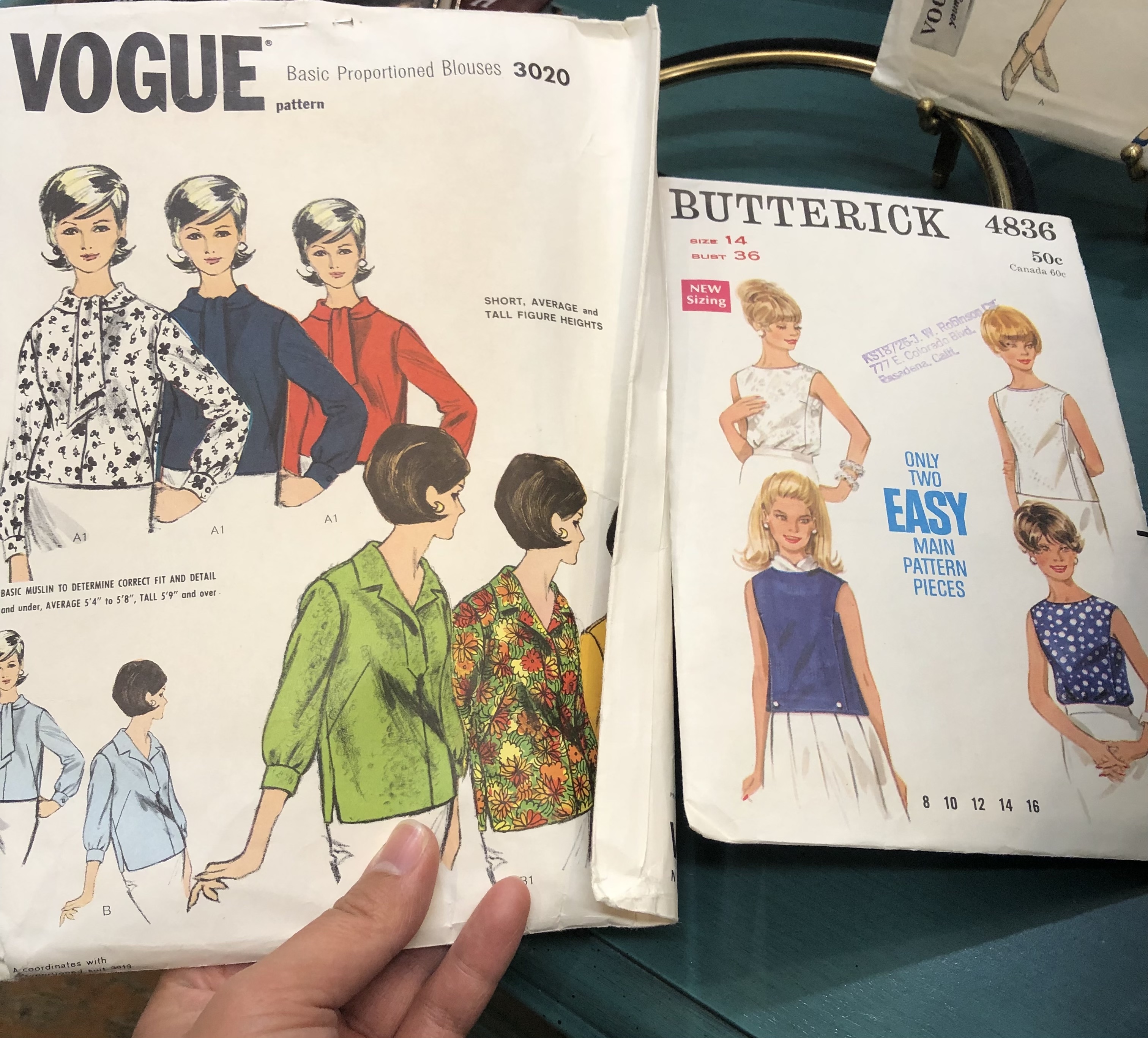 Fabric
One of my goals for 2022 is to not buy any patterns or fabric. I dug through my fabric stash and found this floral patterned fabric I got from a mystery fabric bundle. It's a thin, loosely woven cotton fabric in a print and color scheme I never wear. Seemed like the perfect fabric for this wearable muslin for testing out this whole grading thing!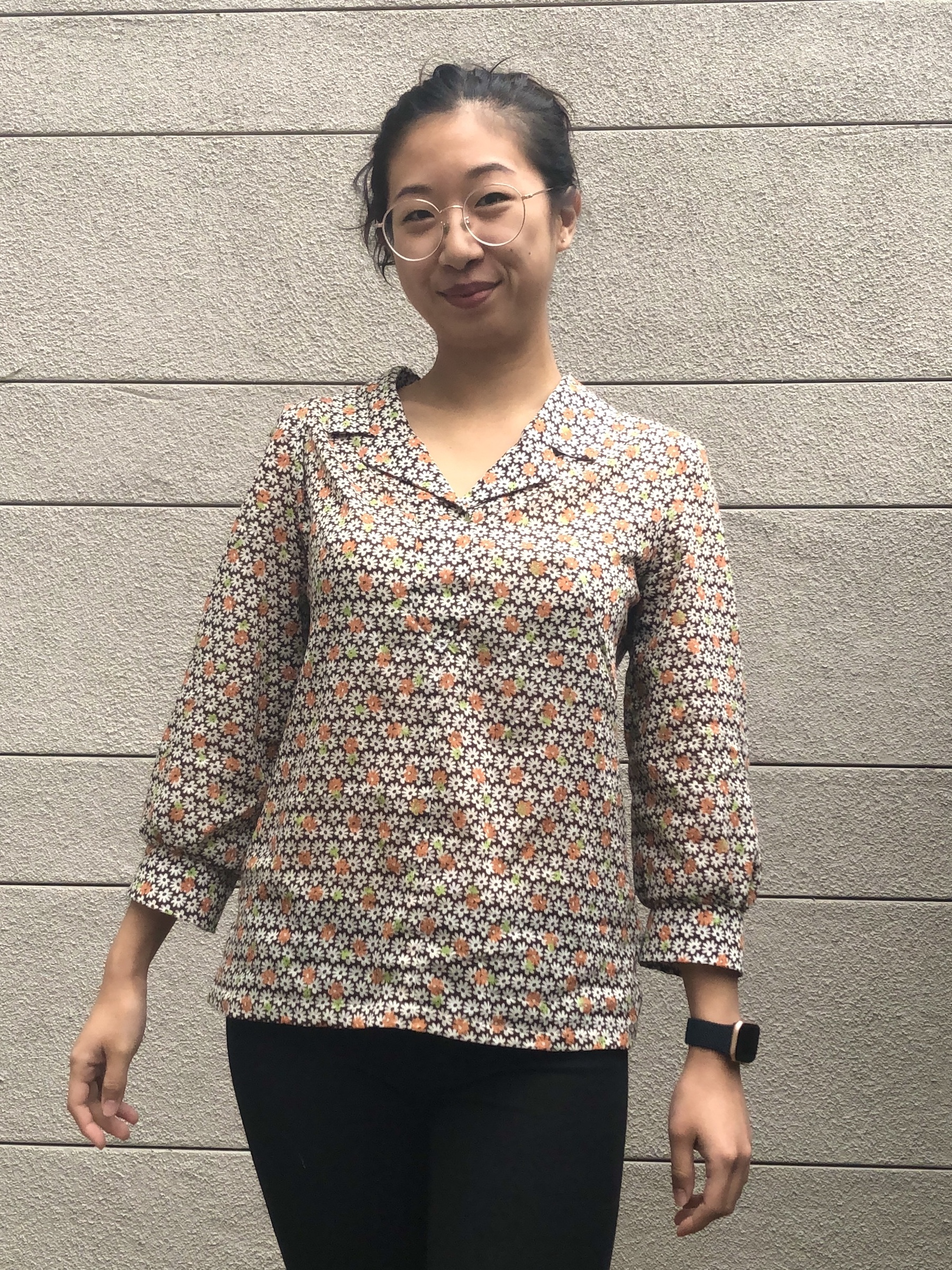 Construction
I followed these two Threads magazine instructions for grading. My steps:
I measured the front and back pattern pieces, which totaled a bust circumference of 40.5" for a 36" bust, aka 4" of ease.
I followed the Threads guide for how to distribute the 2" that I wanted to grade down the pattern by.
I wasn't sure what to do with the French darts in this pattern so I ended up just taking the side grading from the seam. This worked but also I didn't properly true up the seams (errr, not sure if this is the right term), so after I sewed the dart together, I had a funny bit of excess fabric on the side seams (see below). I just trimmed it away and that was fine.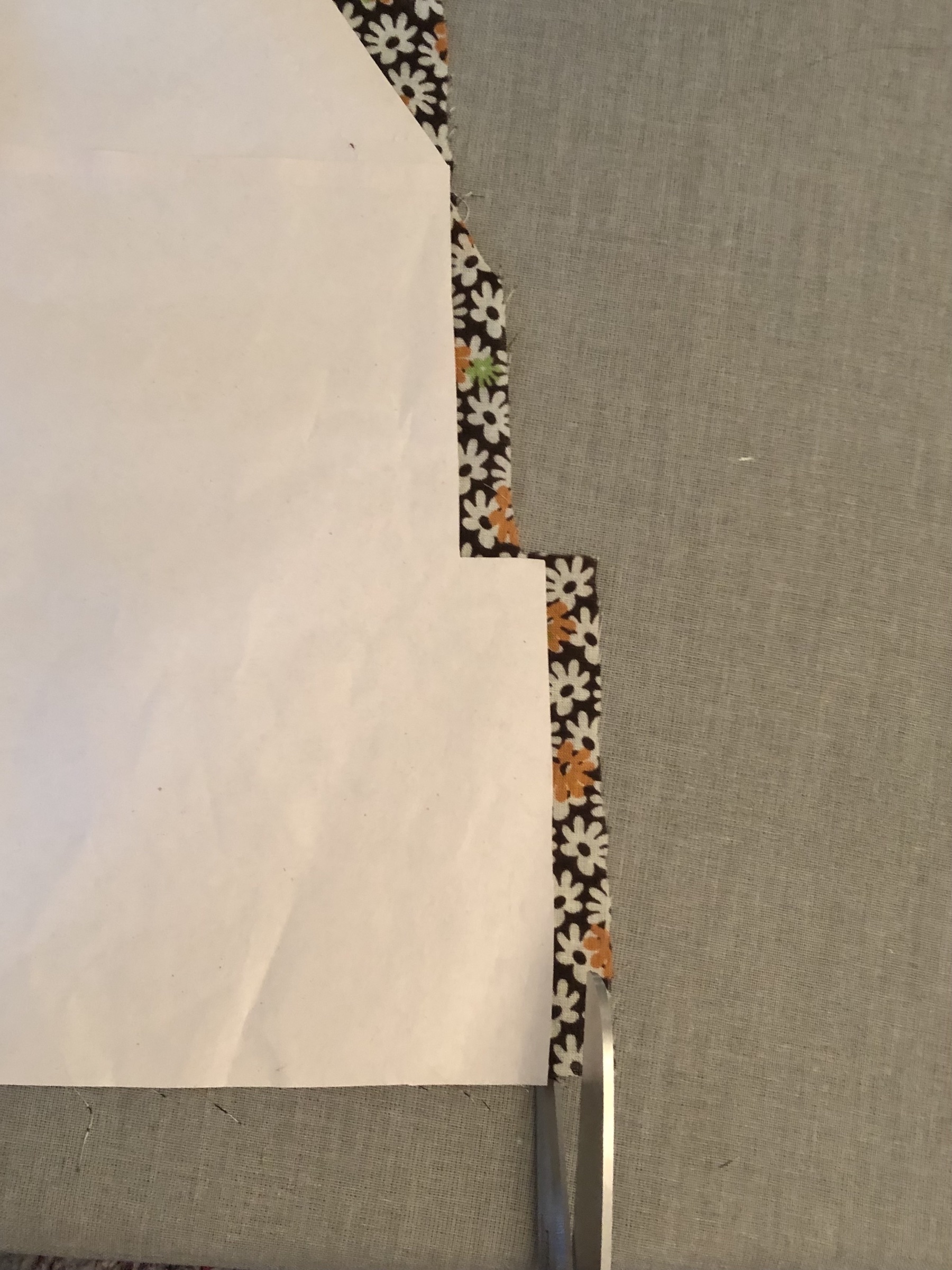 I used lightweight knit interfacing, which was the lightest interfacing I could find in my stash. The fabric was so light I was worried something really stiff might look weird. Obviously, I did not test different types of interfacing because I'm lazy and also I had no fabric to spare. I definitely could've gone with slightly heavier interfacing since the collar and cuffs are quite floppy but oh well!
Okay some more thoughts on this pattern:
Vintage pattern instructions are sparse and difficult to understand. First of all, I did not understand from the way the pieces were described (face and interface) that I had to cut 4 of the collar pieces. I ended up using some scrap fabric (aka an old Simplicity 1366 shirt I wanted to get rid of). It took some creative piecing so that all the parts of the collar that were showing would be in the right fabric. Next pic shows the gingham shirt I sacrificed for this put to good use!
The method for inserting this collar thing didn't seem like it was the best method. I feel like the corner where the collar thing meets the center seam was super stretched out with all of the manipulating I had to do to sew the pieces in. Fortunately this fabric is super busy so the distortion of fabric at that point isn't visible but there must be a better way!!!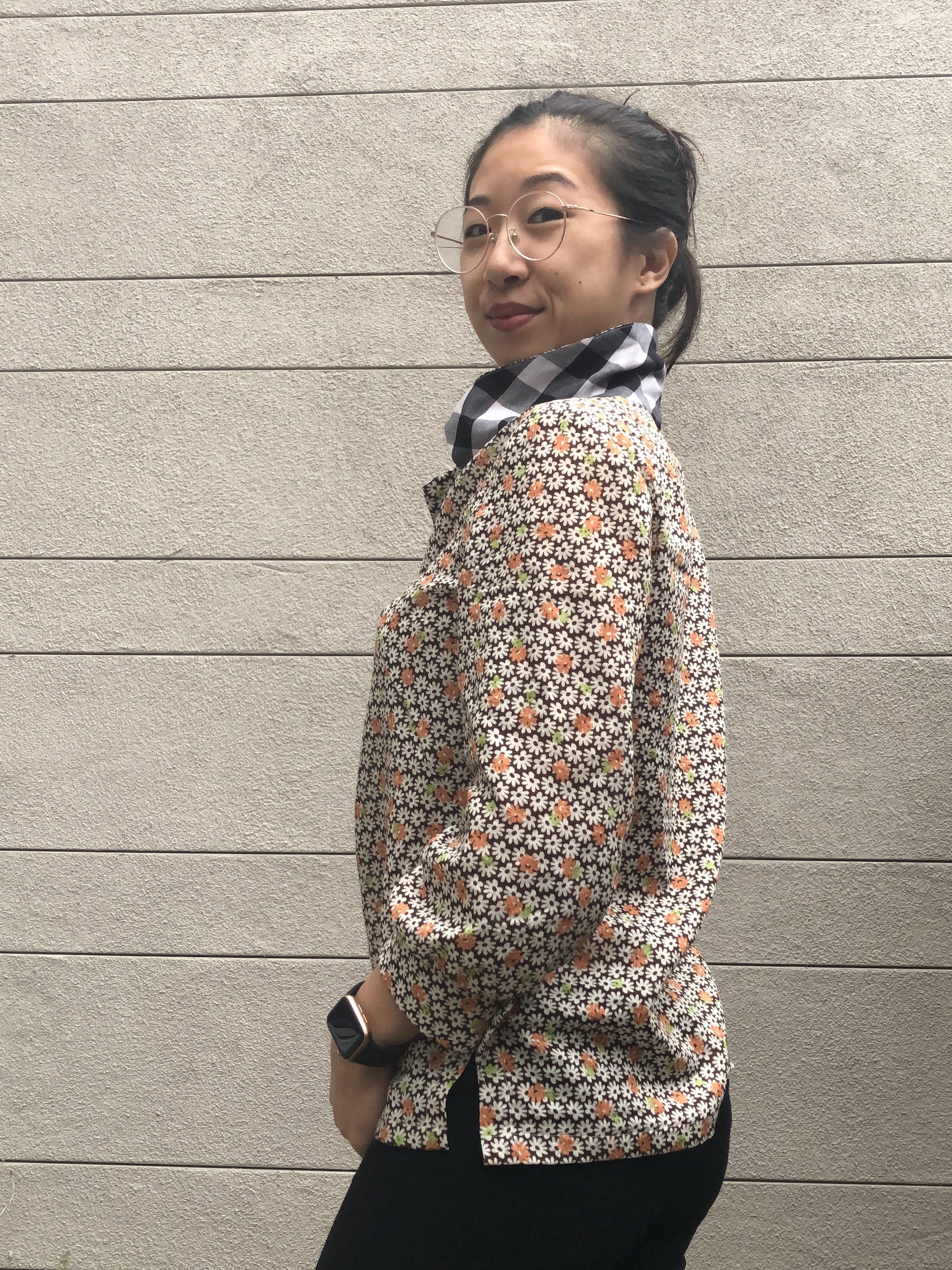 I did some really crappy sewing. Like really crappy. I had written three paragraphs describing all of it (the split hem! the cuff! the lack of button!) but also who cares. I cut any and all corners I could so that I could finish this project. And I did it! Finally! I'm thrilled!
Overall, I'm pretty pleased with this project! I actually really like how this shirt looks, I love the sleeves, the split hem, and the collar. There are some construction issues but the shape of the shirt is cute. I even wore this shirt to work! I definitely want to make a proper version of this shirt with a more "me" fabric.
Pattern: 🌕🌕🌕🌑🌑 (4/5)
Completed Garment: 🌕🌕🌕🌑🌑 (3/5)
Size: Size 36 graded to size 34
Start date: Last week of 2021
Finish date: Jan 25, 2022
Pattern: Vogue 3020
Fabric: Mystery bag lightweight floral cotton Fabric Mart Fabrics
Notions: Lightweight Pellon knit interfacing