And another year has past! 2021 seemed to just fly by after the extremely dull and never ending year of 2020. Unlike last year, I didn't really have any crafting goals. The first half of the year was a blur of job searching, my hip surgery, and then packing up my apartment of 3 years. The second half of the year was starting my new job, moving across the country, and a whole lot of traveling. I definitely made muuuuch less things than I did last year.
Sewing Makes!
Fibre Mood Charlotte Dress
4 Black Beauty Bras
Vogue 8964 Vacation Outfit (aka PJs) for Eric (technically still needs buttons and buttonholes)
Knitting Makes!
Works in Progress
Best Beret 2, which I still haven't worked on since last year's wrap up.
Earth & Air Sweater
Tri-Cable Stitch Sweater
Secondo Piano Basic InstincTee Sweater + Vogue 8909 sweatpants set
Davallia Cover-up – I unravelled the neckband AGAIN. Honestly this cover up is just NOT working for me and I may just have to turn it into something else…
Blomma Tank that I just cut out this week
Another Axis Tank that I also just cut out this week
Best Makes of 2021
The best thing I made this year was the mom-and-me Throwback Sweaters. Nothing else I made really stands out a whole lot. I guess Eric's vacation outfit is pretty great but that will be a later post.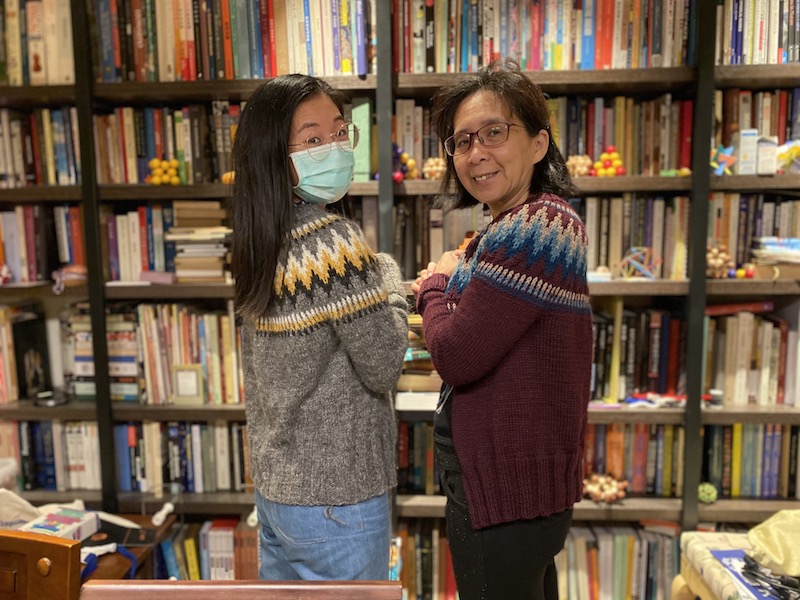 And that's the 2021 wrap up! I'm heading off to Stonemountain & Daughter fabrics today to go pick up some buttons for Eric's vacation outfit and my Tri-Cable stitch sweater. Happy New Year!