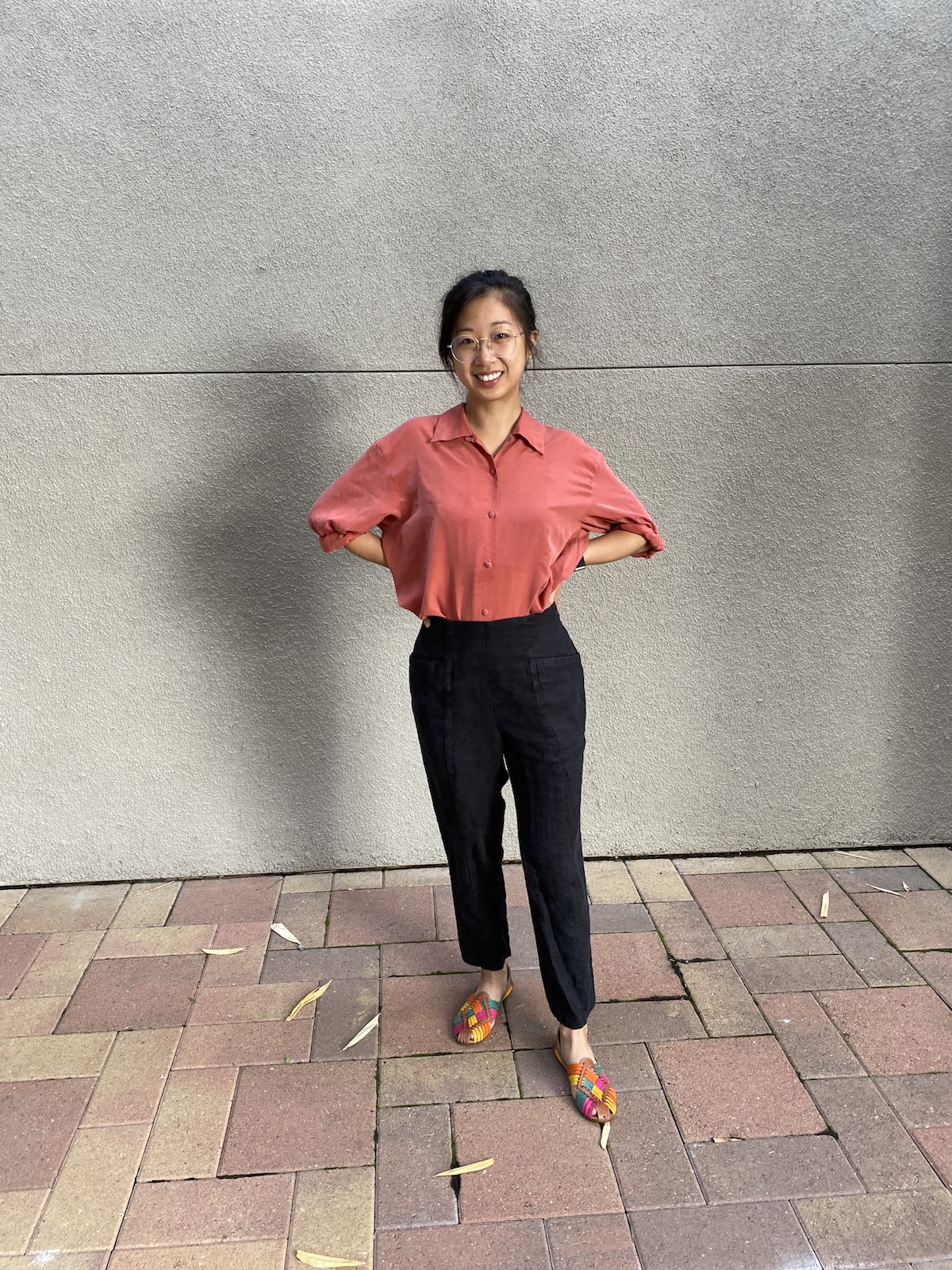 Pattern: 🌕🌕🌕🌕🌑 (4/5)
Completed Garment: 🌕🌕🌕🌑🌑 (3/5)
Size: 6
View: View B
Overall:

終於做了一件新褲子!
搬家+新工作忙了好幾個月
十月初終於把這件褲子的布剪出來
月底花了一天的時間把這件褲子做了出來
褲子還蠻好穿的可是好像有一點太大
我把褲子丟到烘乾機了讓它縮水
I've been living in California now for almost 3 months exactly. Between unpacking two apartments worth of stuff into one apartment, settling into my new job, dealing with work drama (uh, misogynistic men ruining things for everyone), attending a bunch of covid-delayed weddings, I've only just gotten around to setting up my craft area. Here is my second completed item in my new life as a real adult with a real job in California!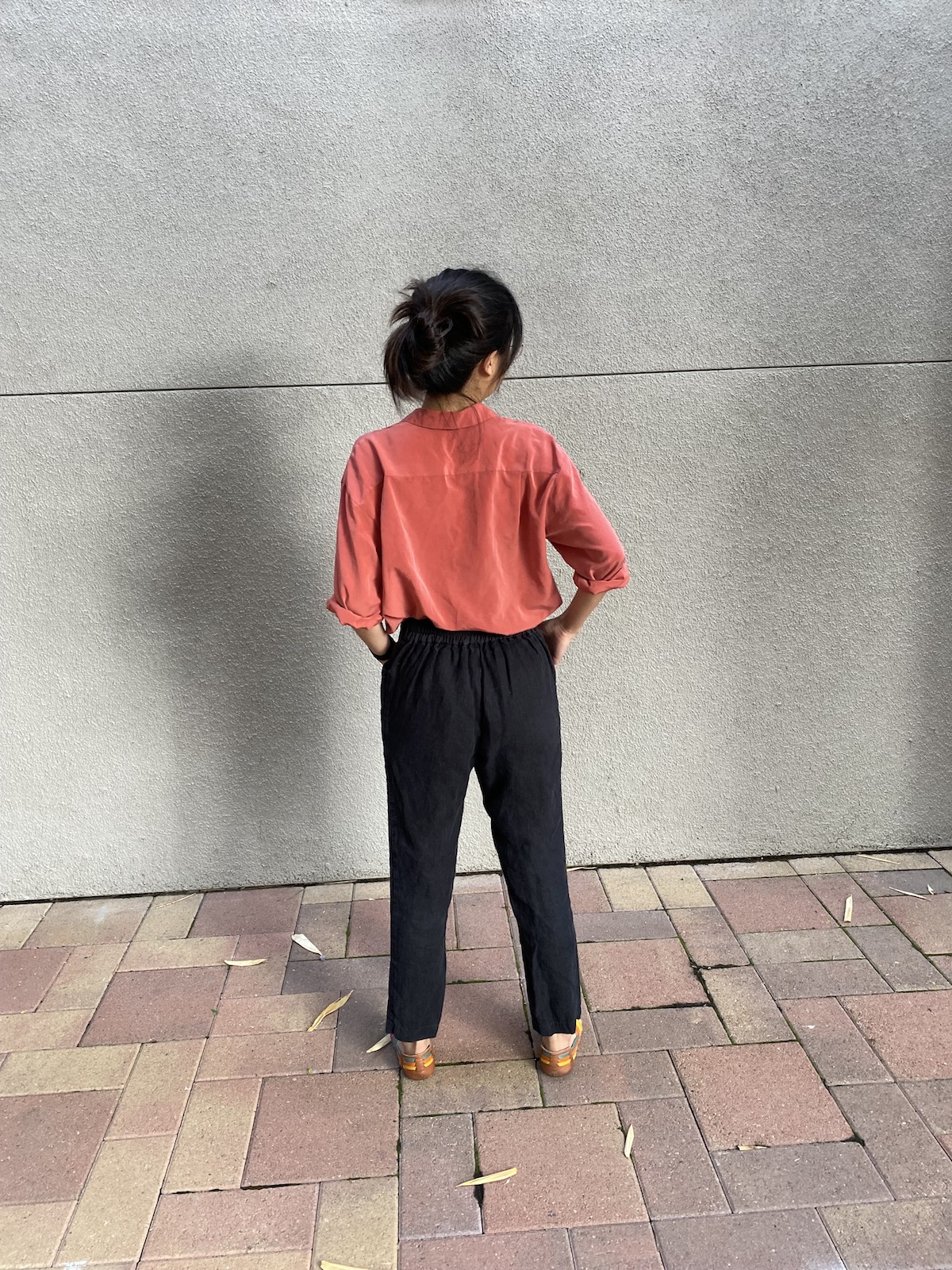 Pattern + Construction
Last year, my dear friend Kristen asked me to teach her how to sew pants for her birthday just as Closet Core Patterns was having a sale and I thought perfect! I can teach her how to make the Pietra Pants! The Pietra pants seemed to be a good option with the pockets, elastic waist and different view options. Anyway, life got busy between my PhD defense, surgery, and moving across the country. Even though I promised to hold her hand through the process, last we crafted, her pants muslin was still missing an elastic band.
In between dealing with work drama, I decided to buy some fabric as a pick me up but then felt guilty about buying more fabric to make myself feel better. I decided to make the Pietra pants with my new fabric because I already had the pattern printed out and I figured the black pants could be maybe work appropriate and my work closet is seriously lacking these days.
I cut this out during a Zoom craft session on October 10, the weekend after returning from a work trip to Ireland, which is when my work drama began. I started sewing the pants on Oct. 23 after lunch and worked on it all day, finishing it around 10:30 at night.
Fabric
I had been eyeing all the beautiful looking linen at Fabrics-Store.com. (Can I also just add that this is the dumbest name ever for a fabric store? Why are there so many fabric stores called fabric store WHY?! It's ridiculous.) I bought three yards of the 4C22 Softened (Black) and IL019 Softened (Antique White). The weave for both of the fabrics are a lot looser than I expected. When I pre-washed the black fabric, there was SO much lint in the dryer.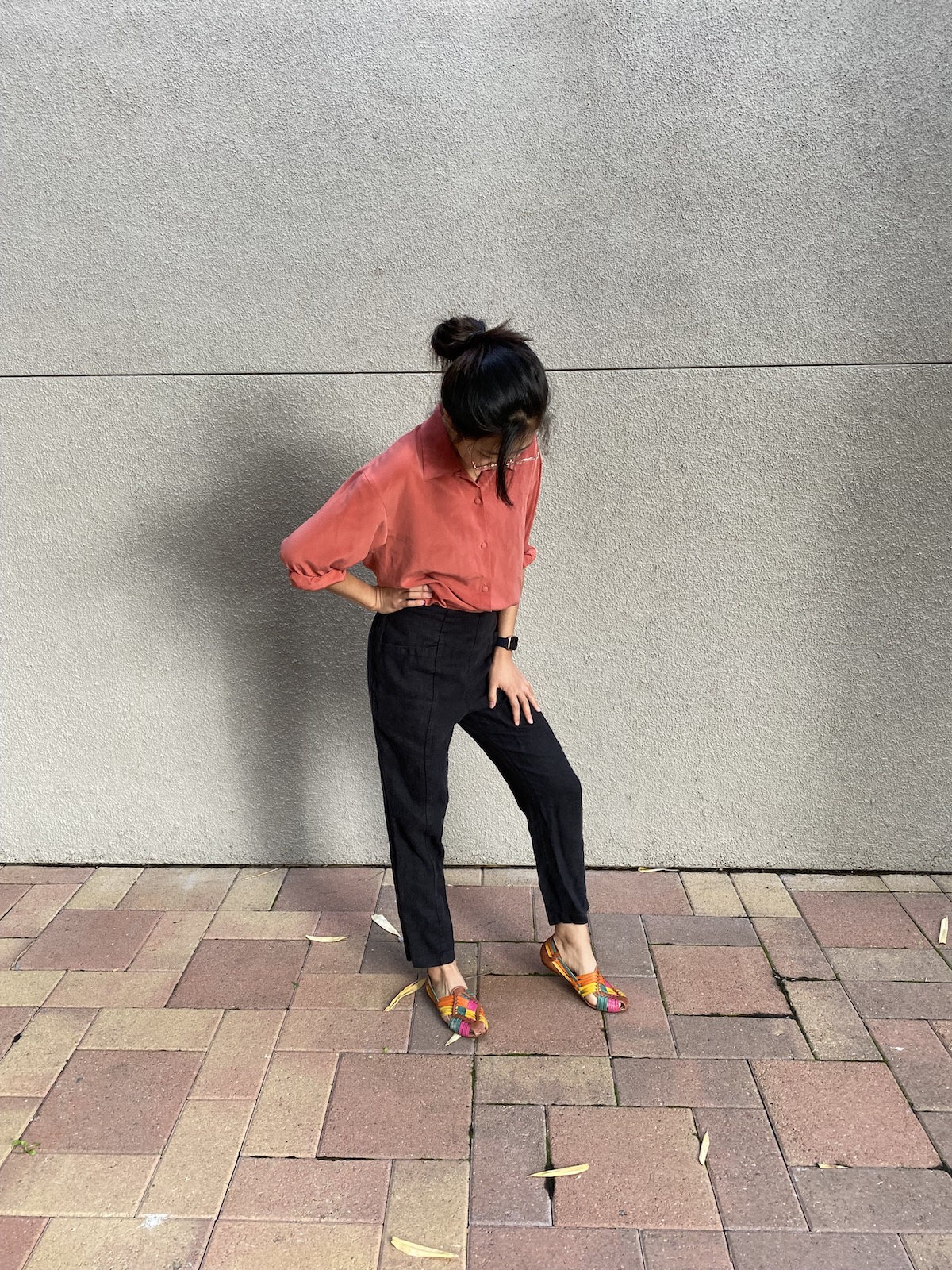 Summary
Start date: Oct 10, 2021
Finish date: Oct 23, 2021
Pattern: Closet Core Patterns Pietra Pants
Fabric: 4C22 Softened (Black)
While I was sewing and handling the pieces, the fabric felt super shifty. When I first finished the pants and put them on, it seemed like the pants were too big. I've since thrown them into the washer and dryer and it seems like it has shrunken a little bit, which helps.
I'm a little confused by the fit of these pants on me though. I feel like my knee should be at where the seam is, but both knees end up in the front center piece and the center front seam, which I think shouuuuld be straight bends at the hip line for me. See diagram below bc I don't think I'm describing this well. The red line is the actual center seam and the dotted teal line is where I think this seam shouldbe. I'm not sure if I cut the pieces out wrong or if the shape of the pants are not working for me or if I just need to sie down. I've made a few other Closet Core Patterns and have always cut a size 6 so idk.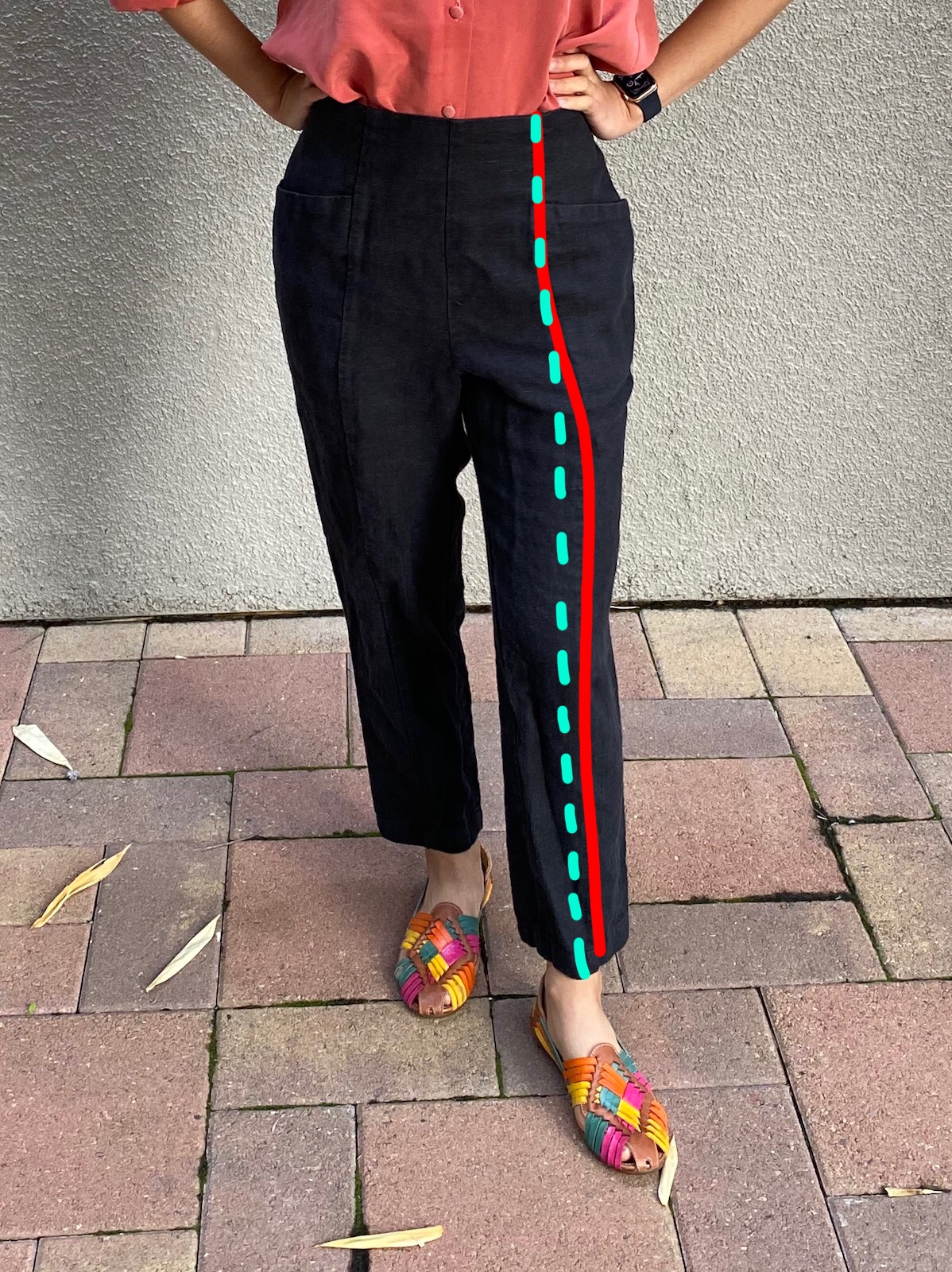 Either way, the pants are still plenty wearable. Don't think I'll be wearing these as work pants but they are nice casual pants for sure!