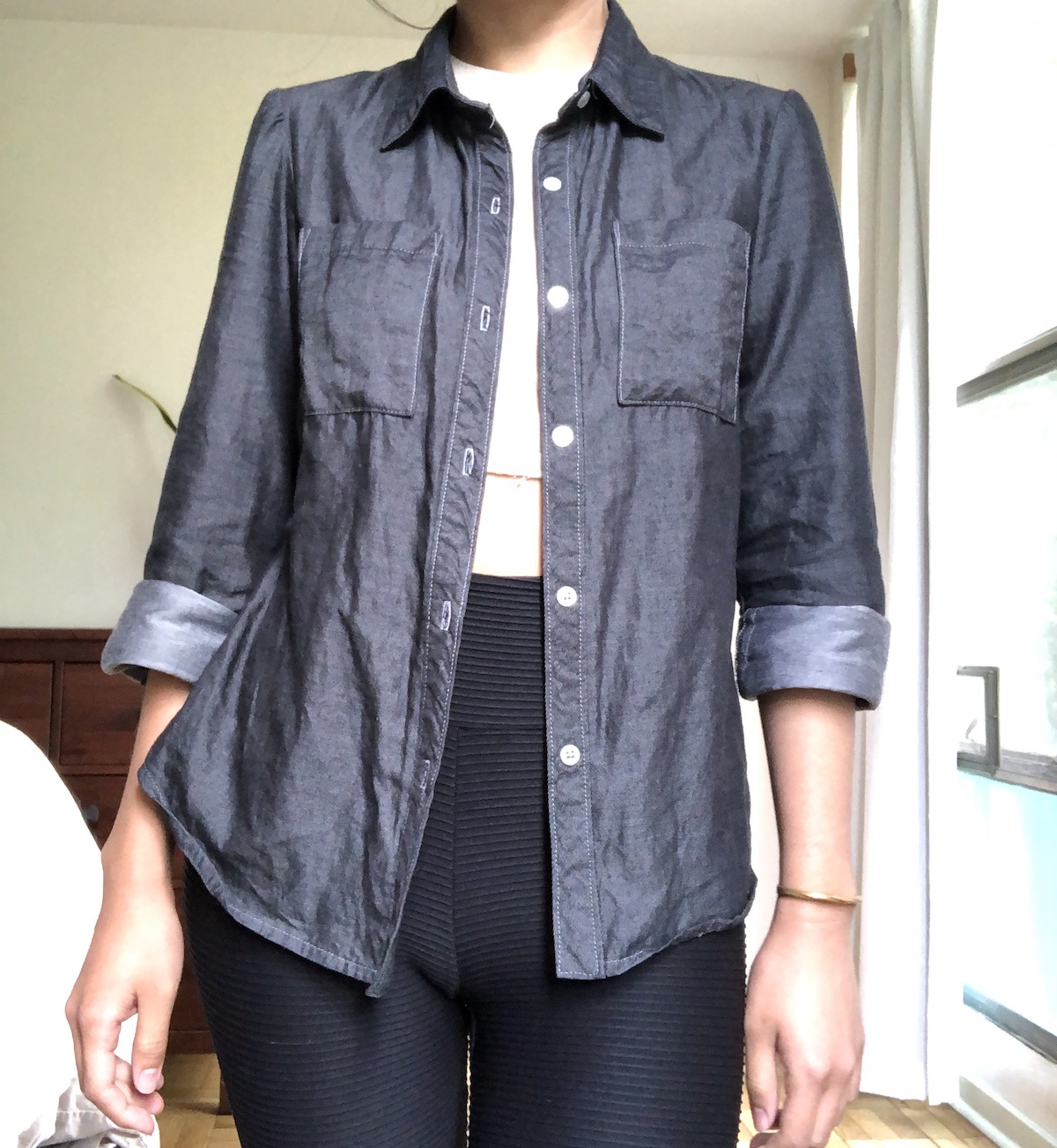 Pattern: 🌕🌕🌑🌑🌑 (2/5)
Completed Garment: 🌕🌕🌕🌑🌑 (3/5)
Size: 10
View: View B
Overall:

Not the best but excited to have made a button down shirt!
最近常穿短版衣和高腰褲在陪一件襯衫當小外套
我很想做很多件不同的襯衫!
這是我第一次做襯衫
布有一點醜,袖子開口的做法有一點亂
如果下次要再做襯衫,我會試試不同的版型
Pattern + Construction
I've been wanting to make a button down shirt for a while and bought this pattern during one of my phases when I was like "indie patterns are too expensive I'm going to Joann's." Anyway, this was recommended on the internet somewhere so I ended up buying it.
This pattern was fine. The final product looks like a shirt so I'm pretty happy first a first try at a shirt with a collar + placket and all that. I have one main complaint with the pattern, which is the vent thingie before the sleeve cuff. Not sure what it's called and too lazy to look it up but the instructions for it are terrible and the result looks fugly as hell. Once again, I've been reminded why indie patterns with their sewalongs and emmaculate instructions are really what I need.
Changes I made:
Attached the yoke with burrito method, following the Grainline Studio Archer instructions.
I didn't do the front vertical dart. Didn't change anything, just skipped the dart. I think it looks fine.
Fabric
I originally bought 5 yards of this Japanese cotton chambray fabric from Fabric Mart Fabrics because 1. it was pretty inexpensive and 2. I was going to make a shirtdress. The shirtdress never materialized. Instead, I made an apron and then forgot about this fabric.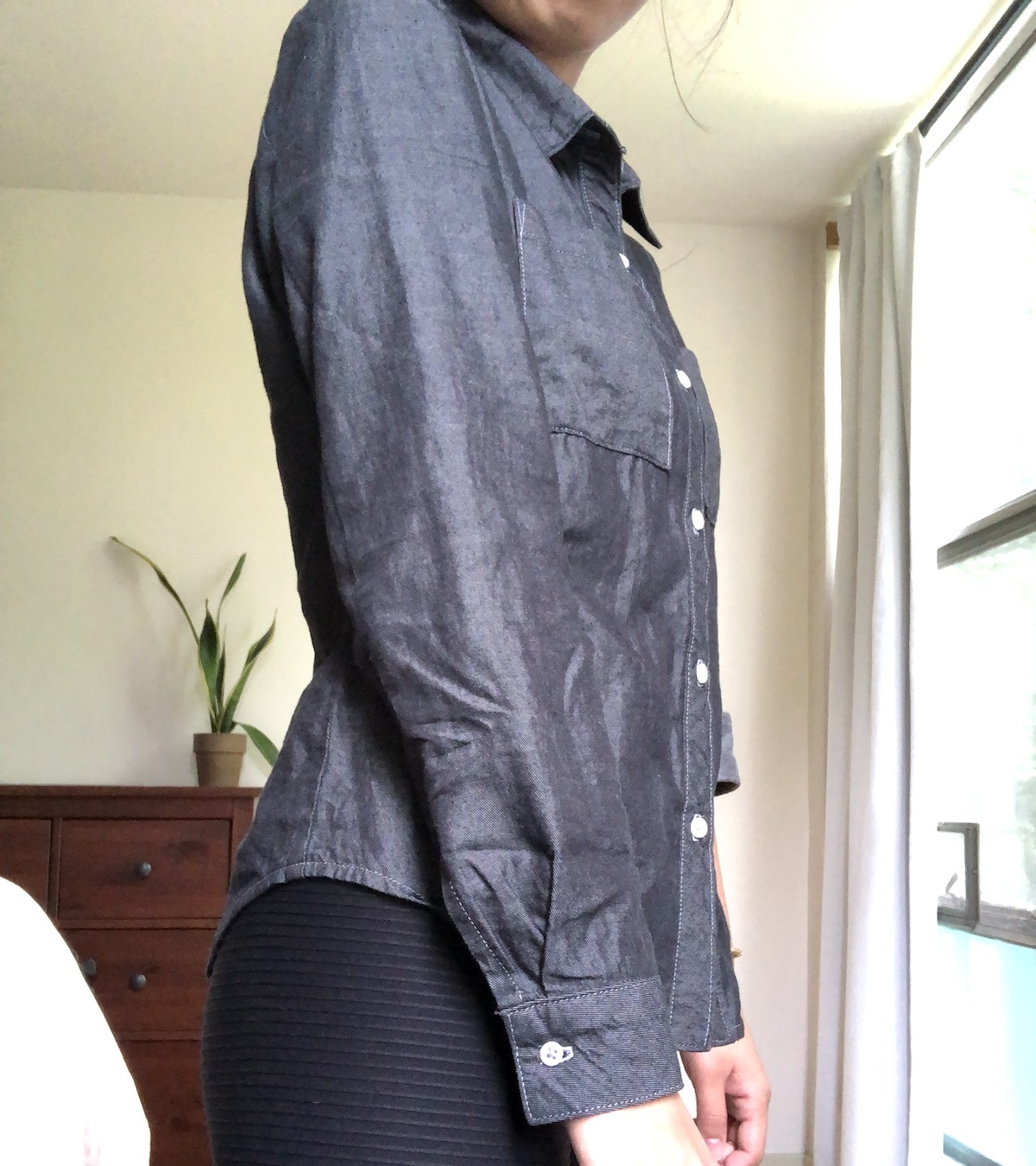 Summary
Start date: February 8, 2021
Finish date: April 14, 2021
Pattern: McCall's 7575
Fabric: Japanese cotton chambray from Fabric Mart Fabrics
I definitely want to make more button down shirts! It's pretty much all I wear these days – crop top, high waisted pants and a button down shirt. (Specifically, 2 button down shirts that I rotate between, not including the one I made bc I don't know where in my packing it is.) Anyway, I definitely need more button down shirts! I want to try McCall's 6613 (or Grainline Studio's Archer bc aforementioned issues with needing more instructions) and Paper Theory's Olya shirt. I really want something a bit looser and more oversized and I think either of these could work well. Maybe I'll revisit this shirt in the future, but I'll have to figure out something out with the sleeve vent.
In terms of sewing and my wardrobe in general, I feel like the stuff I make is going to change a lot soon. I'm starting a full time job (yay!!!) in a few weeks and I expect that'll be more business casual but also 1) I have a lot of biz-casual from my pre-PhD days and 2) there will still probably a decent amount of WFH/hybrid work, so I'm not really sure how things will change. Either way, I think button down shirts can easily be incorporated into my life regardless.