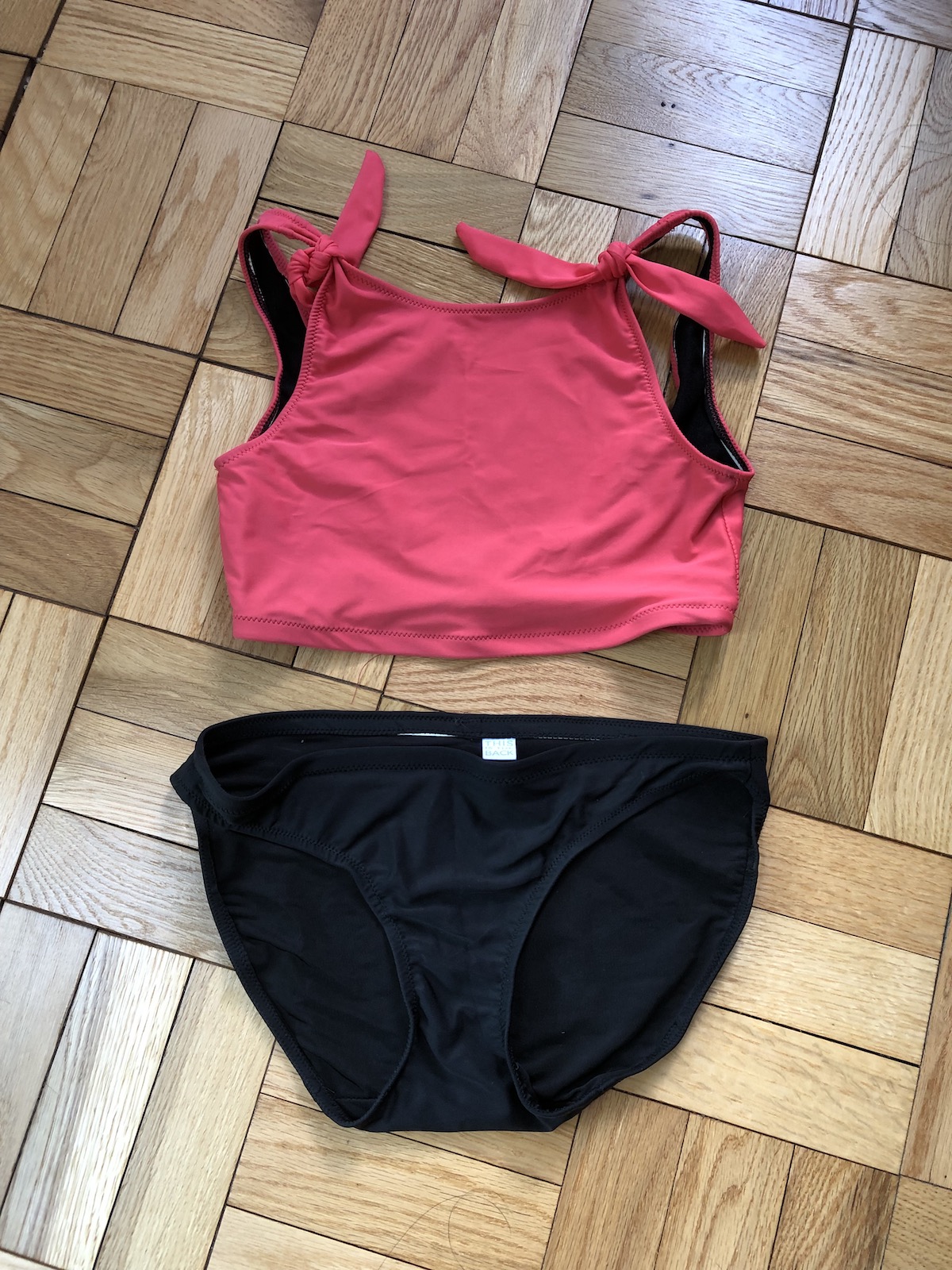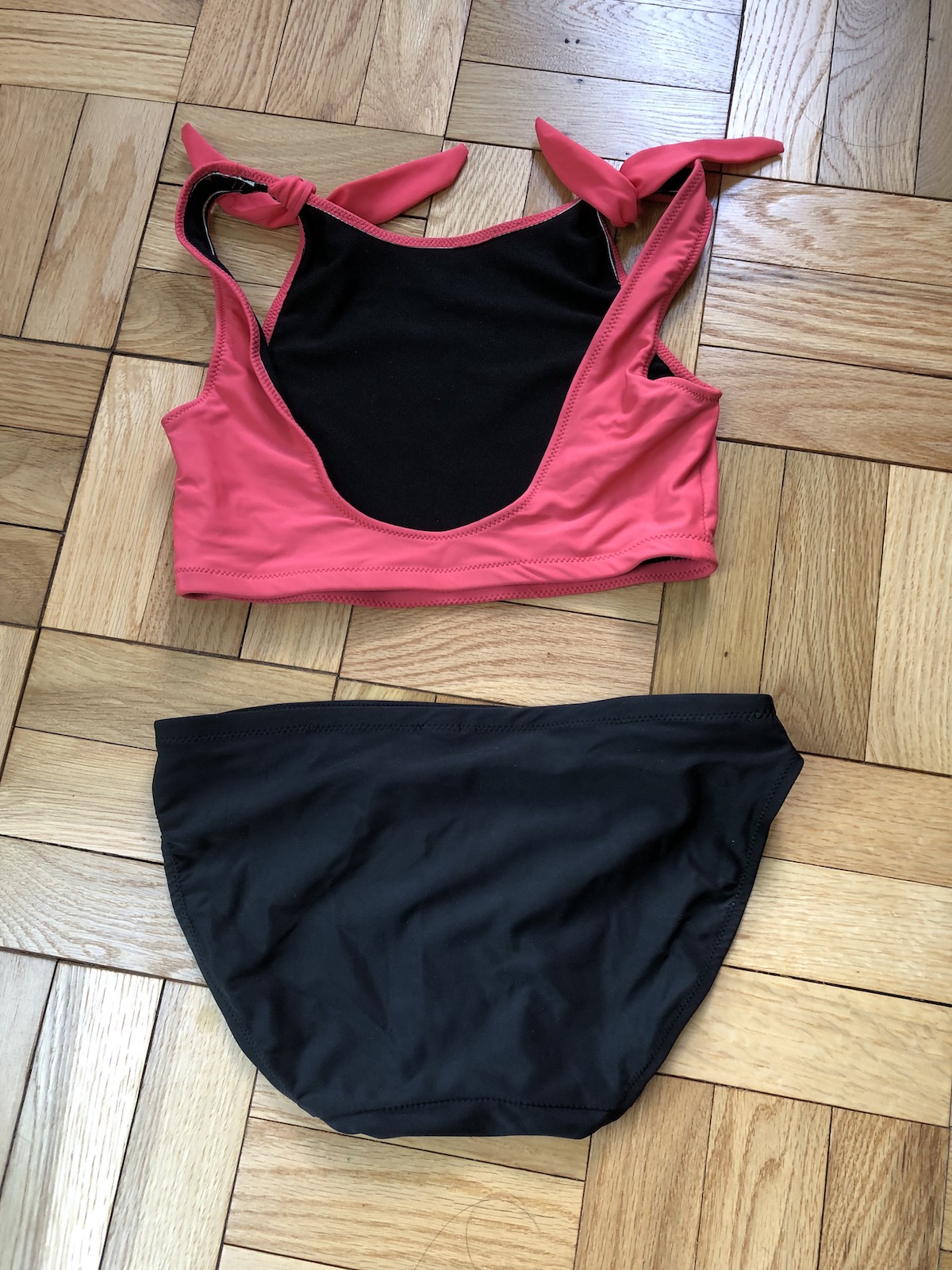 Pattern: 🌕🌕🌑🌑🌑 (2/5)
Completed Garment: 🌕🌕🌕🌑🌑 (3/5)
Size: 0-2
View: Wide Strap high front scoop back bikini length top + low waisted bottoms
Overall:

Pretty happy with a swimsuit for the hot vaxx summer!
因為要去 Vegas 玩所以決定做一件新泳衣
我會決定買這個泳衣的版型是因為這個版型有很多各種各樣的變化
但是我發現很多變化 = 很複雜
游泳上衣有很多地方做錯或重做了好幾次!
雖然做泳衣的過程出了很多錯,最後的成品還蠻流行的感覺!
I had been debating going on this Vegas trip for a while. I finally bit the bullet and bought tickets for the flight at the beginning of June after accepting my job offer. Immediately after, I bought fabric to make this swimsuit. (Or did I decide to go to Vegas so I would have an excuse to make a swimsuit? Possibly.)
I'm quite satisfied with how the swimsuit turned out despite the entire sewing process being a mess. The whole black bottoms + bright colored swim top is definitely a thing, according to my pool observations while I was in Vegas. I felt very hip and on trend.
Comments on Vegas completely irrelevant to the swimsuit: t was really hot and there were so many people. I really hope the vaccine works because I'm sure I was exposed to COVID tons while I was there. I put in $3 at a slot machine and won $15! Woohoo!
Fabric + Notions
This is swimsuit fabric from Made Whimsy. I also ordered their swimsuit lining fabric, which I used for the swim top. I used leftover swimsuit lining from my seabright swimmer. I ordered 1 yard of this azul color and 1/2 yard of coral and black. Not sure what I'll do with the azul – either a one piece swimsuit or maybe leggings. Both the top and bottom took about half of the half yard so I have quite a bit of leftover.
I ordered 5 yards of 3/8" swim elastic, which was just about enough for this one swimsuit. I also ordered 5 yards of 1/2" swim elastic for the edges of the top and bottom.
I had also ordered some bra cups to put inside the swim top, which got held up in shipping and I never ended up receiving them. I ended up taking some bra cups from an existing swimsuit I had and sewing those into the lining. But then after trying it on, I decided the way the bra cups didn't stretch plus the stretchiness of the swim lining ended up making things look weird. I'm not really sure how this can be fixed. Anyway, I just left them out in the end and just accepted that there may be a little visible nip.
The lining fabric from Made Whimsy was a little weird. I didn't really like it. The stuff I had previously gotten from Joann's felt a little more more swimsuit-y. The Made Whimsy stuff was very fabric-y and after getting out of the pool, it seemed to hold the water quite a bit.
Pattern + Construction
I'd been eyeing the Megan Nielsen Cottesloe swimsuit all of last summer but talked myself out of buying it. I considered it again for this trip but couldn't quite justify it to myself. Then I came across the Mairin swimsuit, which had a lot of cute versions on the internet and had so many variations! Plus, it had a nice high-neck front, which I am very into. Scoop front necklines are not my thing. I told myself, "This is great bang for my buck!" and bought the pattern.
Uh, ok, lesson learned – turns out more views just means more confusion, more mistakes, and at this point in my sewing life, I am still in need of clear instructions. Or maybe this is just time for me to learn to read all the instructions before I start.
The way the elastic measurements are given is super confusing, which I sort of get because there are so many variations but I definitely tried to apply elastic meant for just the front hem of the swim top to the entire hem, which is obviously a problem. I almost gave up on the project but luckily after letting it sit for 24 hours, I felt less frustrated and took a seam ripper to the elastic and managed to save it.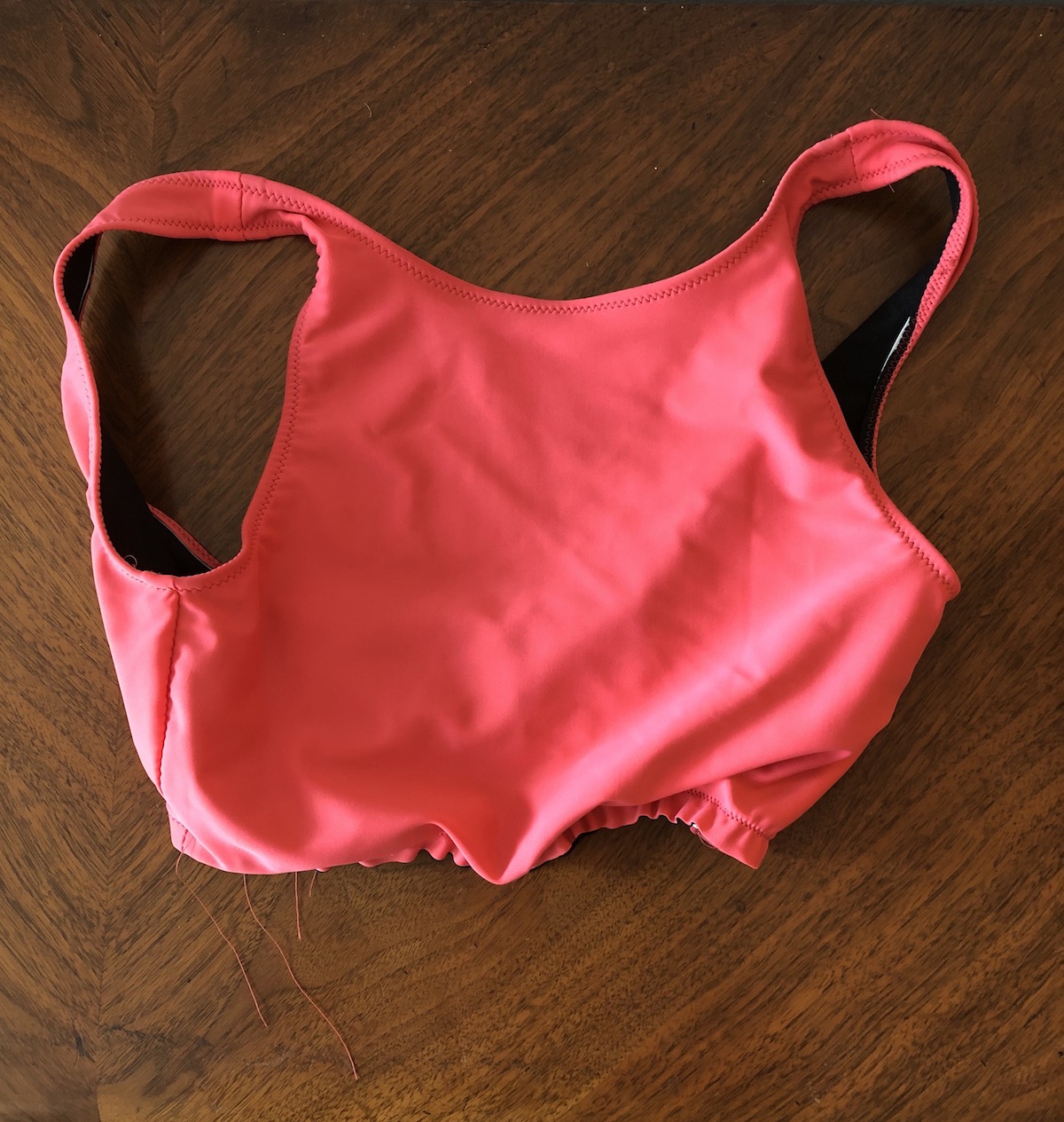 Some other notes:
Cut size 0-2 for both. I was between the 0-2 and 4-6 sizes. I chose to size down but I think maybe I should've done the 4-6. I'm not quite sure.
I put a little "THIS IS THE BACK" label in the bottoms. I love that tag! It's so useful.
Used a sewing machine with zig zags for the entire thing. I think a serger would've been a lot neater but the serger is currently in my storage closet and will not see the light of day till I eventually make it out to California.
Summary
Start date: June 15, 2021
Finish date: June 23, 2021
Pattern: Mairin Swimsuit
Cost: $35 (for all the fabric) + $13 (elastics) + $2 (thread) = $50
Notes for next time
So this didn't go so hot but the result was actually pretty cute and I definitely want to make more. Specifically, I want to make some high-waisted bottoms and maybe a slightly longer top. Maybe something with more of a scoop neck. The main lesson I've learned from all of this is to read the instructions first and have everything cut out and prepared before I get started.