I'm packing up the apartment I've lived in for 3 years, which is chaotic. This is the longest place I've lived since going to college. All that is to say that I have collected a lot of stuff, especially crafting related items. I'm trying to do a little bit of Marie Kondo-ing and trying to part ways thing that no longer

SPARK JOY

. There are 3 main categories of Kondo-ing: fabrics, patterns, and finished objects. Also listing my current WIPs at the end cuz why not.
Fabrics + Scraps
I have quite a bit of fabric that were bad decisions, "mystery boxes", or things others have given me. They will never be used. There's really not much else to say about them. I tossed them in a box that I intend on bringing to the Pittsburgh Center for Creative Reuse but they are also not taking donations right now so I'm not really sure what I'm going to do about them. Side note: I'm LOVE the idea of mystery boxes but they are truly terrible. I really need to stop being tempted by them!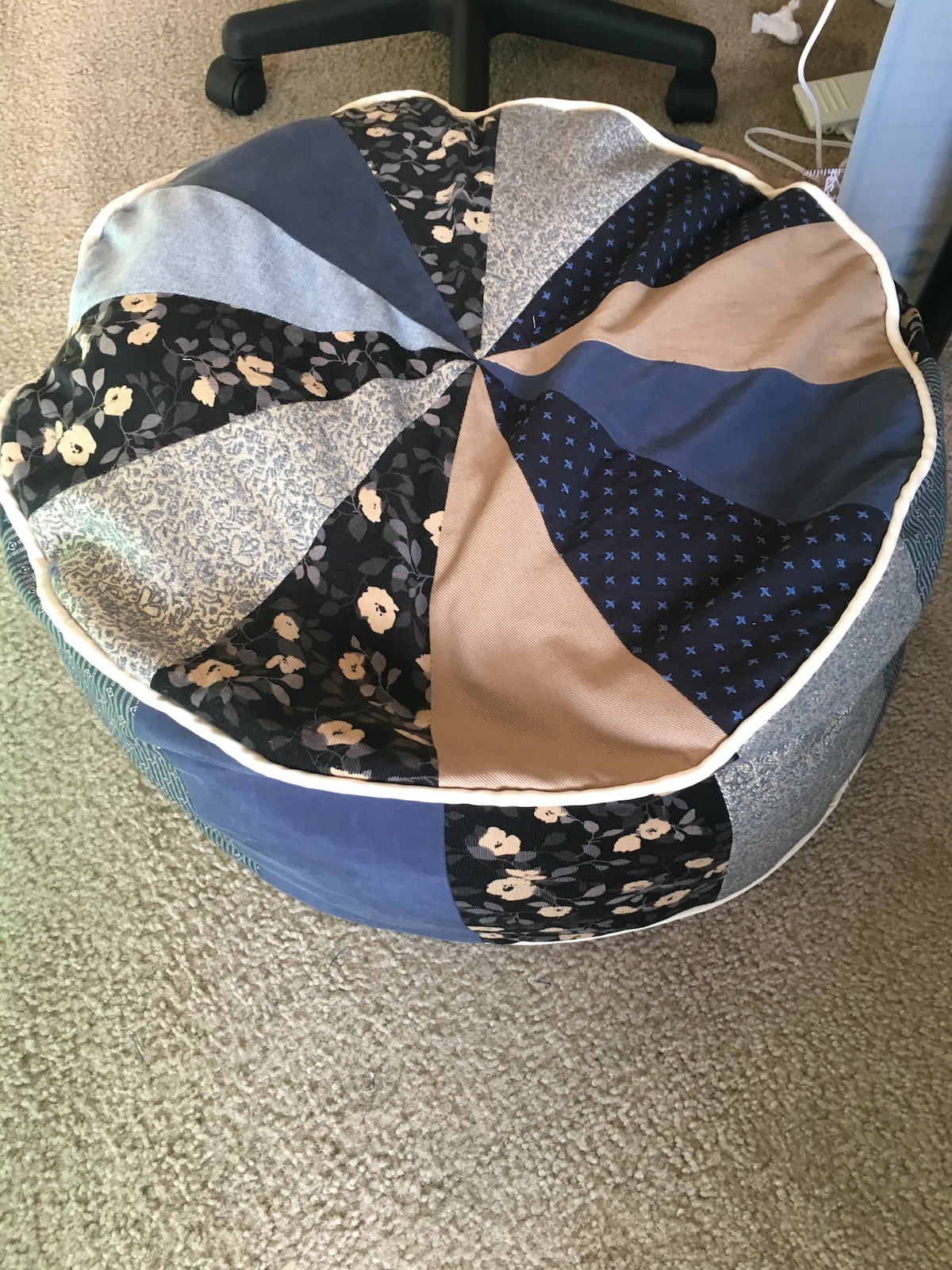 As for scraps, I made a Closet Case Pattern Pouf in 2019, which houses the majority of my scraps as well as some old clothes. (That thing is REALLY SPACIOUS!) I've decided that it really doesn't make any sense for me to haul a bunch of scraps with me to wherever I move to and that it's time to part ways with these scraps. I had taken a rug rag weaving workshop on zoom in April. The rug I made was hideous but I saved some bigger scraps from my scrap stash to weave another rug. Some of the rugs other folks have made are gorgeous and I want a nice looking rug.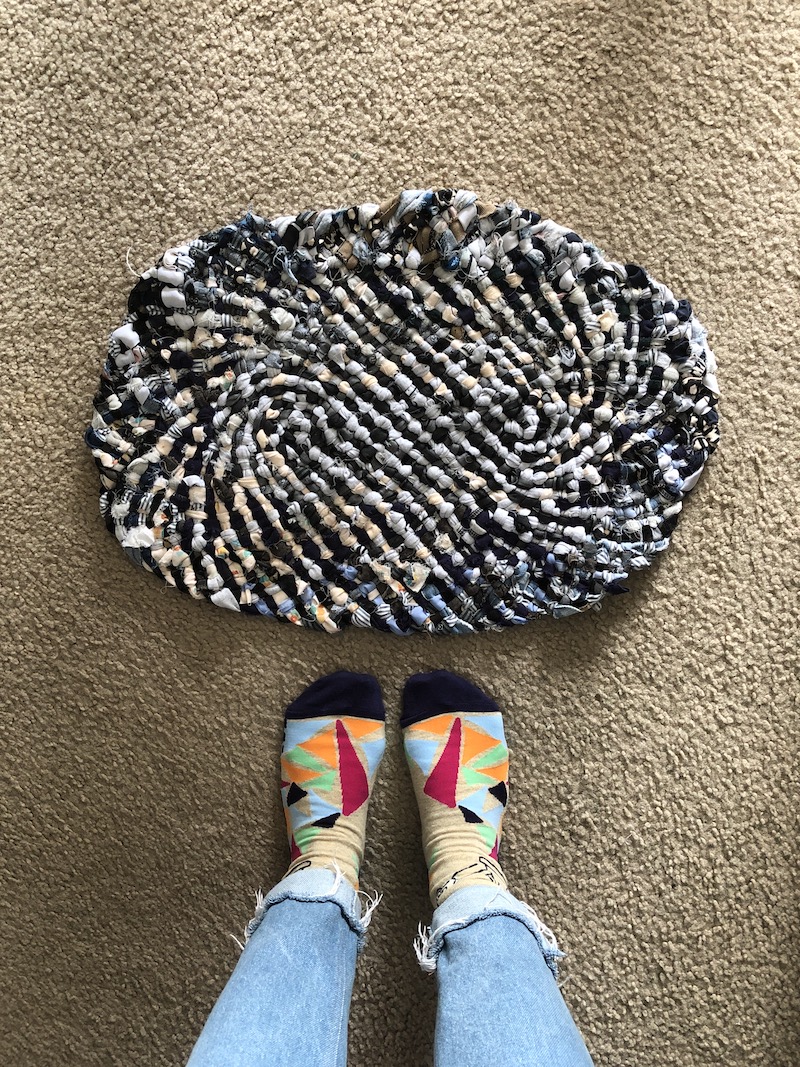 I feel slightly guilty about the number of scrap fabric trash bags I have sitting in my doorway now. At the same time, I am infuriated that companies have manipulated me into feeling guilty about trash and waste and recycling when it's really their faults. Anyway, that's another discussion for a different time. For now, I am going to get rid of these scraps and not haul them to wherever I end up finding a job.
Patterns
My pattern storage is two fold. First I have a clear storage bin that consists of Big 4 patterns in the bottom half and printed PDF patterns fold into sizes small enough to fit into the bin. Then, I have this woven tote that my mom either made or bought from the markets and I just roll up the PDF patterns, put them through an empty toilet paper roll, and stick them upright in the tote. Oh, I guess there's technically a third aspect, which is the large sheets of printed patterns that I had printed at the fancy printing place bc I'm lazy and I never actually cut out.
Anyway, this is basically all of my patterns that I've ever printed, used, or thought about using. I never throw things away because I have hoarder tendencies, which I have inherited from my parents but this is me trying to not go down that path.
I went through all of my patterns and threw away all of the PDF patterns that I have printed and don't intend on using again. I did keep some of them because of my wishful thinking, I still think that maybe I'll get to it!. Better to have thrown away some things than nothing, I guess.
The Big 4 patterns include a lot of stuff that I bought in the beginning of my crafting days, when I would just drive to Joann's on the way home from work and buy a bunch of random stuff. I've gotten better about it! I swear! Anyway, I've tossed them in the box to go to Creative Reuse for now.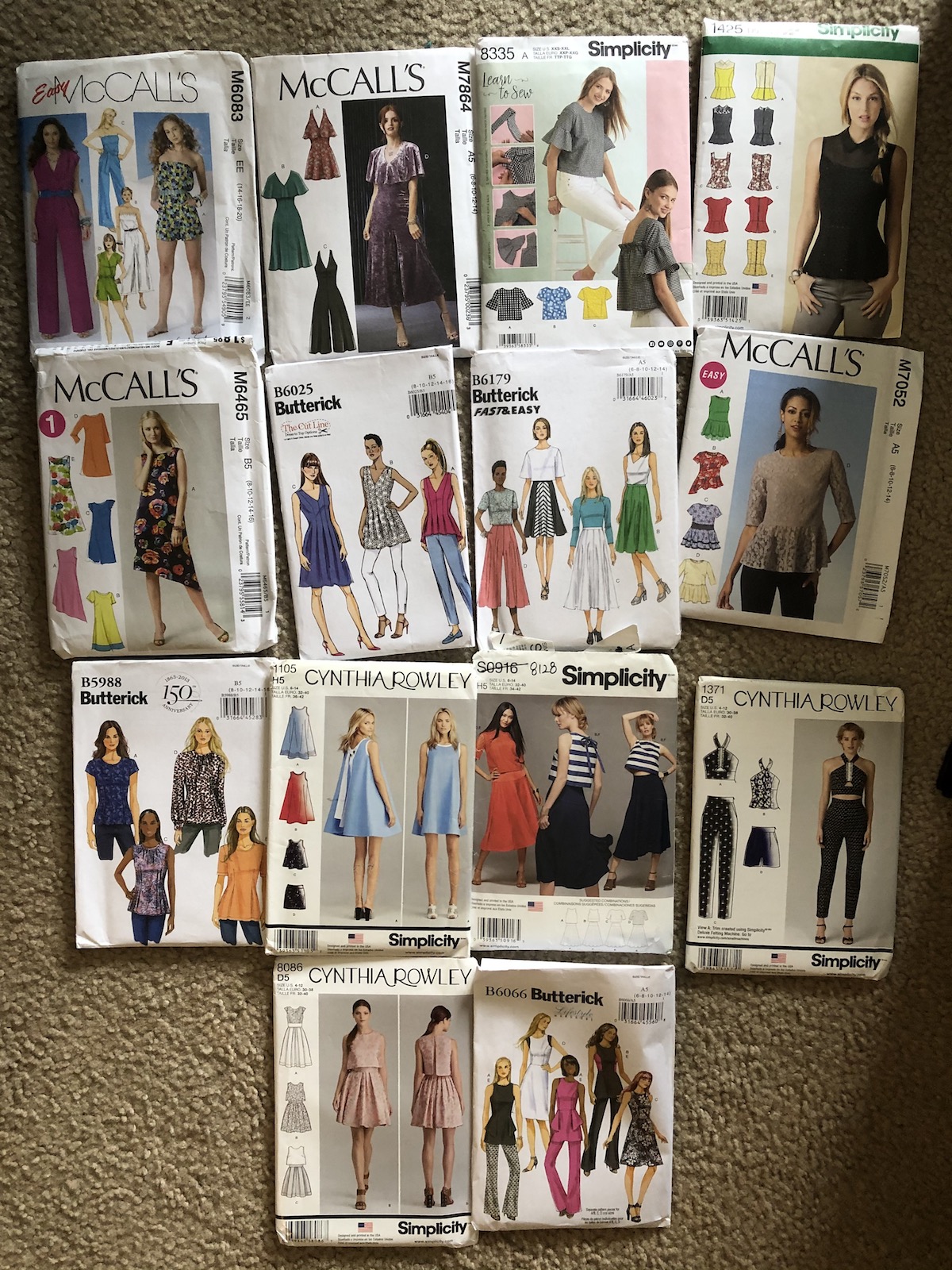 Failed Projects
These are definitely the hardest things to get rid of. Most of it has been living in the pouf for the past 2 years. Here are the failed projects:
Christine Haynes Emery Dress (pre-Pittsburgh)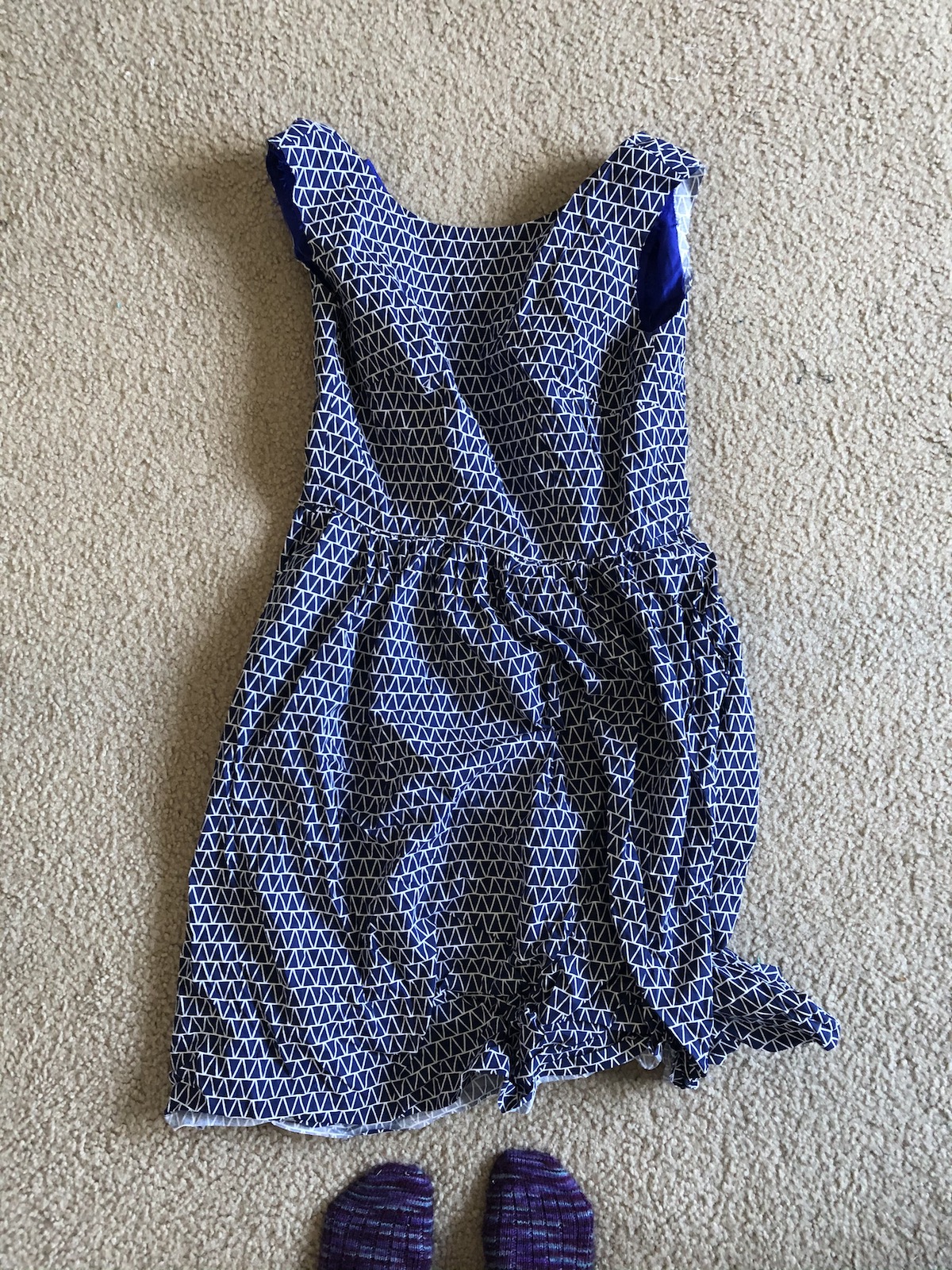 The size I cut was too big and the zipper got stuck and I gave up on it. I always intended on coming back to this project but I feel like the whole fitted top and gathered dress thing is kinda fading in popularity so maybe I won't come back to it. Who knows.
Marilla Walker Ilsley Skirt (2017)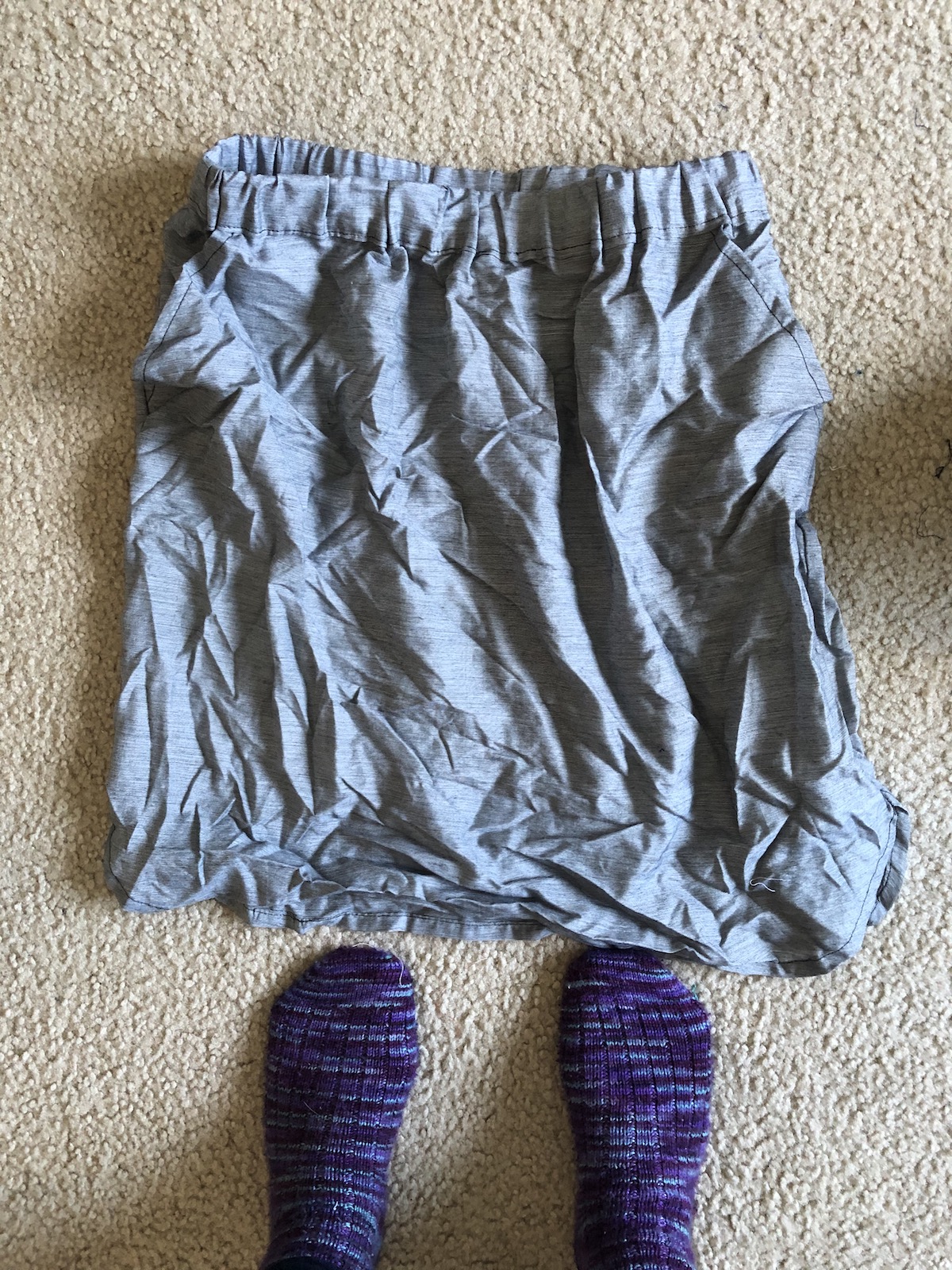 This is technically a finished item from 2017 but it's just awful. I've never worn it. This was some really weird fabric that I got from the remnants bin at Joann's. It was way too floating for this skirt and everything was just wrong about it. Also the sporty rounded hem look wasn't doing it for me and I felt like it was missing a drawstring or something. Not a fan. Bye!

Simplicity 8128 (2017)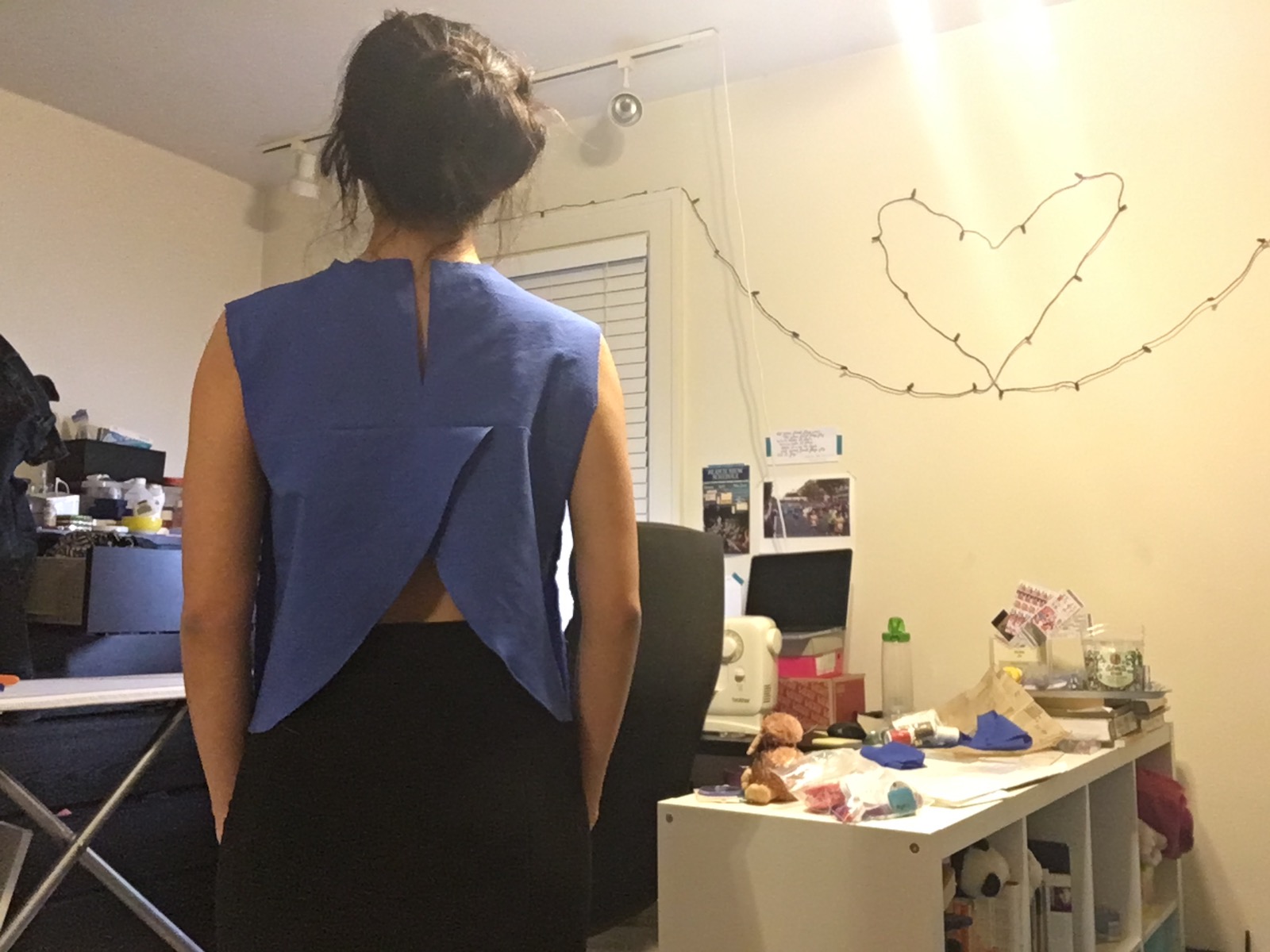 I had this genius idea of making a petal back top, which was all the rage in 2017. I tried to alter a pattern but didn't think about seam allowances or construction, which ended up in a mess of a top that I decided I couldn't bother with trying to figure out how to fix. This is probably a good example of me biting off more than I can chew.
Gingham Simplicity 1366 (2017)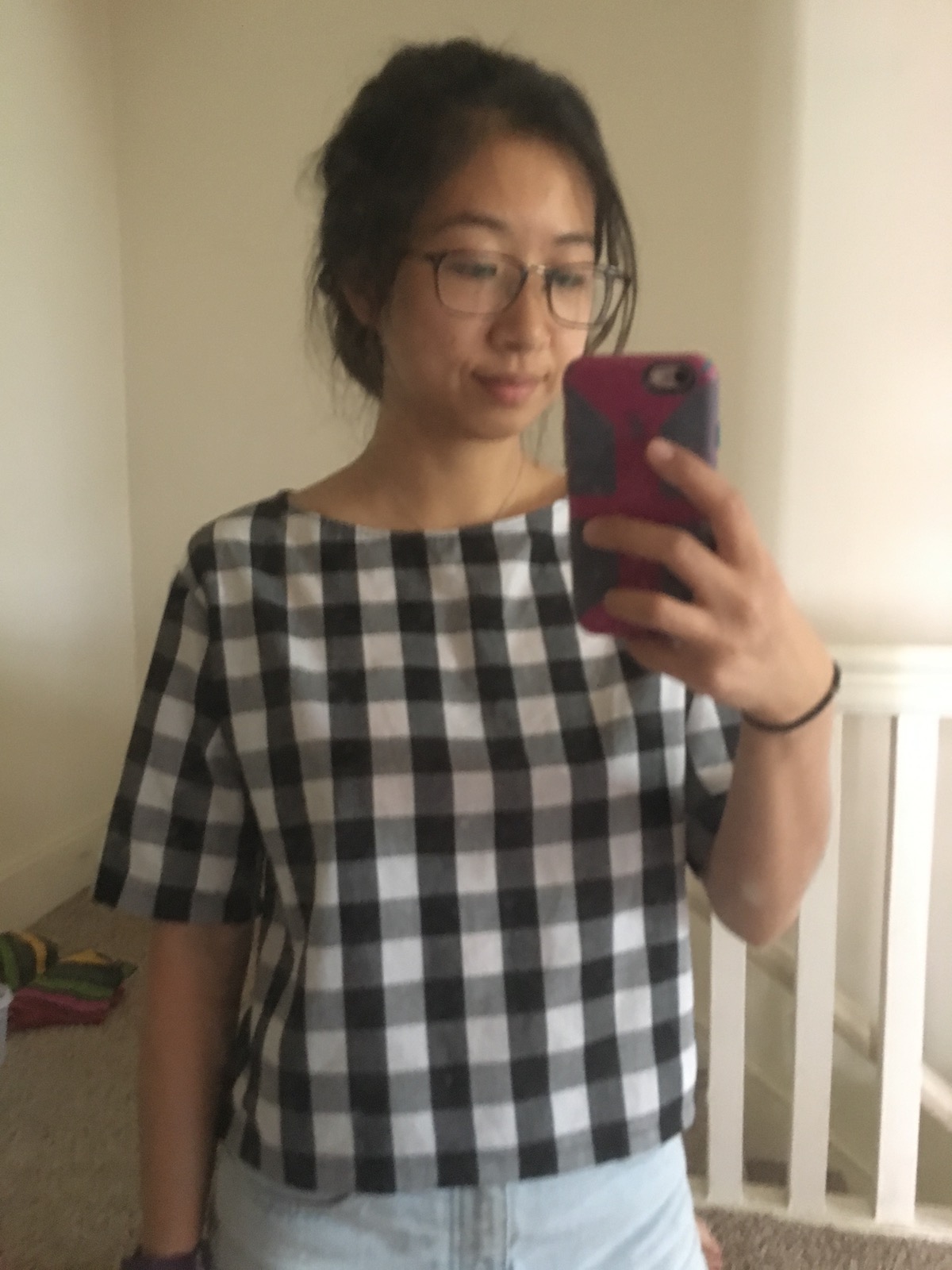 This shirt is actually mostly fine. I've worn it a few times. I really like this pattern. I just never wear it anymore because the collar bit has gotten quite yellow, which is gross. Anyway, it's just time for this shirt to retire. I wore it a bit, it served it's purpose. It's not amazing. Bye!
Lou Box Top (early 2018)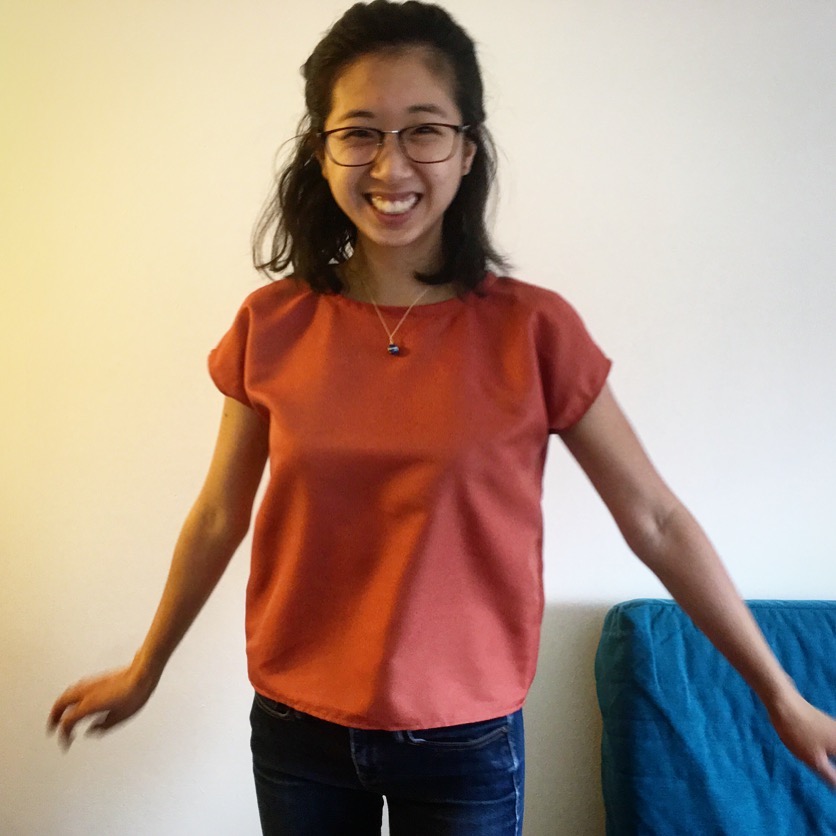 This is yet another bad fabric choice, which is probably the biggest struggle I had in the beginning of learning to sew. Well, actually, I'm still really bad at choosing fabrics. It's still a work in progress. Anyway, this top is just a bad fabric for this project. Maybe I'll try to make this top again sometime. It's super simple and could be quite wearable if I just made something in more appropriate fabric.
Side note, I ended up buying this same fabric from Joann's (a poly crepe) for the Anni Jumpsuit and that turned out great.
Triangles Willow Tank (early 2018)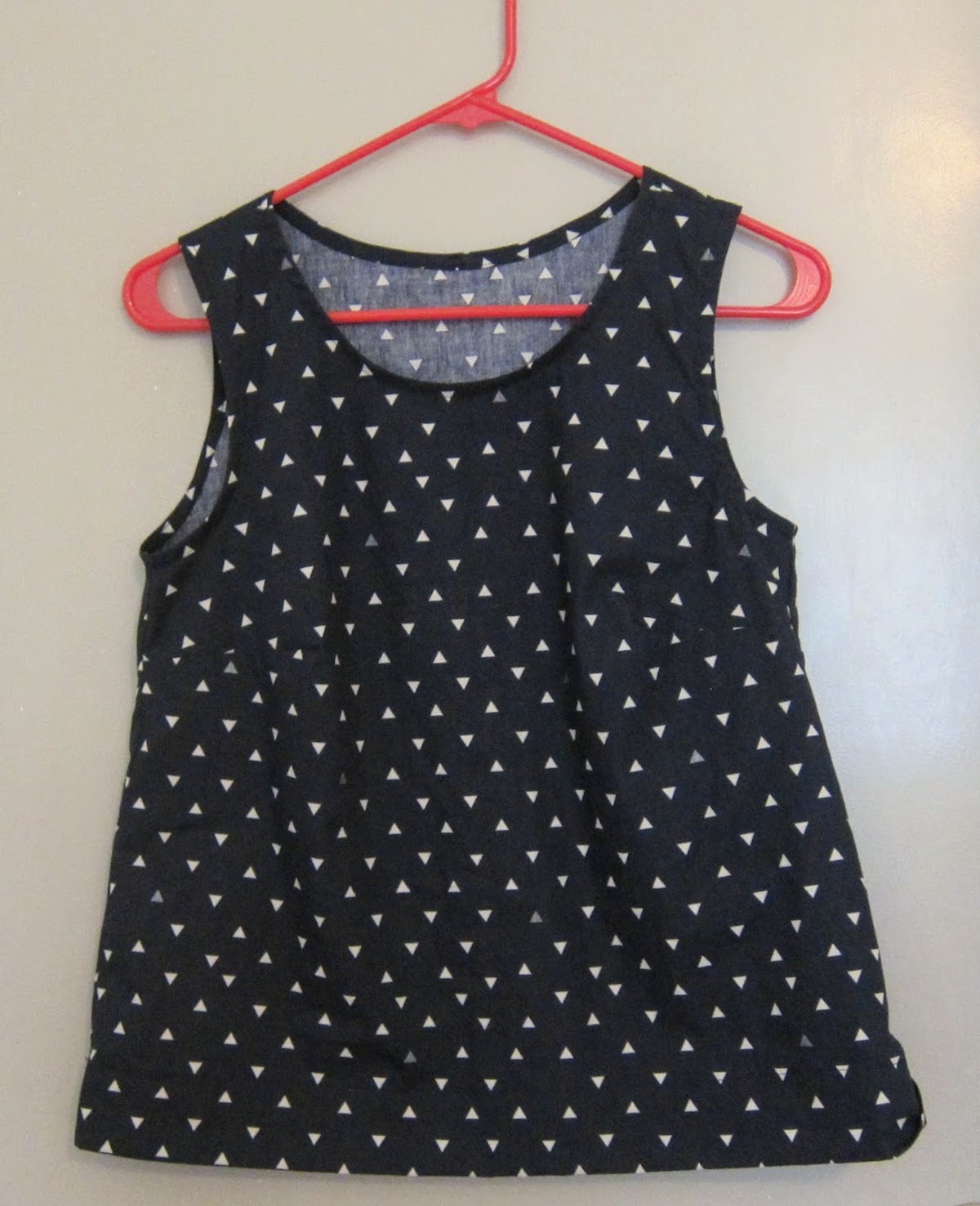 Woohoo, another bad fabric choice! I bought this triangle fabric from Firecracker Fabrics here in Pittsburgh. It's cute. I love triangles! The fabric is quilting fabric, which is just too crisp looking and just looks a little too home ec-y. I made two willow tanks, this one and another in a sparkly linen peach/coral fabric. The peach linen version is also quite crisp but definitely less home ec-y. When I bought this pattern, I had this genius idea that I was going to make a bunch of these tanks and wear them all the time. I've since decided that maybe I don't love the shape of these tanks, so that's that I guess.
True Bias Lander Shorts (summer 2018)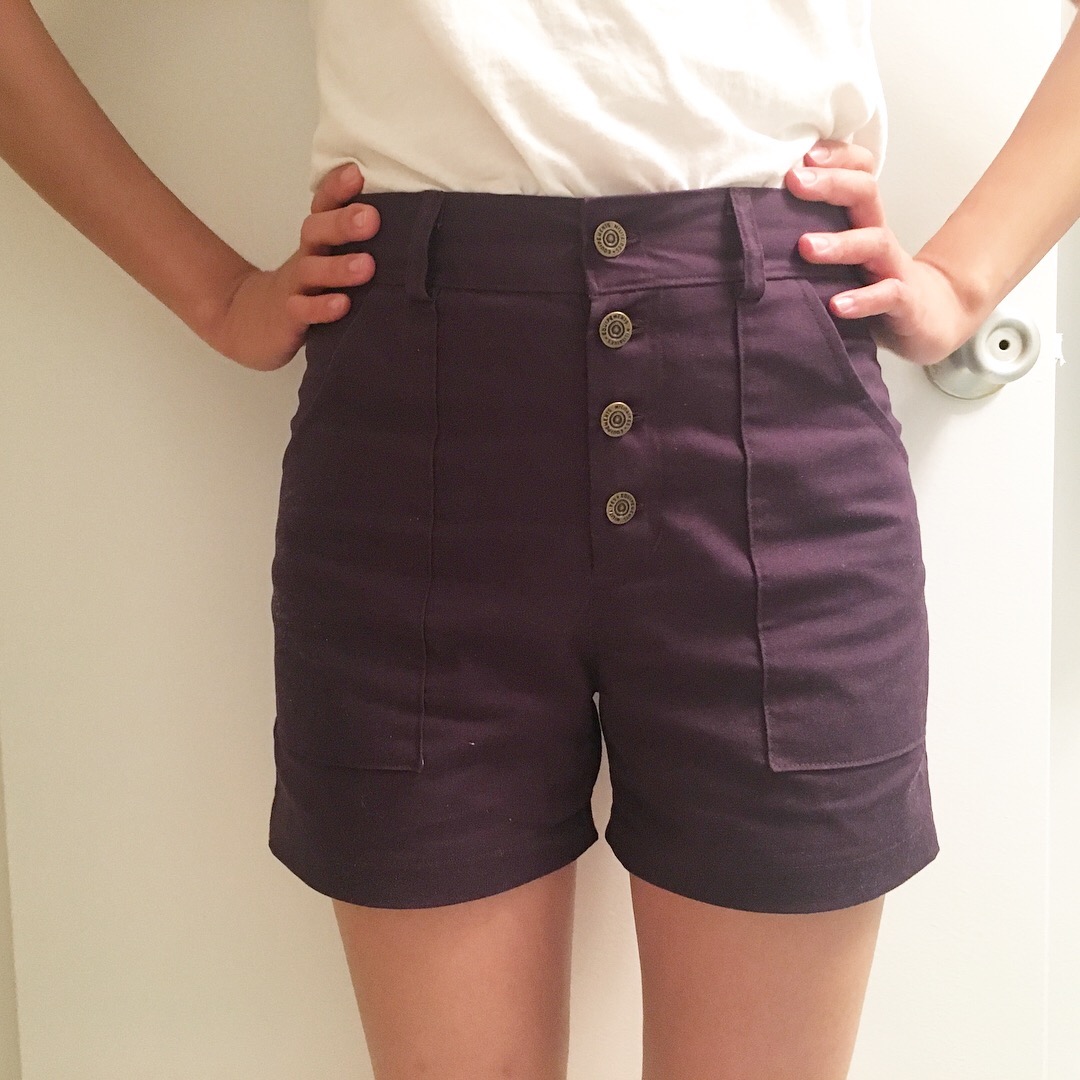 I was so excited about these shorts! Back when I was trying to do the craft instagram, these shorts were the most likes and comments I ever got on a post. They looked SUPER cute but they cut right into my groin and are the most uncomfortable things I've ever worn. I actually wore them out for dinner the first night when they were completed, back in 2018, and they were just awful. AWFUL. I tried to make a muslin for this later on but pants fitting was just confusing. I ended up giving up on them and moving onto other pants patterns. I still would like to come back to these sometime but who knows when that'll be. :woman_shurgging:
Butterick 5926 Blazer (late 2018)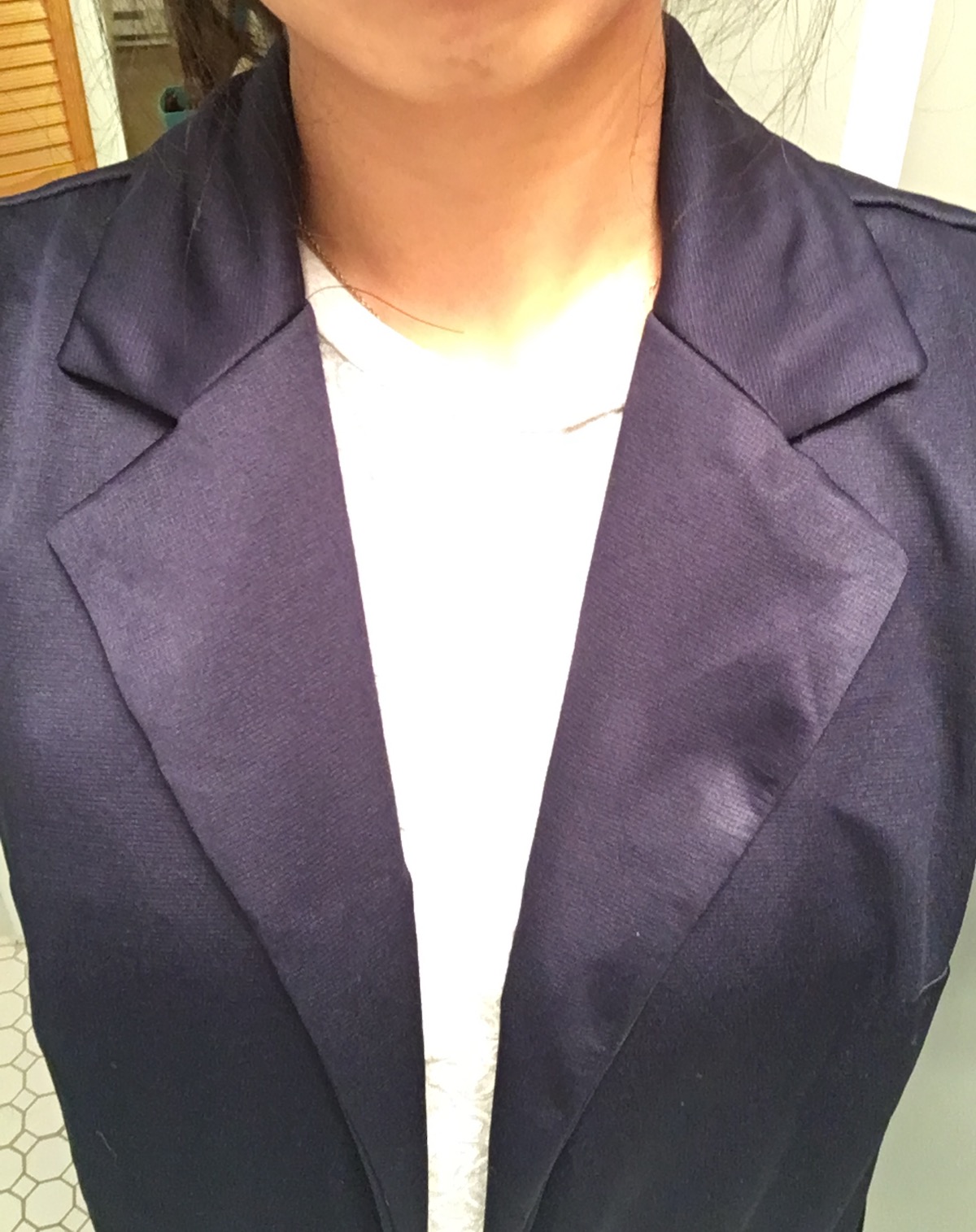 This was a failed project from 2018 that never got documented anywhere online. I have some regrets about that but it's here now! I cut out the project in July of 2018 and finally started sewing it at the end of November. In my notes, I wrote on Nov 30 "made the collar bit! it actually looks like a collar!". Anyway, I decided the next day that the weird poly fabric I got from Joann's was hideous and I never ended up finishing the blazer. Still want to make it though! But with more suitable fabric.
Hey June Durango Tank
See this post about it. I cut it up and put it in my rag rug. The end.
WIPs
All this is to say that things are pretty hectic in Casa KK right now. I've been working on washing and blocking my wools before I put them into storage. That's been a bit of a process because I only have a few blocking mats that I borrowed that I can use and it take time for things to dry.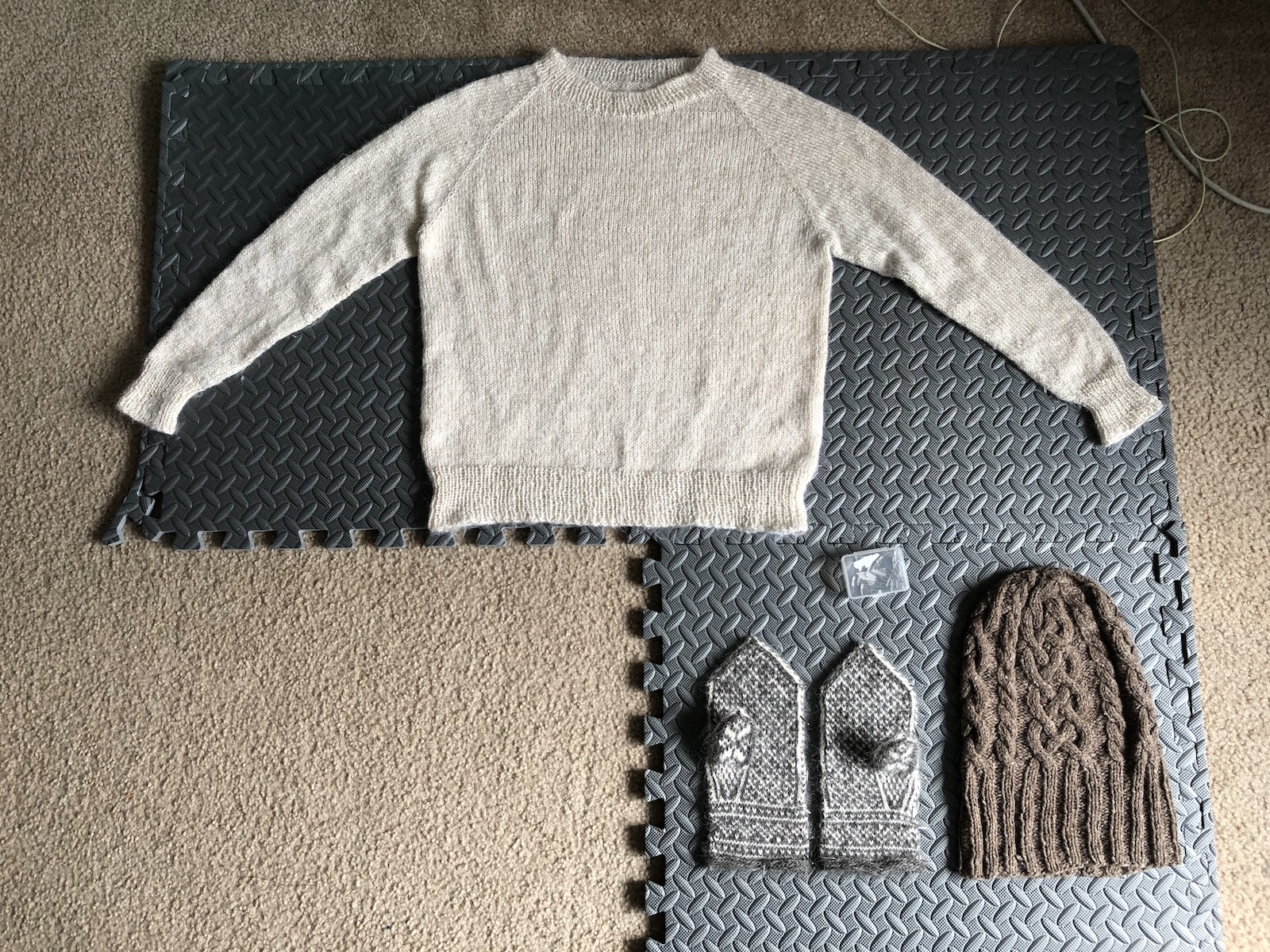 I have one other completed sewing project and two completed socks to post here. I also have a couple bra sewing projects that I'm still trying to figure out how to deal with (on one hand I want things chronicled nicely and on the other hand it's my underwear and the internet, which is a lil weird? I don't know). As for the things I have in progress:
Secondo Piano Basic InstincTee turned into a little sweatshirt typed thing
Vogue 8909 sweatpants
Fibre Mood Charlotte (I've made the muslin!)
Best Beret
Tri-Cable Stitch Sweater
Fixing of my Davallia Coverup
Earth & Air Sweater that I was obsessed with for a while but can't bring myself to add sleeves to.