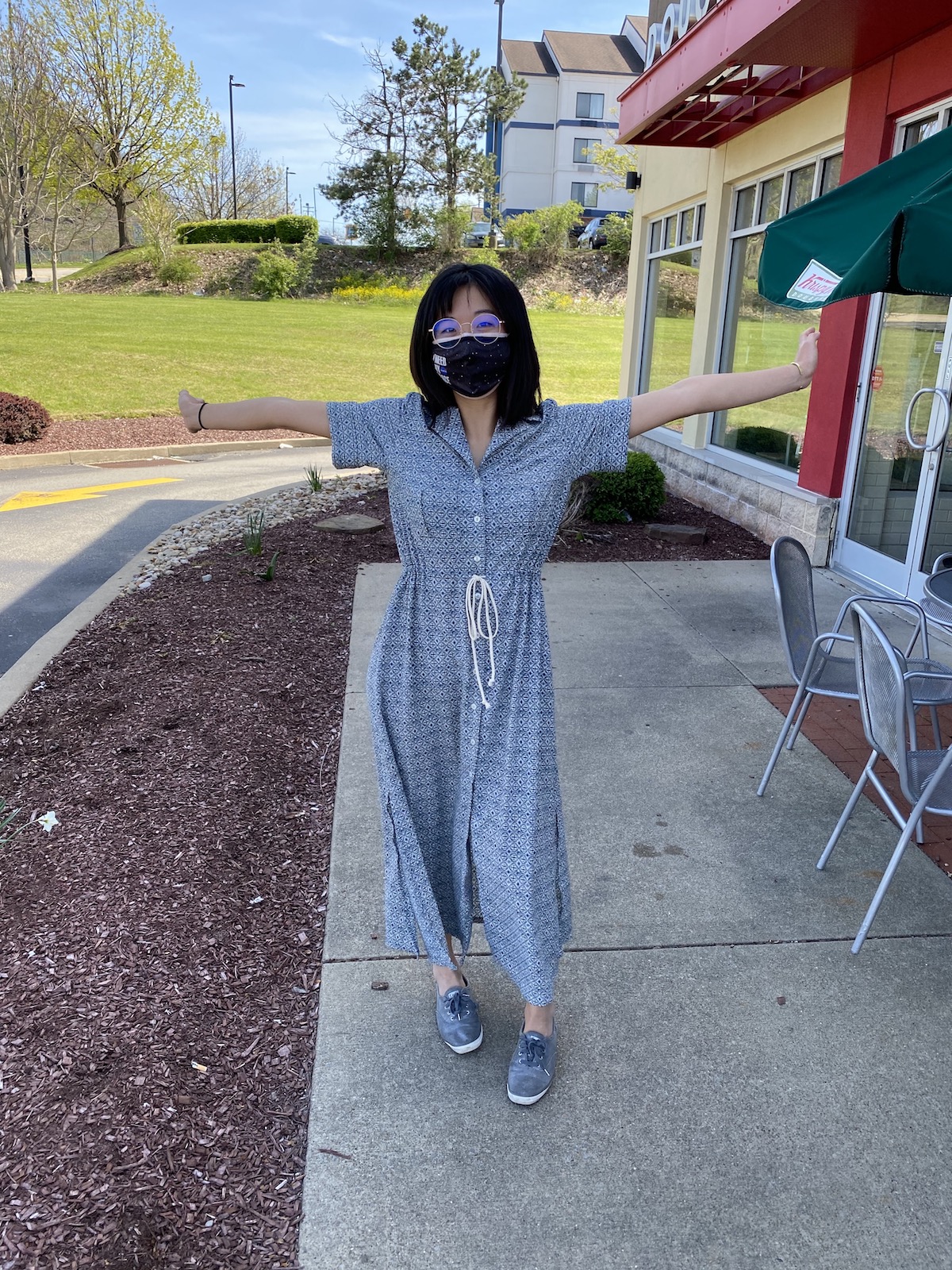 Pattern: 🌕🌕🌕🌕🌑 (4/5)
Completed Garment: 🌕🌕🌕🌑🌑 (3/5)
Size: US Size 4
Overall:

Happy with the garment itself but it's just not really my style
我終於完成了去年六月開始做的洋裝!
我一直不知道應該怎麼解決腰帶的部分所以一直沒完成
後來用洋裝的布做 bias tape 終於解決了腰帶的問題
這家的版型打的是給長得比較高的人
可是我懶得把它變得短一點所以我穿起來有一點長
這件洋裝好像不太像我的 style 不知道會不會常穿
再看吧!
It's been a while since I've had a new sewing project completed! This project was started in June 2020 and I just finished in April of this year. I put the project away with the drawstring casing, hem, buttons and buttonholes left to do before The most exciting thing about this dress is probably that I wore it out to go get my second vaccine shot.
Fabric
Anna and I went to the Pittsburgh Center for Creative Reuse (aka Goodwill for craft supplies) in April 2019. They were doing this thing where you filled a Trader Joe's bag with fabric for $20. We split the big and I got this fabric and a bunch of other knits that I've made a couple other things with. Anyway, this fabric was probably the best find. There was three yards of it and the tag was still on, so I was able to actually find the fabric on the Mood Fabrics website.
The fabric is 100% polyester crepe, I think. I used a microtex needle to sew everything and I think that it went pretty well. I had a hard time pressing it and still feel like some of the hems are bulging a little and aren't as flat and crisp as I would like. I didn't do a great job with lining up the pattern on the fabric but I think the pattern is busy enough that it doesn't look too weird.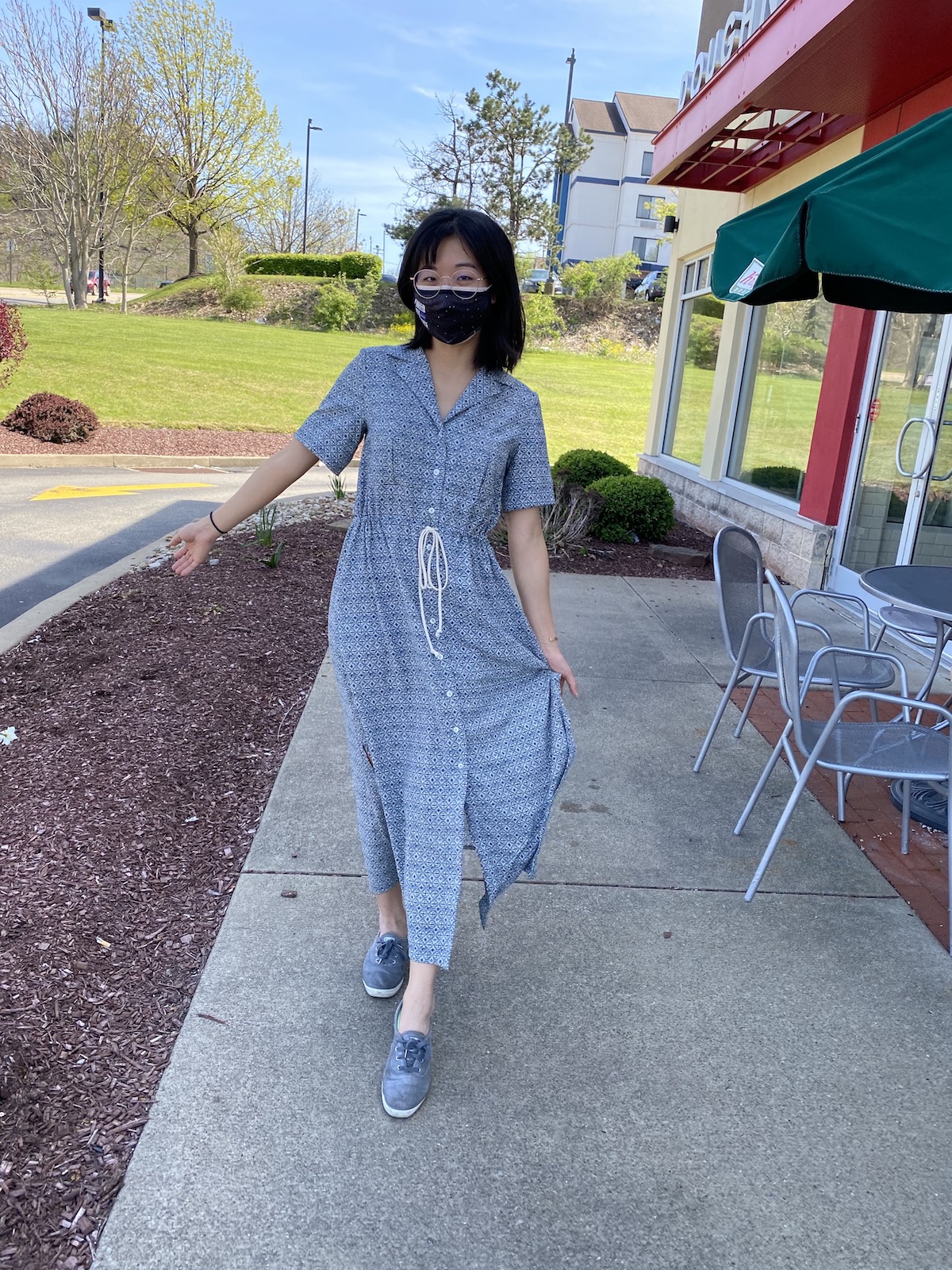 Pattern + Construction
I did most of the sewing and then couldn't figure out how to deal with the drawstring waistband thing. The pattern said to use a ribbon for the casing, but all the ribbons I could find felt too stiff to use with the fabric. I ended up cutting a bias strip from the leftover fabric and just using that as the casing and I'm quite happy with that choice.
I have two minor complaints with the pattern/instruction:
The pattern is drafted for someone much taller than me. I thought about just chopping the bottom off to make it shorter but the way the facing connected at the hem, it just seemed like too much of a hassle. Anyway, I think the pattern was originally intended to be midi length but now it's just a long dress. I had this problem with the Rae pants I made as well. Gotta remember to shorten things when I used Named patterns!
Second complaint is that the slit instructions are not super useful. This is my second time making a pattern with a slit (the first time, once again, is the Rae pants). Both times, I've followed the instructions provided by Named but then when wearing the garment, felt a little worried that the slit might not be strong enough and might just rip through. I ended up coming across this blog post and she talks about reinforcing the slit with stay tape. I wish the pattern had something about this but I'm happy I came across this tip! Will definitely do this next time and there WILL definitely be a next time bc slits are 100% my thing.
Otherwise the construction was smooth sailing. All of the buttons and buttonholes were a bit of a pain but I did a decent amount of testing beforehand. All the buttons were sewn on using the sewing machine. I tried to put a needle under the button to give it a little space for buttoning.
Overall, I'm satisfied with this dress. I'm not sure how much wear I'll get out of it, since this isn't really a color or style I wear. It looks very cottage-y, which is not at all my normal aesthetic. I'm usually more of a tight top + loose bottom or loose top + tight bottom type of a dresser. I have one dress that has a similar shape to this and I very rarely wear it. I really like how the top of the dress looks though and definitely plan to make a cropped shirt or something with this pattern. Or maybe I'll just decide to turn this dress into a crop top next summer. We'll see.
Summary
Start date: June 5, 2020
Finish date: April 12, 2021
Pattern: Reeta Dress from Named Clothing
Fabric: 100% poly crepe from Mood Fabrics via the Pittsburgh Center for Creative Reuse