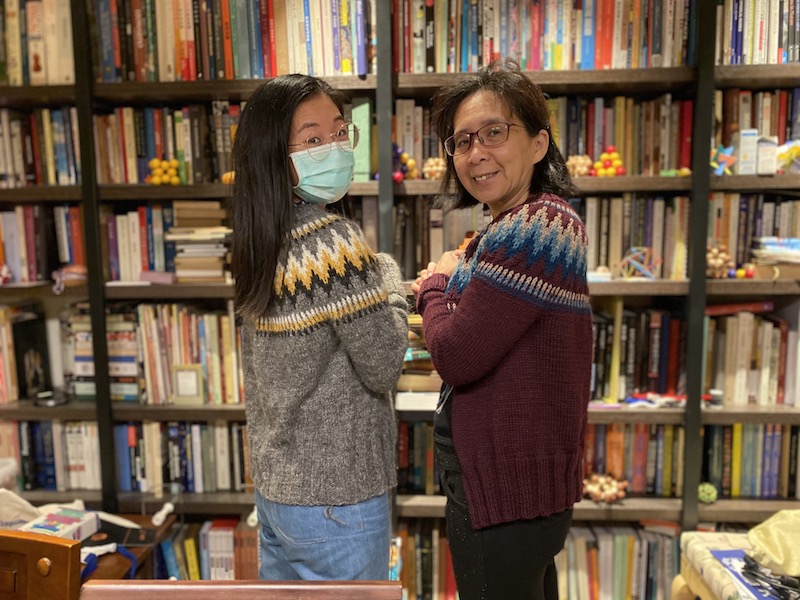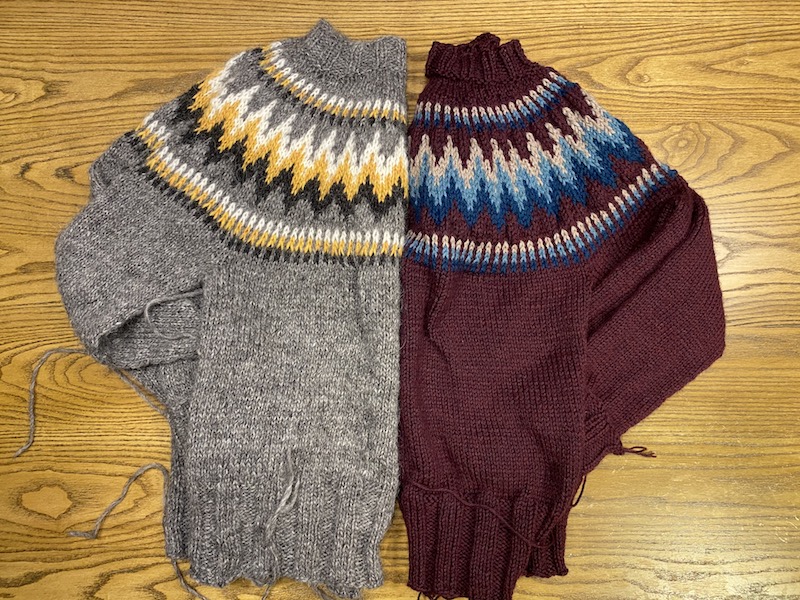 去年母親節的時候在 instagram 上看到很多母女毛衣
原來跟媽咪講說我們可以來一起打同樣的版型的毛衣
後來想一想覺得如果真的要有成品最好兩件都自己打
五月底開始打自己的毛衣(灰)
八月多把身體的部分和袖子打完
11月底回台灣之前開始打第二件(紅)
在居家隔離的時候把紅色毛衣打到跟灰色毛衣到了同一個步驟
出關以後才把前面的 button band 大好
釦子是我回匹茲堡以後各自縫上的
我覺得兩件毛衣都超好看的!
非常高興我竟然做出了兩件這麼好看的毛衣

Last May, right after finishing my first ever sweater, the No Frills sweater, I saw a ton of cute pics of matching sweaters for mother's day and decided that I also wanted to have matching mom and me sweaters. Originally I had asked my mom if she wanted to knit matching sweaters with me. However, I quickly decided that if I wanted us to actually have completed sweaters, it would make more sense for me to knit them.
Yarn
I used Lettlopi for my sweater and Berroco Vintage for mom's sweater. Both of these yarns were used by lots of people on the Throwback sweater ravelry page. I thought the Berroco, which is machine washable and smooth to wear, made more sense for my mom care and weather-wise. For my sweater, warmth was first priority and I don't mind more difficult wash instructions.
Having worn this sweater a lot since I've gotten back to Pittsburgh, I can confidently say that this is one of the warmest things I own. Icelandic sheep know how to keep cozy. The yarn is a little scratchy but I'm always wearing a shirt under. Love love love this and I definitely want to make a lettlopi pullover sweater now!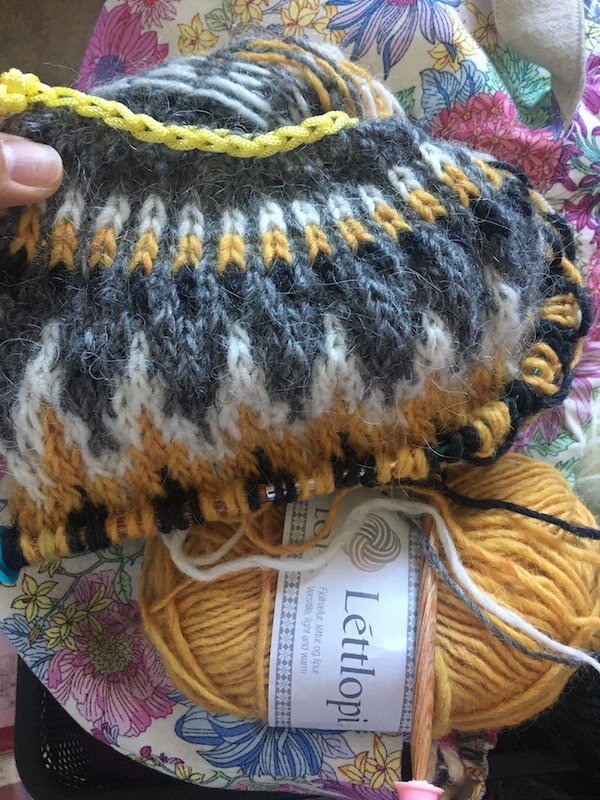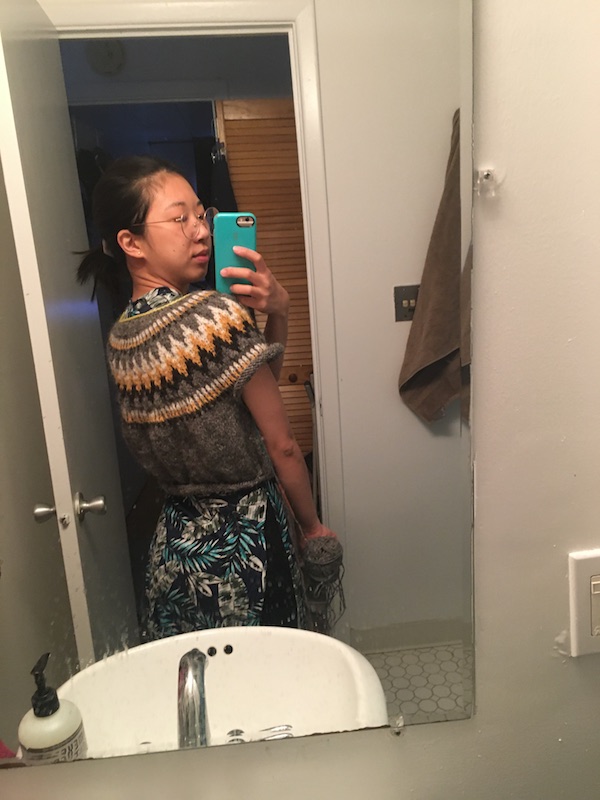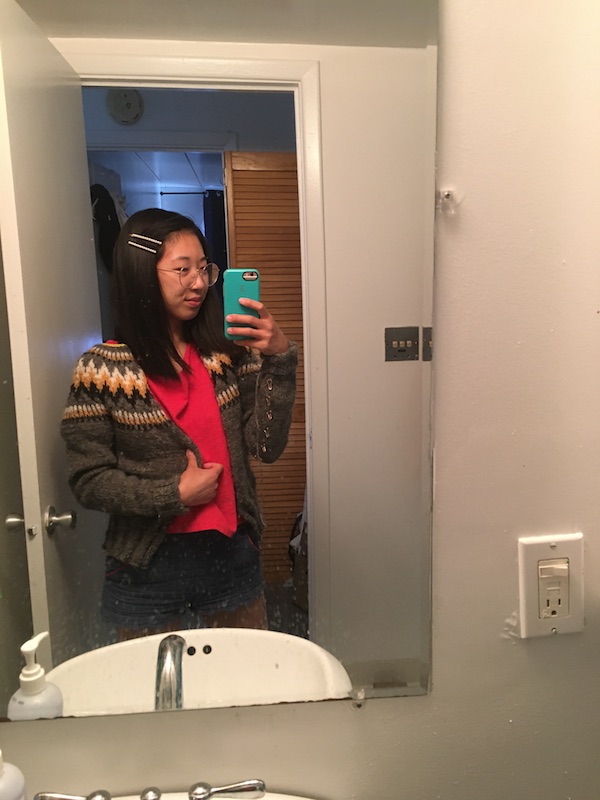 Pattern
The Throwback sweater has a ton of makes on ravelry. I made size 2 for both sweaters. I wish I had been more thorough in reading the comments, but I honestly didn't know what I was doing when I started knitting and couldn't have possibly understood all the comments. The main thing I wish I had done is add an extra stitch in the main color on either end in the front for picking up the stitches for the button band.
Getting started on the colorwork bit was quite confusing, but I read a ton of articles on the internet and watched a bit of this colorwork craftsy class. Doing swatches really helped me practice the colorwork bit before getting started on the sweater. I did swatches for both sweaters to determine needle size and for the mom-throwback, to decide on the ordering of the colors.
The hardest part of this entire sweater was picking up the button band. I did a ton of calculations and re-knit the button band at least 2 or 3 times for each of the sweaters. I read an article and watched a youtube video, both of which were very informative. I used the method for determining my row and stitch gauge described in the video described in the youtube video but picked up every stitch as described in the article, and k2tog to get the right number of stitches to get correct gauge. For both sweaters I picked did 5 ribbing stitches for every 6 rows in the main fabric.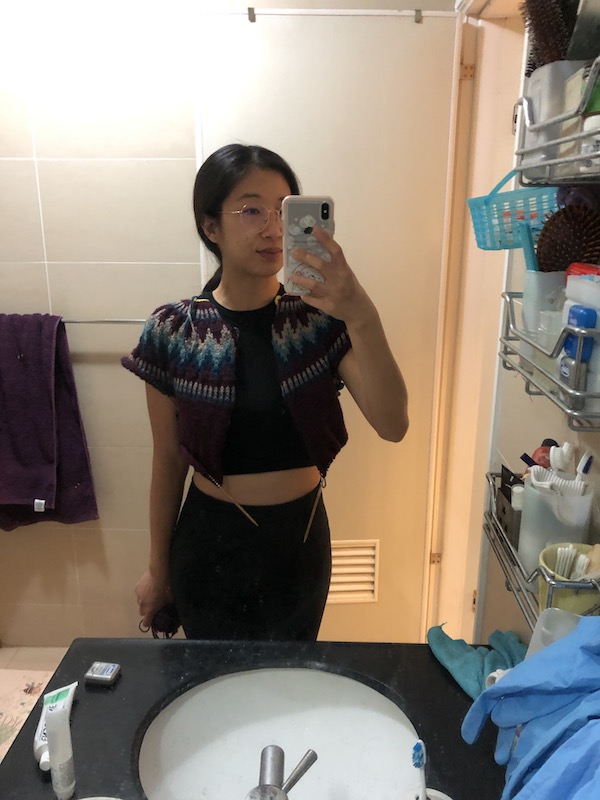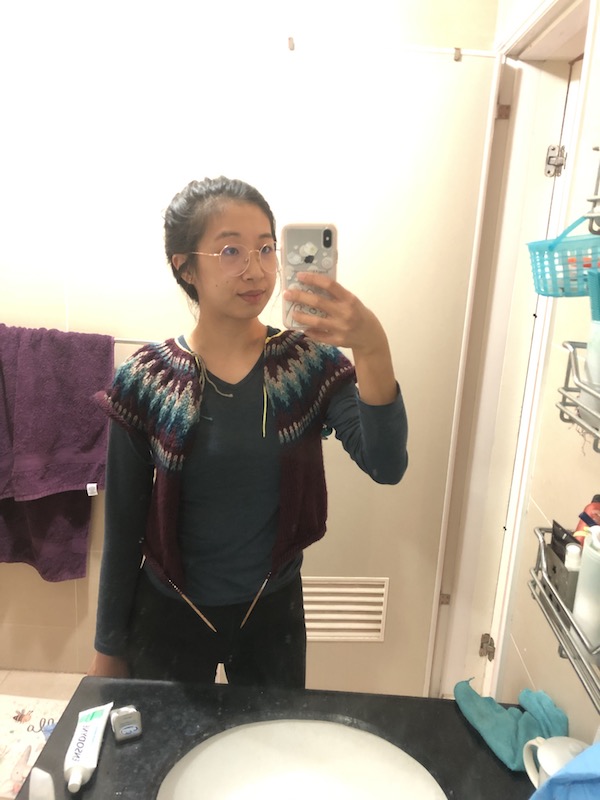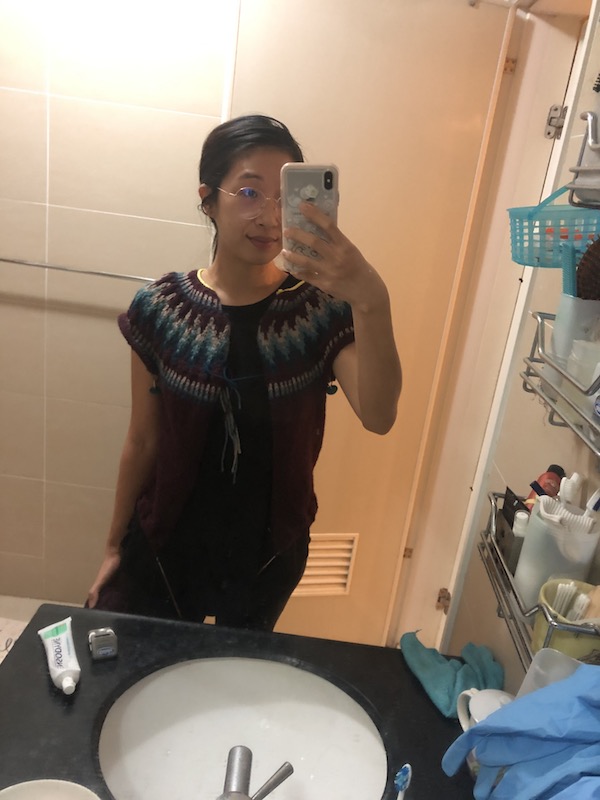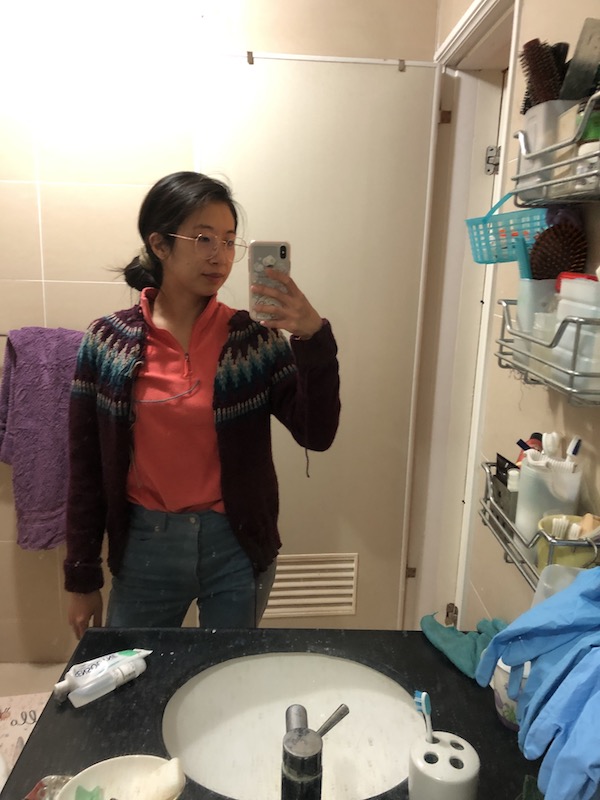 I also decided to add buttonholes to the button band, but did not sew on buttons before leaving Taiwan. Mom and I went on a huge button hunting journey in the 後火車站 region of Taipei, where there are lots of craft shops. We went multiple time and ended up finding buttons for both of our sweaters. I think the buttons I chose for my sweater are terrible. I just sewed the button directly on with regular sewing thread. I didn't add a ribbon backing because the buttons are pretty light and the lettlopi fabric feels pretty stable. I did a terrible job and one of the buttons has already fallen off. Oh well. Will I ever repair my bad button sewing job? Who knows.
I decided mom can sew on buttons herself so I left the buttons and sweater there for her to finish. It took a few weeks, but she just sent a finished picture of the sweater. I think the buttons we chose for her sweater was perfect and the finished sweater looks FANTASTIC. I love how it looks and am thrilled I didn't have to sew on the buttons!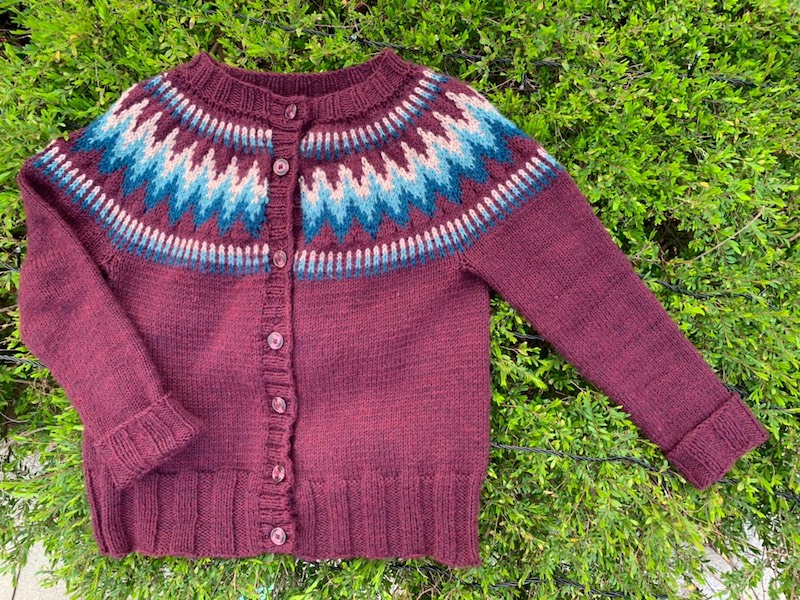 My Sweater
Yarn: 8 balls of gray Lettlopi + 1 ball each of white, black and mimosa ($4.12 each, $45.32 total)
Start: May 28, 2020
Finish: Jan 5, 2021
Pattern: Throwback Sweater size 2 (for both sweaters)
Needles: Ribbing - size 7, Main - size 8, Colorwork - size 9
Where: Pittsburgh and Taipei
First time: knitting colorwork and making buttonholes!
Mom's Sweater
Yarn: 4 hanks of Berroco Vintage in Black Currant, 1 of each of Breezeway, Oat, and Tide Pool ($6.75 each, $47.25 total)
Start: Nov 18, 2020 ish
Finish: Jan 10, 2021 ish
Needles: Ribbing - size 6, Main - size 7, Colorwork - size 8
Where: Pittsburgh, Hsinchu, and Taipei
Note: I actually accidentally ordered an extra Tide Pool and an extra Black Currant. Also, I have tons of leftover of all three contrast colors. Ordering a full hank of yarn was definitely not the best decision.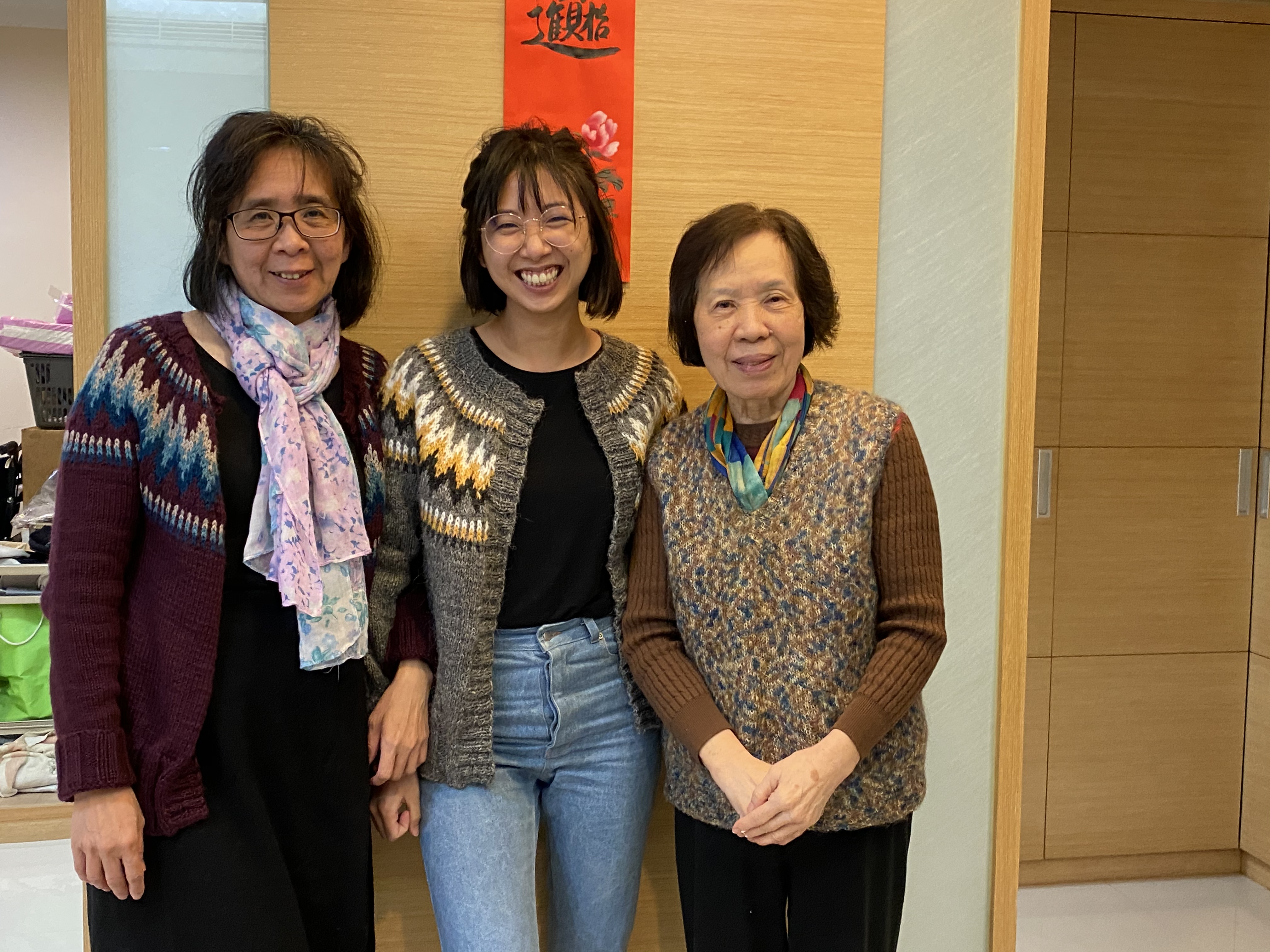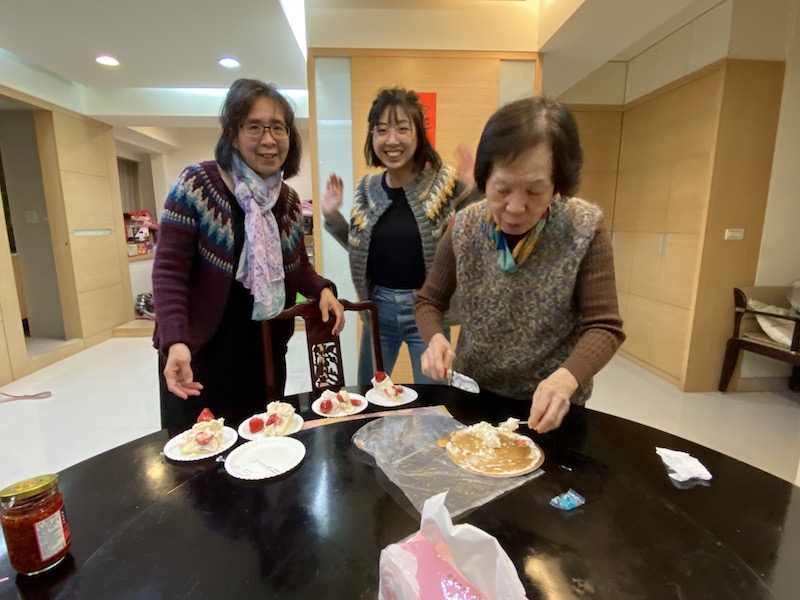 Fun fact, my grandma is also wearing something she handknit in the pics above!