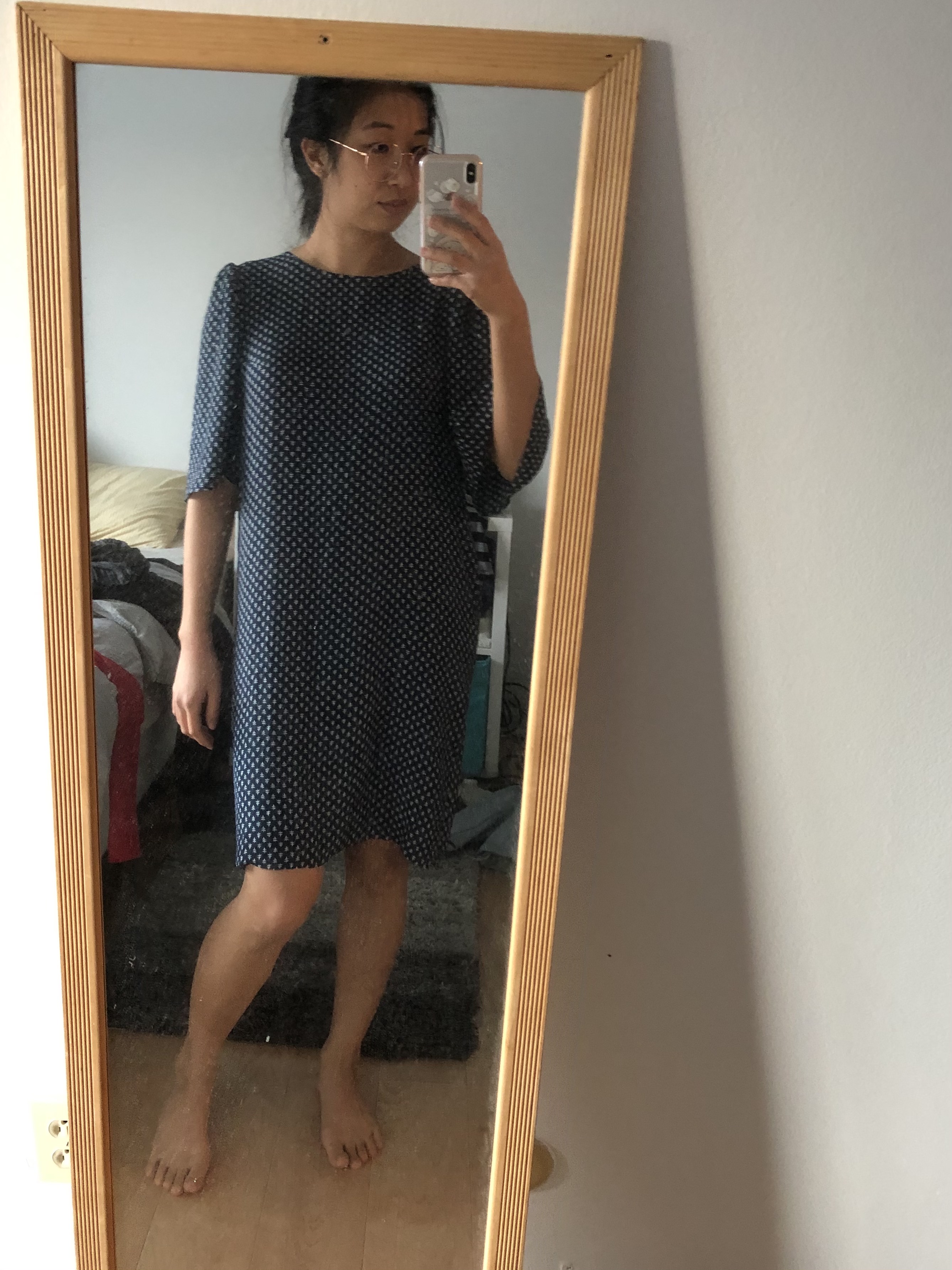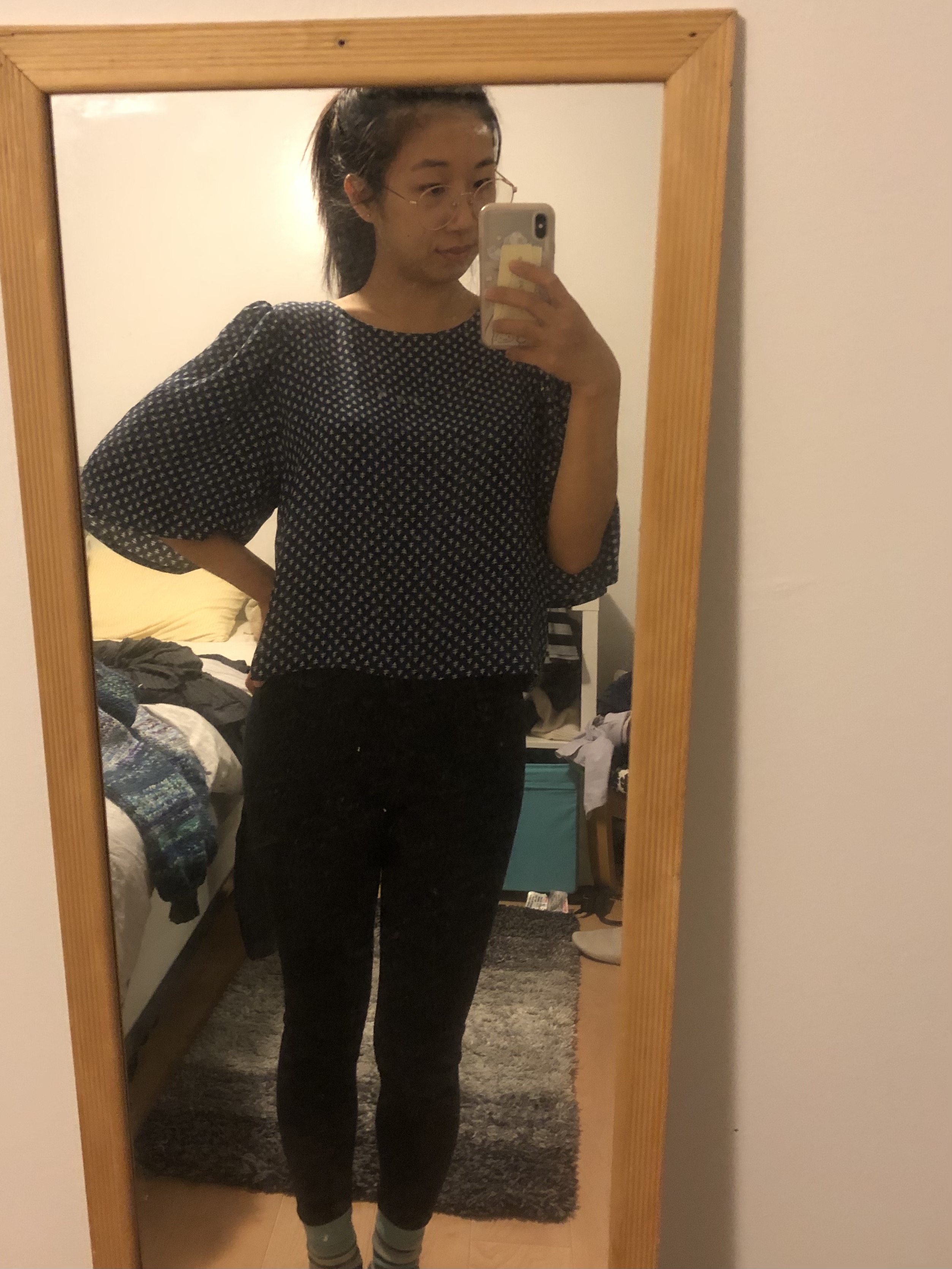 Pattern: 🌕🌕🌕🌕🌑 (4/5)
Completed Garment: 🌕🌕🌕🌕🌑 (4/5)
Size: Size 2
View: View D that ended up being View B
Overall:

Pretty cute top!
現在流行大袖子
我看到這個版型的袖子很有趣就很想買
剛好特價的時候就趕緊把它買下來
剛好家裡已經有很適合的布
原來是要做洋裝的
可是覺得洋裝做起來太像睡衣了
後來還是把它剪成上衣
下次再做洋裝!
Pattern
The Cielo pattern was on my Patterns I Want list mostly because of the amazing sleeves. I tried to convince myself to not get this pattern for a few reasons:
I don't love the neckline. It's too open and wide for my taste.
I don't need another boxy top pattern.
Then in October, Closet Core Patterns had a sale. I was planning on buying the Pietra Pants pattern as a gift for Kristen for her birthday. That same week, I saw this version of the Cielo Pattern and I was obsessed. Anyway, I bought the pattern. I couldn't resist it. I blame it on my thesis-writing-addled brain!
Fabric
I got this navy patterned rayon from LA Finch Fabrics in January 2018. This was one of my first fabric orders when I first got back into crafting. This was a side purchase from getting french terry for the Toaster Sweater 2 (still need migrate that blog post here). I didn't really have a plan for it and couldn't figure out what to do with the fabric for the longest time.
I really like this fabric with this pattern and I'm happy I had this fabric in my stash ready for this project!
Construction
My Closet Core Patterns size is typically size 6. This is the size I used for both of my pajamas and for the ginger jeans. I did some research before cutting out the pattern and lots of people had success sizing down. I ended up cutting a size 2, which resulted in a more fitted look that's more my style.
I cut View D, the dress view with the lantern sleeves. The only adjustment I made before cutting was taping the shoulder yoke down and cutting the back piece as one. While the design is cute, I decided that since I was working with such shifty fabric, I didn't want to have to deal with an extra piece.
Due to the shiftiness of the fabric, the bottom half of the lantern ended up being slightly different sizes and it seemed like too much of a hassle to get working. I ended up just turning up the sleeve and hemming it. I still has that lovely big gathered look that I wanted so I'm not upset about it.
I also decided to cut it and turn it into the top. I decided the dress look was a bit too pajama-like. Also, since I had sized down 2 sizes, I felt like the hip area was a little tight. Note to self – when I make the dress view, grade to a larger size in the bottom half of the dress!
Again, because of the shiftiness, the front and back of the dress seemed to be uneven. I let it hang for a bit and tried to even it out when I cut it into a top. I clearly did a terrible job because the back is still longer than the front. I have no idea how to get an even hem after the whole "let it hang for 24 hours" thing that people seem to suggest you do.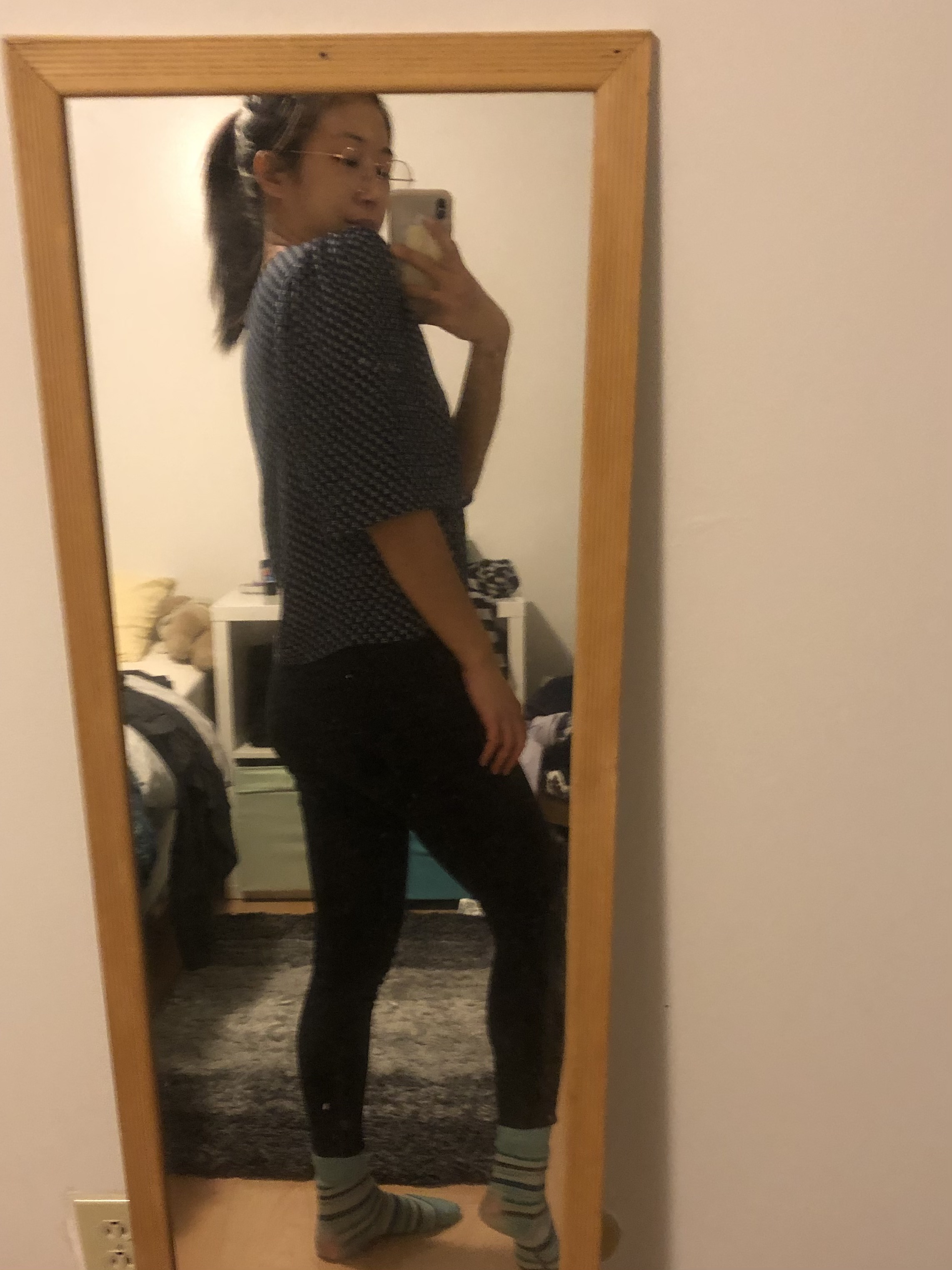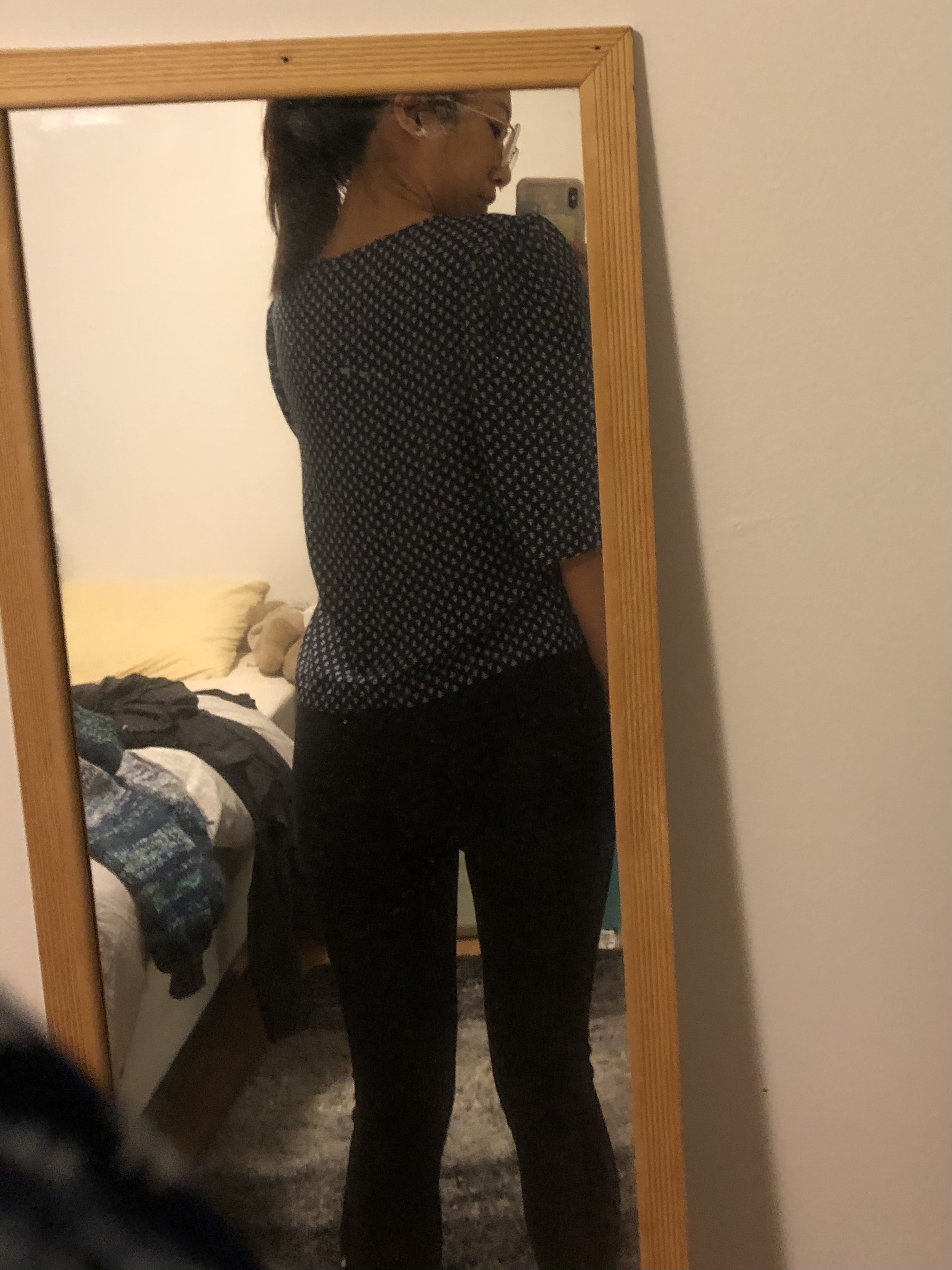 Summary
Start date: November 5, 2020
Finish date: November 18, 2020
Pattern: Cielo Top from Closet Core Patterns ($12)
Fabric: Rayon fabric from LA Finch Fabrics ($15.92)
Notes for next time
I'm planning on making a dress version of this with the lantern sleeves. I bought some red Viscose Linen slub so that I can basically make a dress version copycat of this version. I need to make sure to grade to a larger size in the hip for the dress!