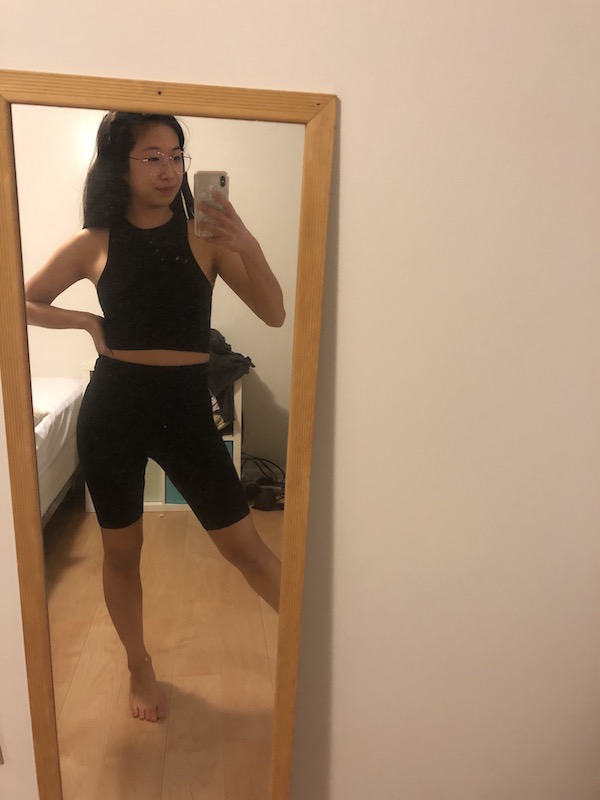 Pattern: 🌕🌕🌕🌑🌑 (3/5)
Completed Garment: 🌕🌕🌕🌕🌑 (4/5)
Size: 6
View: Both! More detail in the Pattern section
Overall: Not thrilled with the results but I plan to make more!
最近很流行運動的衣服要上下搭配的
我決定在 thesis 寫完給自己一個布加上版型的小禮物
紅色的不太透明了 做好的這件大概只能在家穿 黑色的因為布不夠 所以做成了一件短褲
Sometime in August/September, Monica sent me this comic. At that point, I had been wearing and loving my Axis Tank for a few months and decided I needed to make a matching Axis Tank and leggings set. This was also during my thesis crunch time, so I told myself that as soon as I submitted my thesis, I would buy myself fabric for this two piece set. For both fabrics, I made an Axis Tank to go with the leggings.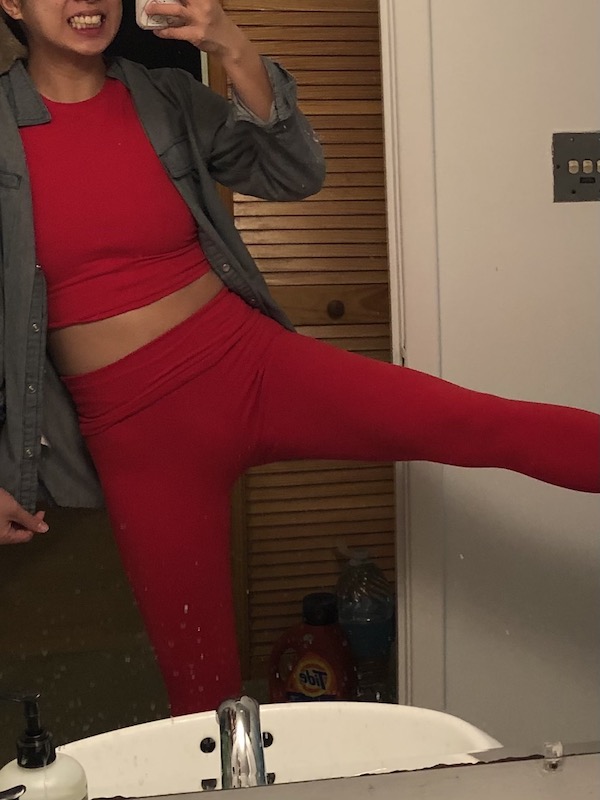 Fabric
I bought two cuts of fabric, both from The Fabric Fairy. The first is a red brushed poly that is super soft to touch. The second is a pintucked black poly.
Pattern + Construction
I had a hard time deciding which leggings pattern to get. I mostly got the Avery Leggings pattern because I am easily influenced by social media. I hate how much I get influenced by hype but oh well, such is life. I've sewn other Helen's Closet patterns and her instructions are quite nice so I'm not too upset about it.
I made the high-waisted version (B) with regular length legs for the red pair. The high waist is WAY too high. It comes up to right under my boobs. I have to fold it over to wear it. It's really annoying. I didn't add the extra elastic in the waist band because most reviews of the pattern that I read said that it wasn't necessary.
I had a lot of issues with my serger tension for the red pair. It was something about the thread I was using, maybe? The left needle kept skipping and everything would just go crazy. I think maybe the woolly nylons I used has gone bad (?). I also used the red woolly for the McCall's crop top and all the hem stitches popped. Anyway, the result of this is that I'm getting some laddering in high stretch areas (like the butt seam).
For the black pair, I didn't have quite enough fabric so I made biker shorts. I didn't hem them because I'm lazy. I think they're cute and I like the ribbed fabric. Adds some extra dimension to the solid black fabric!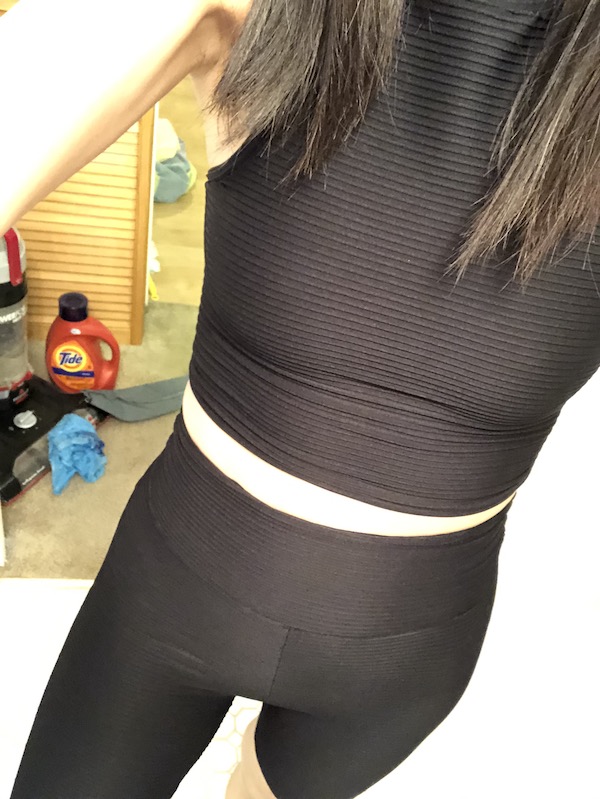 Two main thoughts on the actual pattern:
The high-waist is way too high.
The gusset seems to go too far back for the size I used. I feel like I can almost see the gusset from the behind view.
Summary
As for the finished leggings, the red pair feels incredibly soft and great for at-home yoga, dance classes and lounging, but they are way too see-through for goign outside. The black biker shorts are cute but I haven't worn them much since I went home soon after finishing them and didn't bring them back with me.
Start date: October 29, 2020
Finish date: November 2, 2020
Pattern: Avery Leggings from Helen's Closet
Fabric: Beyond Tango Red Supplex and Black Beyond Pintuck Poly from the Fabric Fairy