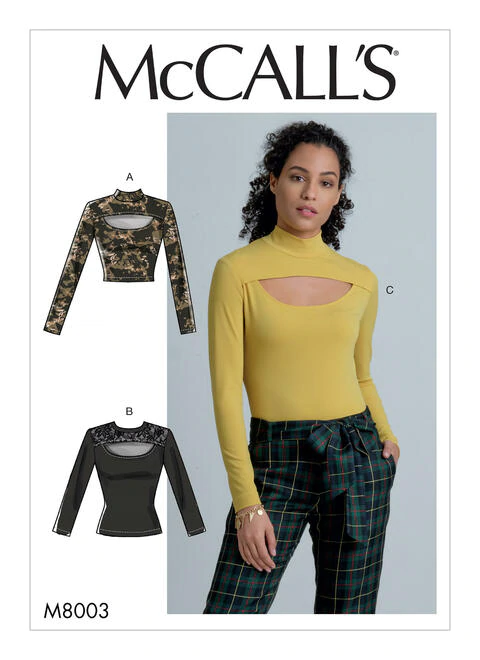 Pattern: 🌕🌕🌕🌕🌑 (4/5)
Completed Garment: 🌕🌕🌕🌑🌑 (3/5)
Size: 10
View: A
Overall:

Cute top but mostly unpractical
我又做了一件短版的 t-shirt
Hem 縫的有一點問題 以後需要從新弄一下
我還是不太會弄這種有彈性的布
每次都會有一些問題
Fabric
This is a bamboo jersey from Surge Fabric Shop. It's quite slinky and soft. I also made a Watson Bra. I think I had gotten 1 yard total of this fabric and had just enough to make the cropped version of this top!
Pattern + Construction
This is McCall's 8003. The pattern has a few variations for the neck and for the length/bodysuit. I made the crew neck and cropped version.
I didn't exactly following the construction suggested. The things I did differently:
I sewed in the sleeves flat. In most knit things I've sewn, the sleeves were sewn in flat. I don't know why the instructions wanted me to put it in in the round. Seemed like a hassle.
I hemmed everything first (using a twin needle with woolly bobbin). More on this later.
Topstitched the neckline, also with a twin needle and woolly bobbin thread.
Since finishing this top. EVERY SINGLE ONE of the twin needle hems have popped. UGH. I can't get the settings right. For some reason, the neckline is the only one that hasn't popped. A different color woolly was used for the neckline, which leads me to think it might be an issue with the woolly. Who knows. I'm going to have to go back and redo the hem at some point.
Summary
Start date: July 30, 2020
Finish date: November 19, 2020
Pattern: McCall's 8003
Fabric: Bamboo Jersey from Surge Fabric Shop
Notes for next time
I really need to figure out the settings for the topstitching/hemming with the twin needle and woolly nylon. I ordered a low tension bobbin holder for my sewing machine. I will have to try that out sometime and see if that helps!