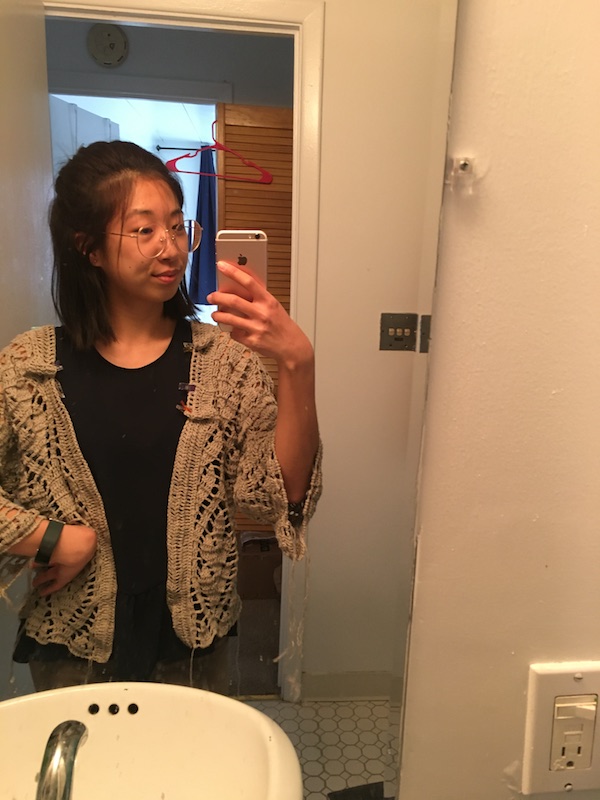 用鉤針鉤的小外套
原來想做這件是因為覺得花樣很好看
可是感覺 pattern 的 neckband/frontband 那一個邊邊寫得很爛
最後做出來感覺非常難穿
穿一穿馬上就會從肩膀滑下來
煩都煩死了
I received a Pom Pom Mag subscription as a gift in 2019. This was the first issue that I got and the Davallia Cover Up was the first thing that caught my eye. I was immediately drawn to the gorgeous floral pattern and the fringe! As you can see in the picture, I never got to adding the fringe. I've finished the last step (the neck band) in April and have worn it a few times. It slips off my shoulders whenever I wear it and I don't particularly enjoy wearing it. I'm not really sure what to do about it and partly feel like I may eventually frog it. Who knows.
While I've crocheted before in the past, this was my first time crochet recently and my first big real crochet project. Other people might do an easier first project. Not me! I just like to jump right into what I want.
Yarn
I got this linen yarn from Willow Yarns. I wanted something that's linen for the summer and also something cheap bc I'm a poor grad student. I can't afford fancy yarns and this pattern uses quite a bit of yarn. I chose gray cuz that's what was in the sample and I'm not super creative apparently.
The yarn is quite stiff but I think the finished garment was a bit softer after washing. At this point I think I've thrown it into the wash 2 or 3 times.
Pattern
The stitch pattern (or whatever it's called) is SO GORGEOUS. The construction of this garment leaves a lot to be desired. First of all, the way the neckband is done just doesn't make sense. I actually redid the neck band three times. The first time, I did it as the pattern states, which resulted in a lot of extra fabric in the neckband. I pinched out a bit of the neckband and did some stitch decreases to shape the neckband. (See pics for the clips for when I tried to pinch out bits of the band. Apparently I never took proper pics.) Still wasn't super into how it looks and then redid it with MORE decreases. Now the shape is better but the band gets pulled weirdly.
The other main problem is that it's basically impossible to wear. It just slips off of my shoulders constantly. It annoys the heck out of me when I wear it. Anyway, It looks so pretty but I don't know. It's just not working for me.
Yarn: Feather from Willow Yarns
Start: March 15, 2019
Finish: April 11, 2020
Pattern: Davallia Cover Up from Pom Pom Mag
Hook: 2.75 mm, which I got especially for this project
Where: Pittsburgh, SF Bay Area, Barcelona, San Diego