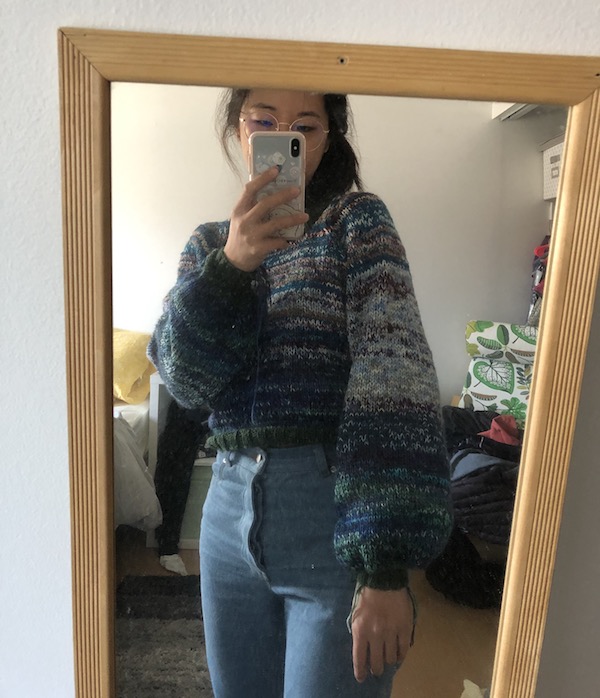 這件是把一大堆其它 project 剩的毛線集中變成一個新毛衣
現在很流行短版的東西和大袖子
這件毛衣剛好又是短版的也有一個蓬蓬袖
剛開始有一點緊張做出來的毛衣會很難看 (有看到別人做的有一點醜)
可是這件最後做出來的成品我覺得感覺不錯
有一點醜 可是是個感覺暖暖的醜
I debated for quite a while whether to knit this. There are some versions that I've seen that I love and others that I felt like were things I never would want to wear. I also knew that unravelling this would be basically impossible. Anyway, this all happened peak pandemic and my ability to resist buying things was nonexistant.
I decided that the main characteristics I noticed about the sweaters that I saw that I really liked were that 1) the gradient was really even and 2) the cuffs were solid colored. So that's what I decided to do.
Yarn
While organizing my stash to prepare for this project, I learned that I have too much blue yarn even though I don't even really like to wear blue.
Leftover yarns from:
Green yarn from Dad's green socks (cuffs)
My first sock (yarn from the total eclipse)
Pretty Harbour socks (other yarn I got during the total eclipse)
Knit Picks Hawthorne from my Melted Mirage shawl
Purple-y stroll socks
Purl Soho travelling cable hat
And:
Worsted Lion's Brand
Fibrenymph mini from Indie Knit & Spin
Lichen and Lace purchased in Toronto during Ellen's wedding
I did some weird skipping rows with the yarns. I was worried I was going to get too much pooling of color and I wanted to keep things variegated, so I started to just swap between two yarns between rows.
A lot of the Ravelry projects said that the sweater was really heavy. I ended up holding three strands of fingering weight together or 1 worsted+1 fingering. I did the sleeve cuffs in 1 strand of fingering and the neck band and bottom cuff in 2 strands of fingering.
Pattern
I love the cropped + big sleeved look of this pattern. I didn't love knitting from the bottom up. In the beginning, I had a hard time getting started cuz this was my first time using multiple strands and I wish the pattern instructions had more on how to do this. I'm a rule follower and and prefer to have clear instructions for a good result. I don't love how my yarn combinations ended up looking closer to the neckline. It's not specifically bad or anything but I wish it was more cohesive.
2nd thing – I think the bottom band needs to be knitted longer. My bottom band keeps flipping up. I did some reading about this on the internet and I think when I get to Pittsburgh I will have to cut the sweater in order to undo the ribbing and then reknit the ribbing so that it's longer.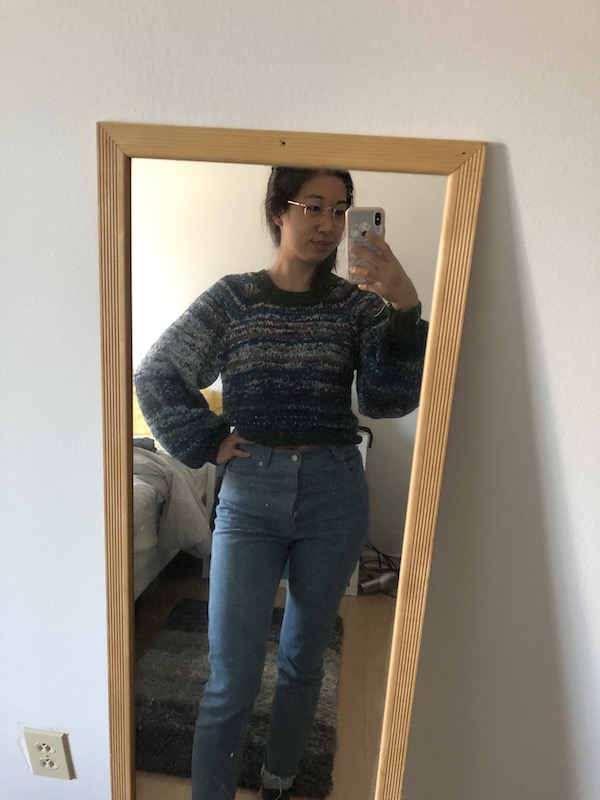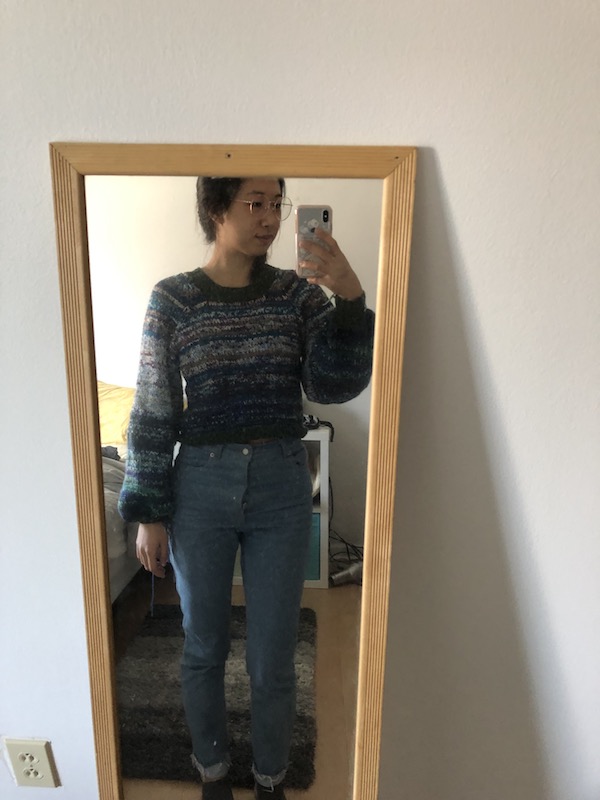 Summary
Start: May 9, 2020
Finish: Bind off Nov. 11, 2020 (but I technically haven't finished weaving in all the ends)
Pattern: Aquamarline by Park&Knit
Needles: US sz 8 for cuffs and US sz 10.5 for main needle size
Where: My apartment
Overall: Yay! stash busting!