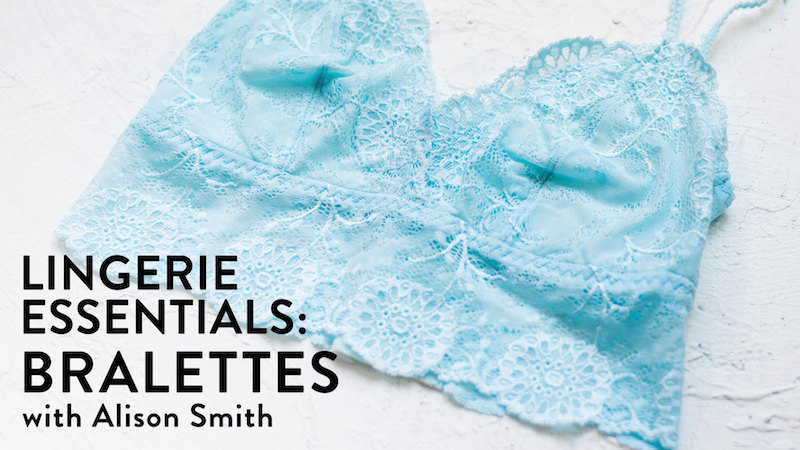 每天在家 lounge 所以想做一些可愛的內衣褲
在 Craftsy 上有一些做內衣褲的課
做內衣褲還蠻好玩的
每一塊布小小的 做起來還蠻快的
After making the Sophie Hines Axis Tank, I suddenly really wanted to make

ALL

THE

UNDERWEAR! I had subscribed to a year of Bluprint-now-Craftsy in July 2019 and there was a Lingerie Essential: Bralettes course that I thought would be really helpful to watch since I had never done any sort of lingerie elastic application. I knew my subscription was ending in July 2020 so I decided that if I wanted to watch this course and try making a bralette, I should do it soon! After making the

Eva Bralette, I purchased

the Watson Bra pattern.
I'm not sure how I feel about posting pics of my underwear (lol) on the internet yet. So text me for pics, I guess?
Eva Bralette & Undies
Craftsy Course: 🌕🌕🌕🌑🌑 (3/5)
Pattern: 🌕🌑🌑🌑🌑 (1/5)
Completed Garment: 🌕🌕🌑🌑🌑 (2/5)
Size: 34 top / S bottom
Overall:

Feeling accomplished trying a new type of garment sewing! Yay!
Fabric + Notions
I ordered a kit from Tailor Made Shop because I didn't want to worry about sourcing the correct supplies for my first bralette project. It felt a little like I went a little too fancy for my first undies project but it did make things a lot easier.
Construction
For the construction, I just followed along the Craftsy course. The course wasn't like groundbreaking or anything, but it was helpful having someone walk through each step since I had never done this type of project. The most useful thing I learned was probably how to make a lined cup with the seams hidden, which is a technique I used for the Watson bras (below).
I felt like some of the instructions, like how much to overlap the center, was extremely unclear and vague. The instructor, Alison Smith, was basically like "just overlap it a little!" Uhhh, what? How much is a little? Anyway, the cups are a little too far apart and the underarm bit of the cup is too high up and it's a little uncomfortable.
I also made the underwear to go with it. The crotch portion of the underwear is weirdly narrow. I don't like the fit AT ALL.
Summary
Overall, I am pleased that I made this but the fit is very meh. I learned some interesting new techniques and the result is quite pretty, even if not super wearable.
Start date: July 14, 2020
Finish date: July 19, 2020
Pattern: Eva Bralette and Undies from the Lingerie Essential: Bralettes Craftsy course taught by Alison Smith
Fabric: Kit from Tailor Made Shop
First time: Making undies!
Watson Bra
Pattern: 🌕🌕🌕🌕🌑 (4/5)
Completed Garment: 🌕🌕🌕🌕🌑 (4/5)
Size: 32B for #1, 32A for #2
View: View A
Overall:

Cute retro longline bra! Love!
Fabric + Notions
I ordered three different types of jerseys from Surge Fabric Shop. I used the cotton jersey for my second Sophie Hines Axis Tank. The remaining two were a modal jersey and a bamboo jersey. The notions for the mustard Watson bra were also from Surge Fabric Shop. The notions for the red version were partly from Surge and partly leftover from the Tailor Made Shop kit.
Pattern
This is, of course, the Watson Bra from Cloth Habit. I figured for my first foray into sewing bras, I would go with a soft bra with no underwire. Also, I really like the sorta retro longline vibe.
The pattern doesn't really give any info on how the soft bra is supposed to fit. I feel like the vertical seam line may be slightly off from where it should ideally land.
I made a size 32B for my first version (mustard). I felt like there was a lot of wrinkles in the cup so for the second version (red) I went down a cup size to 32A. I have no idea if it's a better fit or not.
Construction
The bamboo was much shiftier and more difficult to work with. I also lined the cups with the leftover stretch mesh from the Tailor Made Shop kit. I used the technique I learned from the Craftsy course to sandwich the seams. I tried doing the same technique for attaching the cups to the band but the fabric was super shifty and I struggled to get it lined up so I gave up. Fortunately, the raw edges don't seem to irritate my skin or anything.
Summary
These are super cute and I wear them quite a bit. I don't know that a soft bra is more comfortable than a regular underwire bra. One thing, I'm definitely a lot less used to where the elastic of the band of the longline style bra sits so I am very aware of it. Also, the band seems to ride up. I'm not sure if it's a fit issue or if the band just likes to nestle in the part of my ribs where my regular bras would sit. WHO KNOWS?
I'm in the middle of making the matching underwear but the sizing is totally off so I will have to figure out how to deal with that later.
Start & Finish dates for #1: July 24-28, 2020
Start & Finish dates for #2: July 31-Aug 1, 2020
Pattern: Watson Bra & Bikini from Cloth Habit
Fabric: Modal Jersey for #1 and Bamboo Jersey for #2. Both from Surge Fabric Shop