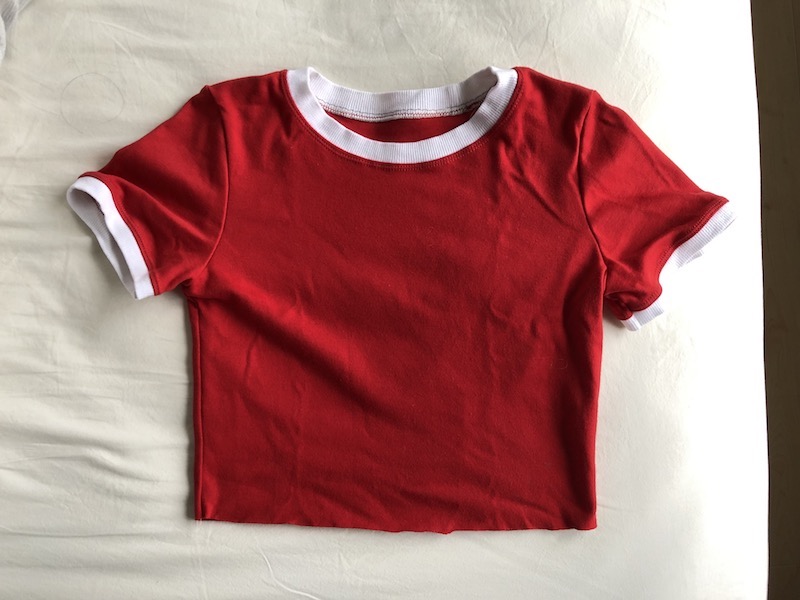 Pattern: 🌕🌕🌕🌑🌑 (3/5)
Completed Garment: 🌕🌕🌕🌑🌑 (3/5)
Size: Size S
Overall:

Not super wearable but it's cute I guess.
有做了一件 Megan Nielsen Rowan 短板 t-shirt!
最近常常看到這種復古 ringer t-shirt 所以自己也想要一件
這塊紅色的布是前年在台灣從櫃子裡挖出來的
布的 length 很短所以只好做這種短板的 t-shirt 最後的成品好像還是太短了而且白色的邊不一樣寬所以不太常穿
Pattern
Another Megan Nielsen Rowan! I wanted a fitted ringer tee and this is the pattern I happen to have (and also I've recently used so it was handy). Honestly, I feel pretty meh about this pattern in general, even though this is my 4th time making something with this pattern. So many cute versions but I hate the neckline on me. I need to figure out a good neckline adjustment so that it's the right shape.
Fabric
The red fabric is a mystery knit from my mom's fabric stash. I picked up when I was home either last year or the year before. Probably the year before.
I originally tried to use leftover white fabric from a previous project but the fabric wasn't stretchy enough to use as a neck band. I ended ordering some white ribbing off of etsy.
Construction
I serged everything.
For this version, I adjusted the neckline very slightly. I pulled out the Secondo Piano Basic InstincT pattern, which has a nice basic crew neck that I quite like. I sorta just trimmed the neckline and then recalculated what the neckline should be based on a 90% reduction in length.
I think the ribbing I cut for the sleeve isn't the same width as the neckline. Also, there is some waviness going on in with the hem/ribbing. I really still haven't figured out how to deal with knits. How do I not get the wavy?!?!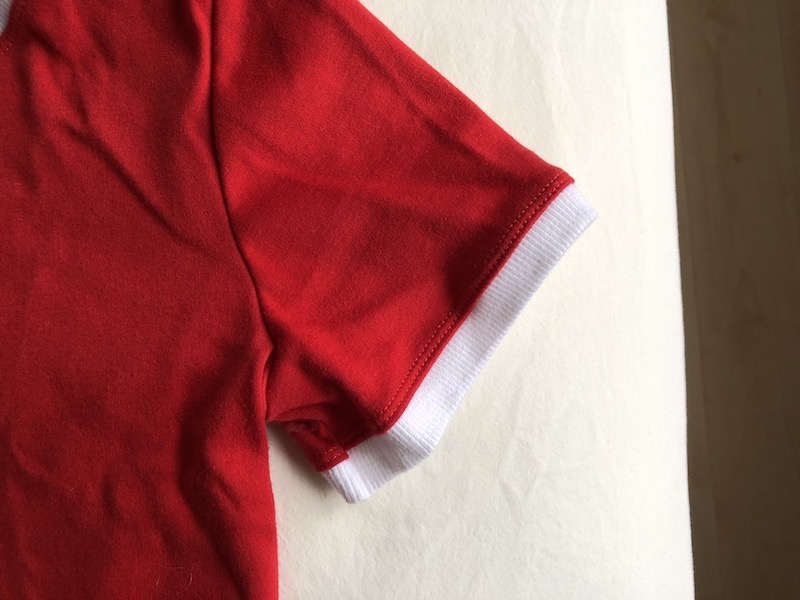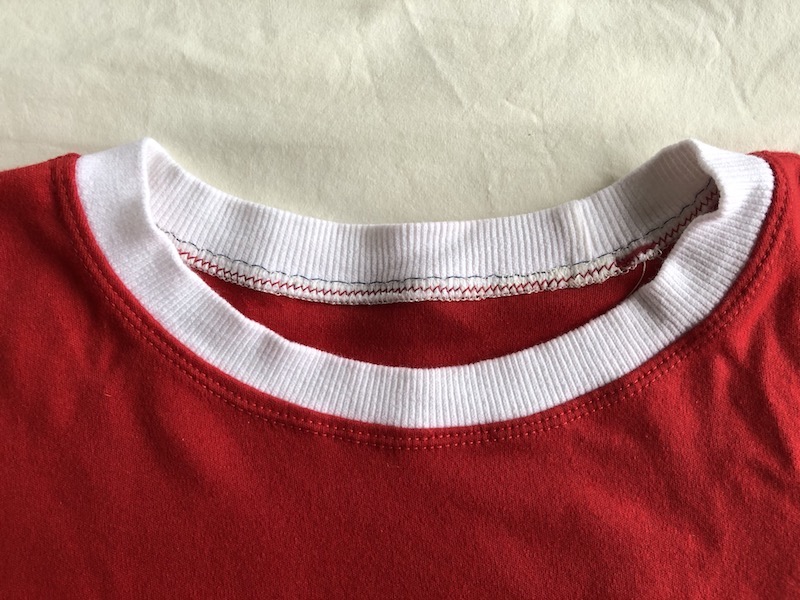 Summary
Start date: April 17, 2020
Finish date: July 8, 2020
Pattern: Megan Nielsen Rowan
Fabric: Mystery Knit from Momstash
Notes for next time
I would really love to spend some time doing some adjustments for the neckline. We'll see if I ever get around to it.
I still want a ringer tee but next time I'll try doing it with the Basic InstincT pattern.