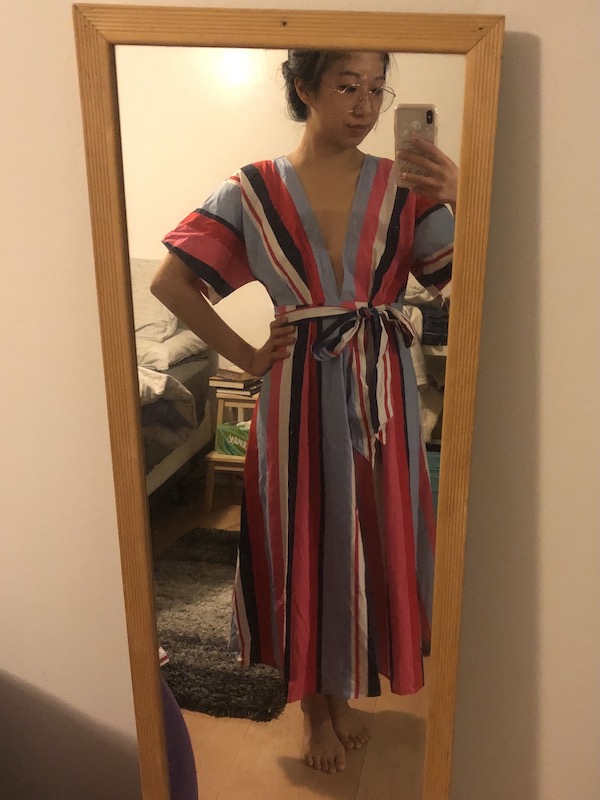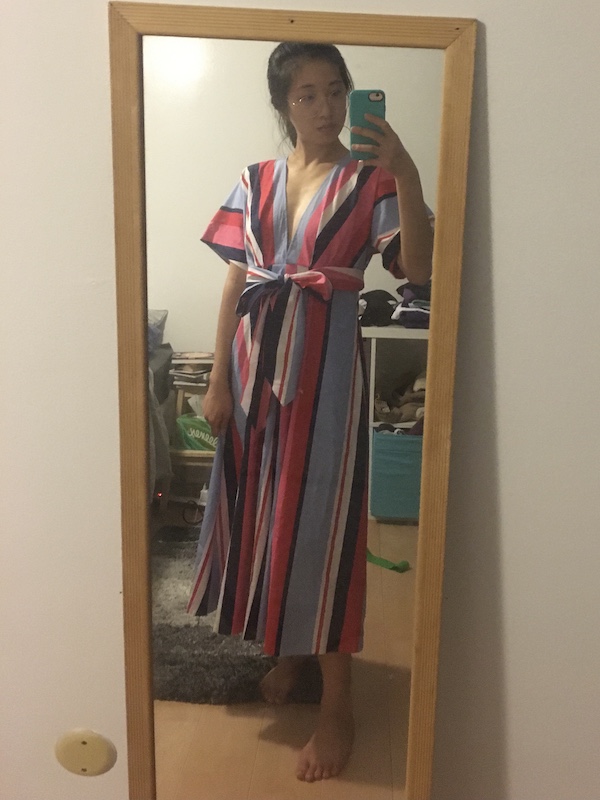 Pattern: 🌕🌕🌕🌑🌑 (3/5)
Completed Garment: 🌕🌕🌑🌑🌑 (2/5)
Size: US size 4
View: Which view?
Overall:

Truly one of my most random makes
這件洋裝不知道為什麼超級流行
網路上每一個喜歡自己做衣服的人都有做這件
看到太多次後來自己也想做一件
做出來的這件看起來很像去 resort vacation 穿的衣服
完全不像我會穿的東西
I had, of course, seen many renditions of this dress on the sewing internet. I knew it made NO sense to make. Why on earth would I be wearing a deep-V dress. But alas, I found myself at Joann's on one of those days when Vogue patterns were on sale and of course I just had to get something and this was the pattern I thought of.
Fabric
I got this fabric from Fabric Mart Fabrics during Thanksgiving 2019. This is one of those incredibly questionable purchases. WHY ON EARTH did I buy a brightly colored cotton poplin fabric. This has absolutely no place in my wardrobe. AT ALL.
Pattern + Construction
The instructions and construction order of this was just confusing overall. My two main gripes:
The neckline/back neck binding instructions was confusing and unintuitive. I don't know why they have you do the construction in that order.
The instructions have you do a regular zipper. Why? I used an invisible zipper.
Overall the sewing job was a mess. But oh well, this is just one of those proejcts that looks a little ridiculous and I'm okay with that. I finished everything except attaching the zipper on July 2. Then I moved onto other projects like the Sophie Hines Axis Tank. This ultimately brought me down into a rabbit hole of undies sewing, which lasted me till the end of July, when I remembered that I needed to get it together and finish my PhD thesis. After I turned in my thesis on Oct 21, I made myself a Blackwood Cardigan and finally added a zipper to this dress.
Summary
I think the final product looks like something one would wear on a cruise or resort. (Or something. I wouldn't know, since I haven't done either of those things.) It does not in anyway look like something I would EVER wear. When will I ever will this? Who knows. Maybe when COVID is over I will go somewhere and wear this. For now, it's just a reminder of bad fabric purchasing choices, but I'm still glad I finished the project!
Start date: June 21, 2020
Finish date: October 24, 2020
Pattern: Vogue 9253
Fabric: Multi-colored striped cotton poplin from Fabric Mart Fabrics
Notes for next time
I'd like to think I would make this dress again in a more appropriate fabric for my wardrobe. Next time, I'll change how the neckline and shoulder seam construction is done and I'll also add some buttons to make the V-neck a little less deep V.