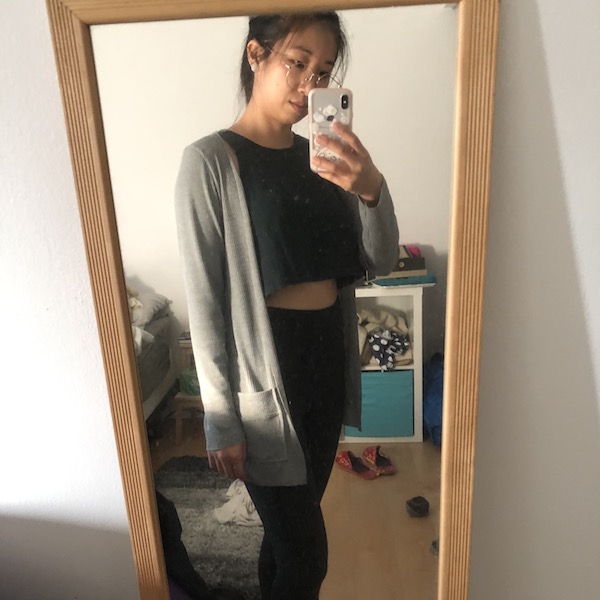 Pattern: 🌕🌕🌕🌕🌑 (4/5)
Completed Garment: 🌕🌕🌕🌕🌑 (4/5)
Size: Either 4 or 6
View: B
Overall: Cozy and SO easy!
好幾個禮拜因為在忙著寫 thesis 所以沒有 craft
thesis 交出去之後終於又有空做東西了!
週末終於把八月剪的布做成一件小外套!
這件小外套超級容易
只有口袋比較麻煩
I submitted my thesis on 10/21! I had to record a talk the day after, but then on Friday, I began my weekend of rest and relaxation. I have a few projects leftover from the summer that were at the final stretches (buttons/hems/zippers etc.) but I wanted a project where I could just follow instructions instead of having to do too much troubleshooting. Anyway, I remembered I had this project cut out. I looked in my notes and couldn't find when I cut the project out, but it must've been sometime in early August. It was the perfect project to get me back into crafting!
Pattern
I went back and forth about buying the Blackwood Cardigan pattern for a while because I already have a perfectly good cardigan pattern. I made a huuuuge list of cardigan patterns and ended up deciding to get the Blackwood cardigan pattern because it's a nice simple cardigan pattern. The instructions were really clear, as per usual with Helen's Closet patterns. It was a suuuuuper easy sew and went really fast.
Fabric + Construction
The thing that took the longest was the pockets. The fabric I used was quite finicky; the ribbing kept stretching out under the presser feet but would shrink back when it wasn't under the presser feet. The pocket doesn't look amazing but I'm not too upset about it. After I finished the pocket, the rest of the cardigan took one evening to sew. And the evening included making dinner and having an hour long phone call with Japna.
This fabric was from my first Fabric Mart Fabrics last Thanksgiving. I was spending my Thanksgiving sitting at Robert's desk while he was in class and made a long list of all my future project's and fabrics I wanted. I picked this fabric specifically for the Blackwood cardigan. When I made the driftless cardigan, I also used a rib knit and really liked how the ribs seemed to hide my sewing mistakes and also resulted in a very polished looking cardigan. Love how this cardigan in this fabric turned out!
Summary
I love how this cardigan turned out. The neutral color is perfect and the fabric is cozy! I have mixed feelings about this cardigan though. Turns out that even though I usually wear my cardigans open, I really like being able to wrap them around me and I definitely can't do that with the design of this cardigan.
Start date: Cut in August 2020 but started sewing Oct. 23, 2020
Finish date: Oct. 24, 2020
Pattern: Blackwood Cardigan from Helen's Closet!
Fabric: Pebble Gray Rayon/Polyester/Lycra Ribbed Sweater Knit from Fabric Mart Fabrics, 2 yds at $5.20 each
Notes for next time
Shorter version!
Make it more wrappable? Perhaps the wide collar hack