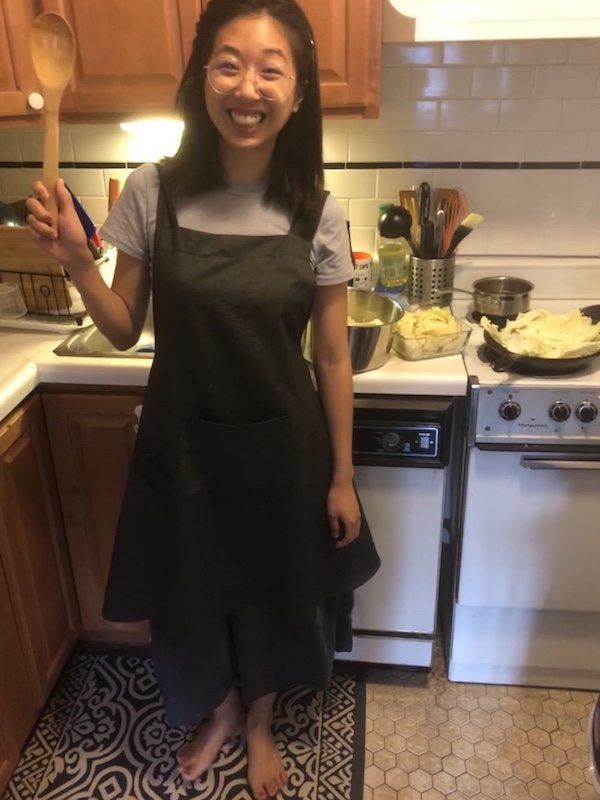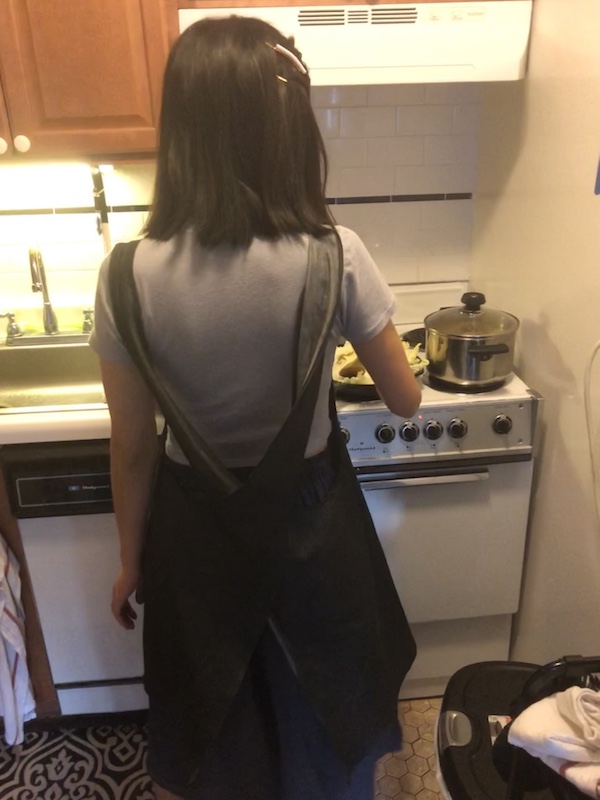 Pattern: 🌕🌕🌕🌑🌑 (3/5)
Completed Garment: 🌕🌕🌕🌑🌑 (3/5)
Overall:

I needed an apron and now I have an apron! Yay!
四月的時候,每個人都在家烤麵包做蛋糕
每次在做東西,麵粉就會飛得到處都是
有了圍裙就可以讓衣服不會變得太髒
然後剛好看到有一個免費的圍裙 pattern
這個圍裙不錯不用綁帶子覺得很方便
Pattern
This is the Tessuti Apron pattern. I had wanted to make a cross back apron and was originally eyeing the Purl Soho Cross Back Apron last winter, but it had sooooo many pieces and I decided I was too lazy. For a while I was going to just follow some pinterest image tutorials for making a cross back apron, but again, was too lazy. This apron pattern showed up at the perfect time, I needed an apron for all the pandemic lockdown cooking I was doing.
Fabric
I bought 5 yards of this Japanese cotton chambray from Fabric Mart in April. I had intended (and still intend) on making a McCall's 6966 shirtdress. I figured I had enough to both make an apron and also make the dress.
I cut the apron cross grain since the fabric was too narrow for me to cut it the normal way.
Construction
Nothing interesting here but ugh, SO MUCH HEMMING! I also kept the selvedge edge for the facing because why not, I see it on other peoples' makes all the time! Unfortunately, I did not get a picture of this but it's cute!
Overall, it was a super easy and fast make. I wear my apron all the time. I think the front patch pocket is pretty useless. Next time, I will make two pockets on the side for each hand.
Summary
Start date: June 3, 2020
Finish date: June 3, 2020
Pattern: Tessuti Apron
Fabric: Japanese cotton chambray from Fabric Mart $7.50/yd. I used about 2 yards so I guess that's $15!