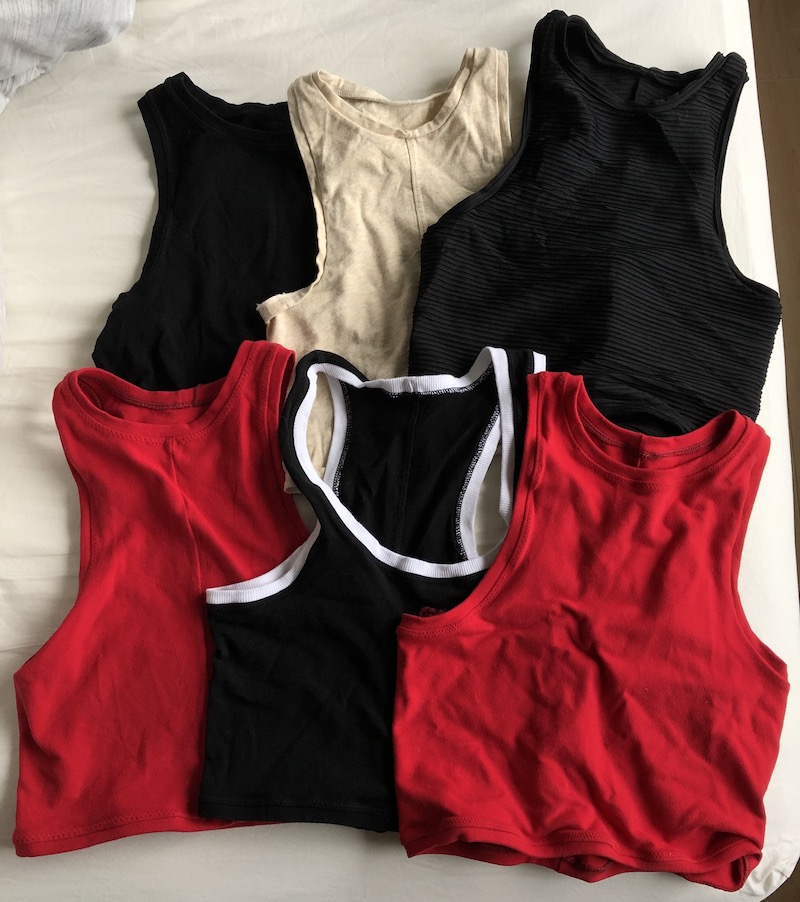 Pattern: 🌕🌕🌕🌕🌕 (5/5)
Completed Garment: 🌕🌕🌕🌕🌕 (5/5)
Size: 4/6
View: 1 and 3, but mostly 3.
Overall:

my fav.
這個小背心真的超容易做而且太好穿了!
上 zoom 瑜伽課和 zoom 舞蹈課都很適合穿
用 serger 縫 一個小時之內就可以把一件小背心給做完
目前做了六件,以後因該還會在做更多
Pattern
I forgot how I stumbled upon the Sophie Hines Axis Tank but I just had to have some axis tanks. Such a fast sew. I can't stop making and wearing them! They are the perfect pandemic-wear.
Fabric
July 12: Axis tank 1 is made with leftover cotton spandex jersey from Joann's. I had originally bought this fabric for a failed Megan Nielsen Rowan bodysuit.

July 15: Axis tank 2 is made with the same fabric as axis tank 1 but scoop neck and with contrast ribbed fabric bindings. I didn't stretch the ribbing enough so it's a little floppy and loose.
July 27: Axis tank 3 is made with this oat colored cotton spandex jersey from Surge Fabrics. I accidentally cut it with the back seam on fold. UGH! So annoying! The fabric is a little bit see through but still great for lounging at home.
Nov 12: This was made for my red macaron workout set, inspired by this comic. I ordered this Beyond Supplex from the internets as a submitted-my-thesis!!!! gift to myself. More on the fabric with the eventual leggings post. I cut it wrong again despite all the notes I wrote to myself after axis tank 3. Kinda a bummer but I did retrace the pattern after so that I would get a bit less confused next time I cut it.
Nov. 14: Another version of the axis tank but cut correctly. This one is technically not finished because I ran out of the read thread. I might just topstitch with a slightly different red thread. We're living in pandemic times so sometimes just gotta have mismatched topstitching thread.
Nov. 14: Used the Beyond Pintuck lycra. I did not topstitch this one because I didn't want to squash the pintucks. I love this fabric! It's slightly more interesting than a plain black but the pintucks have nice coverage.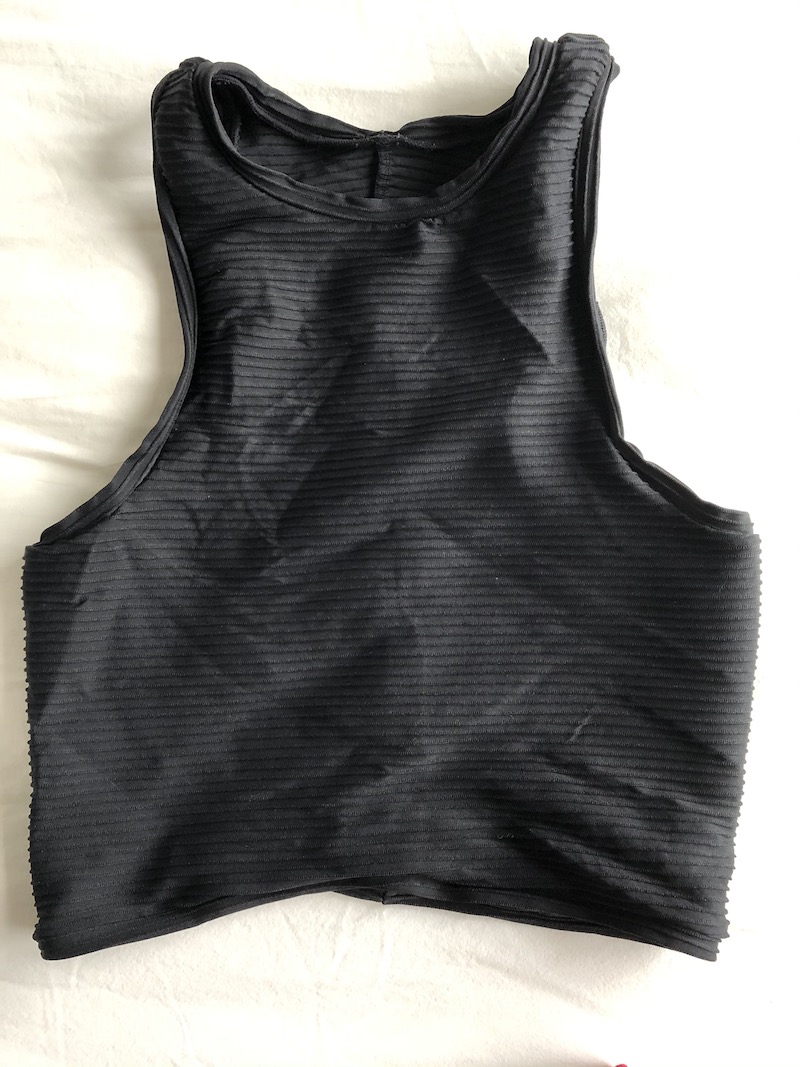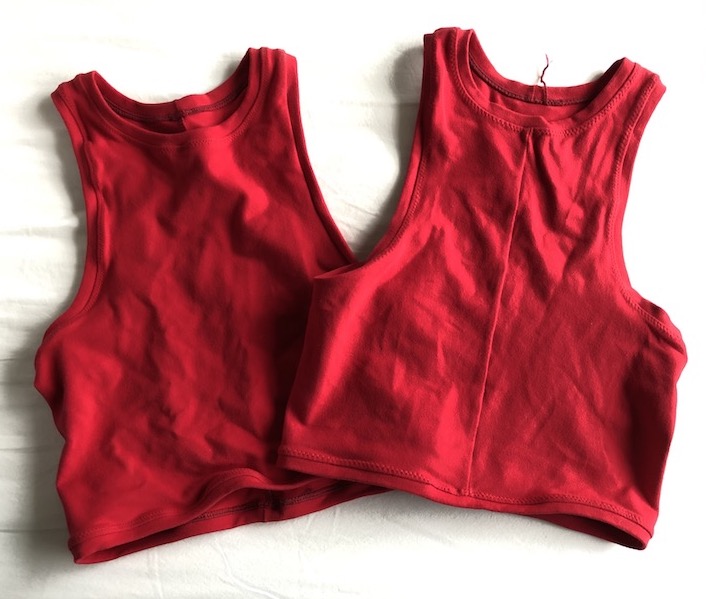 Construction
Serged all the seams and topstitched using a regular zigzag stitch. Probably a 2 mm by 2 mm zigzag. Based on the pics in the axis tank hashtag on insta, I felt like the 3 step zigzag looked a bit much, I still wanted a stretchy topstitch so I opted for a regular zigzag instead. I'm quite happy that I went with the regular zigzag!
I used a walking foot for the zigzags and at certain points my fabric seems to get caught behind the walking foot causing the fabric to not feed properly, which then leads to the stitches becoming very tight and weird. No idea what's going on or how to fix this. It seems like a gentle tug from where it's getting caught seems to help but also don't want to pull too much bc of waviness. Anyway, not sure what to do but it's in back seam (when I do it right, which I seem to struggle to do, see axis tank 3 and 4).
Summary
Start date: n/a, this is basically a one night sew.
Finish date: n/a
Pattern: Axis Tank by Sophie Hines
Fabric: stretchy black fabric from Joann's, oatmeal cotton jersey from Surge Fabric Shop, supplex and lycra fabrics from The Fabric Fairy
Last Words
I will probably make more of these. They're so easy and so great and I love wearing them. In fact, I'm wearing one right now (No. 6, black pintuck). One of these days I will try a version with colorblocking.