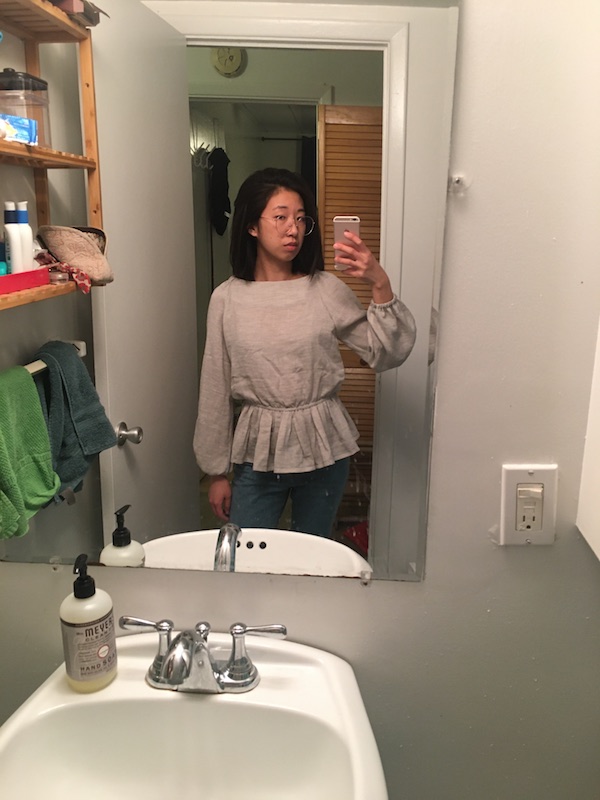 Pattern: 🌕🌕🌑🌑🌑 (2/5)
Completed Garment: 🌕🌑🌑🌑🌑 (1/5)
Size: US size XS
Overall:

meh
第一次用這種兩層紗布做衣服
這個布感覺起來很輕鬆
原來覺得跟這個版型配起來會不錯
可是做出來的上衣覺得太 girly 了
不太像我的 style
澎澎袖和領子的部分我覺得還蠻好看的
下次再做的時候不做 peplum 應該會比較適合我
Fabric
This is double gauze that I got at 棉之家 when I was in Taiwan. My first time using double gauze. It's quite pretty but definitely very shifty.
Pattern
I saw a few versions of the Tessuti Hilary Top in solid simple fabrics and loved how they looked. The neckline and sleeves were interesting looking. I'm trying to not buy patterns that are super easy and simple and only buy patterns that have interesting features and this fit that criteria.
Overall, I'm happy with the finished product but like I said in my post about the Tessuti Bondi Dress I really hate how the Tessuti patterns are hand-drawn (looks sloppy) and how the instructions are done (again, looks sloppy and hard to follow). It's super annoying because I keeps seeing other Tessuti patterns I want to make but I have to remind myself how frustrated I get while following the instructions.
Construction
I did a mix of French seams and serging. Basically, I started out doing French seams and then got lazy. The double gauze was quite shifty and unravelled easily so I got frustrated doing the French seams.
Conclusion
I think this top is a bit too flowy and girly for me. I feel really silly wearing it. My expression in the pic pretty much summarizes how I feel about it. I still really love the neckline and puff sleaves, so I may try to make this again without the peplum. I haven't worn this all that much since the weather quickly got really hot after I finished this.
Start date: April 9, 2020
Finish date: May 8, 2020
Pattern: Tessuti Hilary Top
Fabric: Double gauze from 棉之家
Notes for next time
NO PEPLUM!
Maybe make a short sleeved one without the elastic?