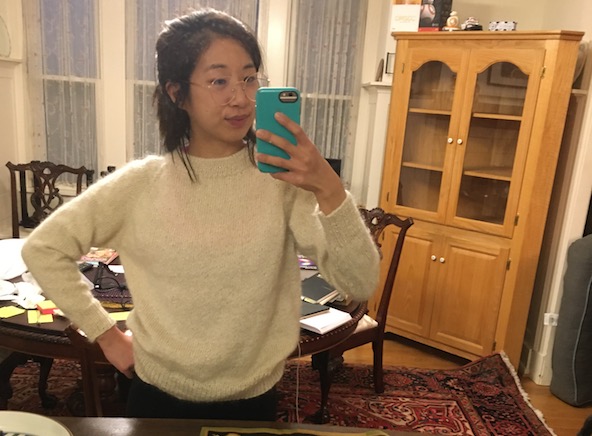 外婆前年把一個醜醜的袋子給我跟我說:不要給妳媽
打開袋子發現裡面竟然是毛海毛線!
回到美國以後有一天在看 ravelry 看到一個 pattern 剛好有用毛海
2018 年回台灣的時候就把它帶回美國
去年四月開始打
去年回台灣又把 project 帶回台灣,原來打算在台灣把毛衣打完
結果 project 留在新竹,人在台北,所以沒有什麼進展
回到美國以後在 quarantine 終於把它給打完了!
First Sweater Alert! This took me over year to knit, with lots of projects completed in between of course. I completed it in May, just in time for it to get nice and hot in Pittsburgh. I can't wait to wear it this winter!
Pattern
This is the No Frills Sweater by PetiteKnits. Raglan sleeves + relaxed fit. All the versions other people have made on the internet are so simple and pretty. I thought this would be an easy first sweater, but the instructions weren't the clearest. The casting on was a struggle but once I got past the yoke, it was fairly straightforward. I had to rip out one of the sleeves because I didn't read the instructions properly.
Yarn
My grandma bought this yarn to make something ages ago. She handed it to me and instructed me not to give it to my mom. I didn't know what I was going to do with a bunch of scratchy mohair so I left it at home with my parents but then I discovered the No Frills Sweater and I told my mom not to use the yarn and that I was going to go back for it!
The pattern calls for lace weight mohair + fingering weight yarn held together. The mohair from grandma is fingering weight-ish so I used some [lace weight yarn from KnitPicks][knitpicks-yarn].
Since this was my first ever sweater, I definitely made a swatch. I went down a needle size.
Also, I now in hindsight, I likely used the wrong needle size for the ribbing. The pattern has all the needles in mm so I kept getting confused with mm sizes vs US needle sizes. Who knows what needle I even used?
Yarn: Welcomme Pernelle Mohair Doré (62% mohair, 27% acrylic, 11% other fibers) and Knit Picks Bare Shadow Lace
Start: April 8, 2019 at my apartment
Finish: May 15, 2020 at Prof. Matt's house
Pattern: No Frills Sweater by Petite Knits
Needles: Size 5 needles
Where: My apartment, CMU, Taiwan, Prof. Matt's house
Overall:



I CAN'T BELIEVE I KNIT A SWEATER! Cannot wait to wear it!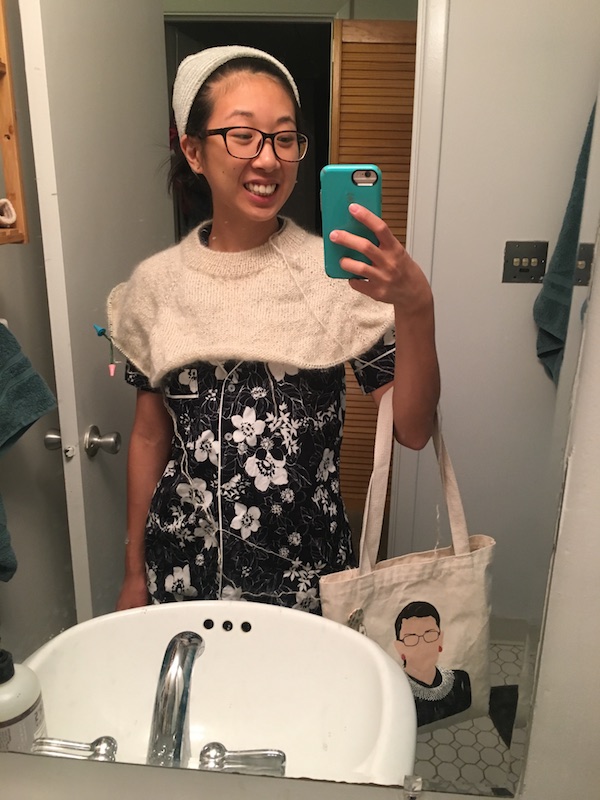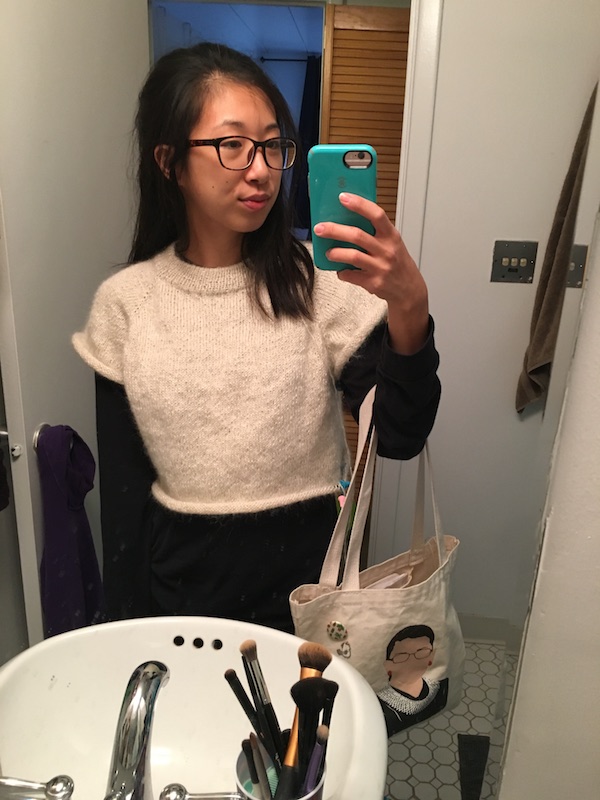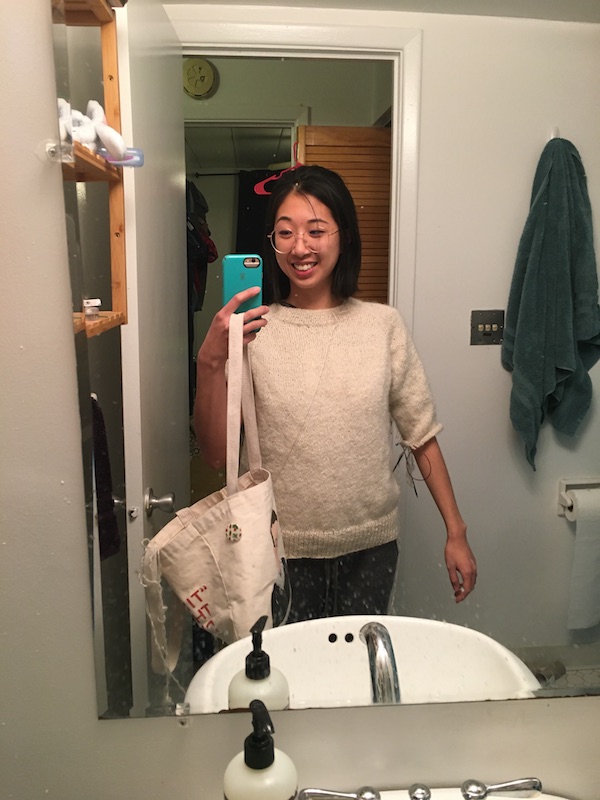 | | | |
| --- | --- | --- |
| October 2, 2019 | November 2, 2019 | February 17, 2020 |