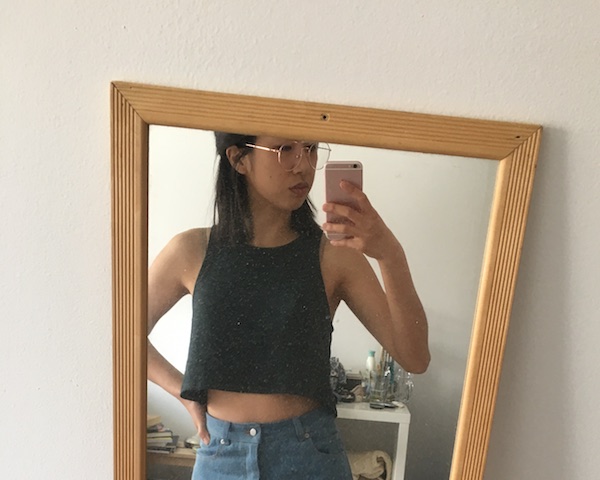 Pattern: 🌕🌕🌕🌕🌑 (4/5)
Completed Garment: 🌕🌕🌕🌕🌕 (5/5)
Size: 2 or 4 I forgot
View: 1
Overall:

Love it! This is perfect for my summer of staying home and wearing crop tops all the time.
這個是很久以前下載的免費版型
布是做褲子剩的
現在流行短版背心+高腰褲
剛好最近做了很多高腰的東西和短版的上衣
天氣開始熱了終於可以穿新衣服!
Fabric
I was going through my scrap bin to make face masks and found the scraps for my Rae pants, one of my fave makes of 2019. Anyway, this fabric is just so amazing a beautiful, I wanted to make something else out of it and the only thing that was realistic was a crop top since I didn't have much of it.
Pattern
This is the Workroom Social Tate Top, which doesn't seem to be available anymore. I downloaded it pre-Pittsburgh, so sometime in early 2016. I used to feel stupid for downloading all the free patterns, even when I wasn't sure if I was ever going to use them. This has really justified my doing so. There are no instructions for the pattern.
Anyway, the pattern has 2 views and 2 lengths. I made the cropped length and the view with less pieces and would fit in the limited fabric I had.
Construction
I serged all the raw edges.
Staystitch front neckline. I should've done the back as well.
Sewed the back together, till where the pattern said zip. I didn't add a zipper, I just pressed the seam allowances and sewed it down.
Sewed the shoulder and side seams together.
Finished the armhole and neck hole using bias tape that I made from the fabric.
Hemmed!
Added a hook and eye to the top of the back seam.
Summary
Start date: March 19, 2020
Finish date: May 2, 2020
Pattern: Workroom Social Tate Top
Fabric: Viscose Linen Noil in Hunter (Scrap from Rae pants)
First time: Making a garment without instructions!
Notes for next time
Remember to staystitch!