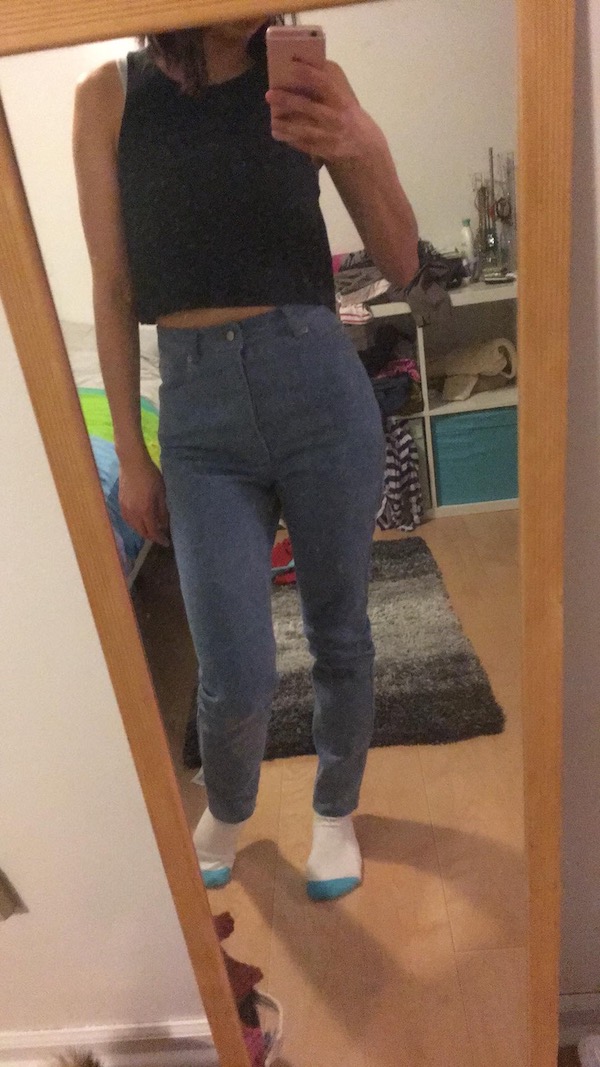 Pattern: 🌕🌕🌕🌕🌕 (5/5)
Completed Garment: 🌕🌕🌕🌕🌕 (5/5)
Size: Size 4
View: View A
Overall:

The perfect mom jeans!
這件牛仔褲是第二件 corona jeans
第一件的 post 還沒寫
這件褲子的布是寒假在永樂市場賣的
布很硬,很適合這個版型
腰帶部份很厚所以縫的不是很好
可是還是覺得最後做出來的成品還不錯!
可惜現在每天躲在家裡也沒有機會穿牛仔褲
These are my Corona Jeans II. I spent a lot of time in the first few weeks of lockdown crafting. A lot. It's a little embarassing to say how much because I should've been working. Anyway, these were the second pair but technically the first pair I completed. So I'm posting them first.
Pattern
I've wanted to make the Megan Nielsen Dawn Jeans for a while now. I decided to go with the tapered leg. I cut a size 4 and the regular height regular length and it's perfect! No adjustments were made. I had thought about making a muslin but in the Coronavirus Times, there was no where to get muslin so I just went for it.
Fabric + Notions
This past winter when I was home, my mom and I made an excursion to 永樂市場 to get some fabric. I had a few things on my to-make list from the patterns I had bought during Thanksgiving sale 2019. One of them was the Dawn Jeans. I happened to come across a vendor that sold denim and looked around till I found this light-ish colored stuff! It's a pretty heavy denim with this crinkled(?) looking texture.
For the pockets, I cut apart a skirt I made early on in PhD-ing. It was too sheer to actually wear outside and been living in my Closet Case pouf.
I bought jeans hardware kit from La Mercerie during their transition to becoming a knitting-only store. I bought a zip fly kit for some Ginger jeans and this button fly kit in silver for the Dawn Jeans.
Construction
Pretty much everything went super smoothly till the very end. A few issues I ran into:
I staystitched incorrectly for the front part connecting to the waistband so I ended up having to do a bit of gathering and easing to get the front/front pocket pieces to fit along the waistband. That was bit disappointing.
Turning the corner for this very thick fabric for the waistband was SO DIFFICULT. I really struggled to turn the corner and it's a bit rounded instead of looking like a nice crispe corner.
I had no issues with the hidden buttonholes for the button fly. However, the final waistband buttonhole was IMPOSSIBLE. I redid it at least 10 times, and that's not an exaggeration. I ended up using some zig zags to finish it since it kept gettin gstuck.
I installed all the hardware using a cast iron pan, which I bought because I wanted to make popsicles and ended up also buying a cast iron pan because a) I wanted one and b) I might as well because I was paying for shipping anyway. This is the very first thing I did when I got my cast iron pan. Now that I've been using my cast iron pan, I will probably have to buy a mini anvil for future hardware installation because I don't want my new makes to get greasy.
I didn't bother hemming it. Maybe I will in the future? Or not. But for now I just can't be bothered.
Summary
Start date: April 4, 2020
Finish date: May 2, 2020
Pattern: Dawn Jeans from Megan Nielsen Pattern!
Fabric: Denim from 永樂市場
First time: Making a button fly!
The fabric is so stiff. I spent the first hour of wearing these kneeling on the ground to try to loosen up the knees. They're still incredibly stiff to wear but I love them!
Notes for next time
Make sure to staystitch properly to prevent stretching out the fabric!
Serge outer side seams separately and press open so that it looks fun when I cuff the pants.
Make some shorts???