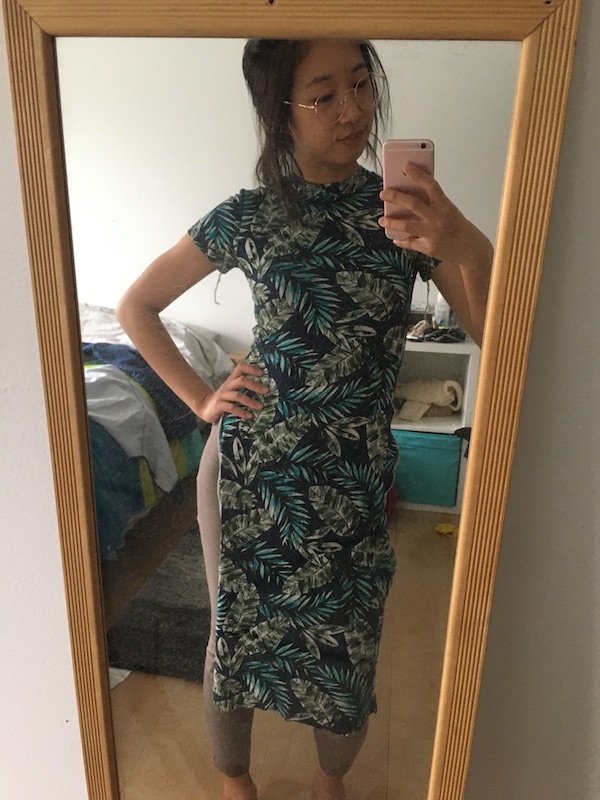 Pattern: 🌕🌕🌕🌕🌑 (4/5)
Completed Garment: 🌕🌕🌕🌑🌑 (3/5)
Size: S
View: V1 Crew neck t-shirt
Overall:

It' ok. Haha
上次買布的時候訂了一個 craft pack
五塊錢的 craft pack 裡有六片一尺的布
這塊布就是 craft pack 布之一
這種長板的 T shirt 常常在跳舞的時候看到別人穿
跳舞的時候轉來轉去,前後片會飛起來看起來很酷
上次跟 joce 一起 craft night 臨時決定把這個 project 剪出來
做出來的成品… 還可以啦
樣子是對的可是領子太高了
I've seen a lot of outfits at salsa with tunics + leggings. They look awesome. The tunics flow when you dance and you can also pick it up like a skirt! It's so fun looking. I wanted one for myself! I was crafting with Joce when she nudged me to cut out this project.
Fabric
I got this fabric in a Fabric Mart $5 craft pack. I think I had just about 1 yard of it! It's some sort of reeeeaally stretchy jersey. It's the PERFECT fabric for this project.
Pattern
This is the Megan Nielsen Rowan Bodysuit pattern. I still have yet to make a wearable bodysuit from this pattern. I finally had the pattern reprinted and cut a size small this time around!
Construction
I serged everything except for the topstitching, which I did with a twin needle. I still hate the twin needle. Maybe it's time to just give up on them and accept zigzags.
I used a different construction method than the one in the instructions. I did the thing where you sew one shoulder seam, attach the neckband, and then close the other shoulder seam. I liked this method a lot more, and will use it in the future! I also hemmed the sleeve before sewing the side seam. Hemming knits is enough of a pain flat… trying to hem the tiny sleeve in the round is just not worth it!
For the side slits, I just pulled one side away while serging the seams closed on top and continued on one flap. The slits start around the waistline. I turned the slit sides under and stitched it down. I left the hem undone because I just didn't feel like hemming it.
My main complaint with my final product is that the neckline is too high! It looks a little qipao-ish, which is not at all my intention. I'd like to think that I'll eventually get around to altering the neckline to something that's more up my alley but fixing earlier makes has not been something I've put much energy into… so basically, it's unlikely.
Summary
Start date: April 13, 2020
Finish date: April 28, 2020
Pattern: Megan Nielsen Rowan
Fabric: Mystery bundle knit from Fabric Mart Fabrics
Notes for next time
Make the neckline a little bit lower!
Use this neckband construction method, where I do one shoulder seam, finish the neckband and then the other shoulder seam at the end.