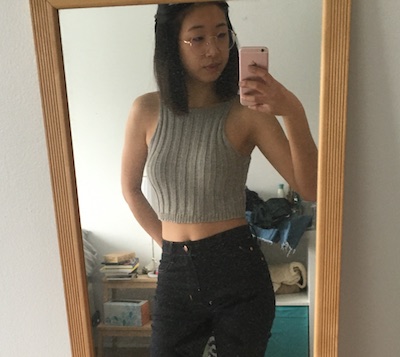 Worn with my new ginger jeans!
這個大概是我最快完成的毛線作品
剛好版型是免費的而且家裡已經有適當的毛線
夏天跟高腰褲/裙子穿應該會很好看!
This little crop top is everything that I want! I had bought this yarn in March 2019 along with the yarn for my Davallia Coverup (still WIP) for free shipping reasons. I had bought a sport weight yarn with the intention of making the Lydia Lace Tank. I was doing my daily Ravelry hot patterns check (yes, I do this every day and yes, I have better things I should be doing) and saw My Little Secret Crop and after seeing some of the finished object pics, I knew this was exactly what I needed.
I did a small swatch since my yarn is sport weight and the pattern calls for finger held double. The swatched fabric looked a little too loose, so I decided to go down a needle size. I didn't swatch after going down a needle size. My measurements put me in a size S but since I was going down a needle size, I decided to follow the size M instructions.
I added a lot more rows to the front bit to achieve the higher neckline. I did the first repeat section (repeating rows 1-4) a total of 6 times and then the second section (repeating rows 1 and 2) a total of 4 times and then knit the final stitch count 4 times. I made the straps about 8 inches long.
Anyway, I love this crop top! This is probably the fastest I've ever completed a knitting project. I wore continuously for 2 days while at home with high waisted leggings as soon as I finished it.
Yarn: Lana Grossa Linea Pura Solo Lino ($8.99/ball, bought 3, used about 2.5 balls)
Start: March 26, 2020
Finish: April 8, 2020
Pattern: My Little Secret Crop
Needles: Size 4 needles
Overall: