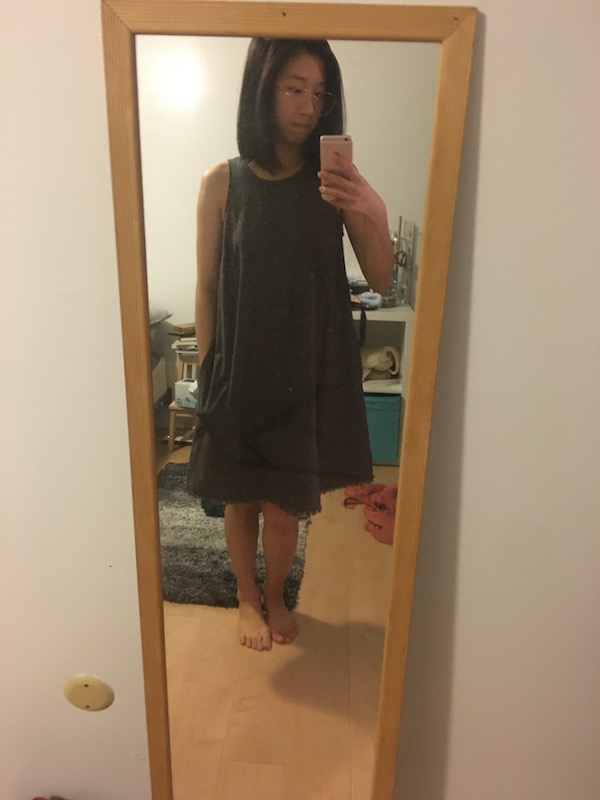 6/2/2020 update: Dress has gone thru the wash once. Usually I line dry all of my me-makes, but I intentionally put this dress in the dryer (on low). It shrank a little but it's the perfect size now! YAY!
新的洋裝!
做出來的成品感覺很休閒 style
很可惜太大了
下次要做小一號的!
Pattern: 🌕🌕🌑🌑🌑 (2/5)
Completed Garment: 🌕🌕🌕🌕🌑 (4/5)
Size: US size 8
Overall:

So perfect except that it's too big! UGH!
Fabric
This is the Robert Kaufman Essex Linen in Espresso. I originally got this fabric to make an apron as a secret santa gift. I brought it home with me to Taiwan with the intention of working on it while I was at home. Then my mom convinced me this fabric was too nice for a gift and that I should save it. Anyway, I ended up keeping it and decided it was perfect for the [Bondi Dress][bondi-dress] pattern I bought during Thanksgiving!
Pattern + Construction
I saw some versions of the dress on the internet and loved the fringe hem and all the topstitching detail. The instructions were pretty clear and straight forward. I didn't use the vilene shields bc IDK what they are so I just stay stitched. Of course, I didn't fully read the instructions and stay stitched around the 1/2" mark (which is the seam allowance amount), only to get to the neck and armhole bindings and realize that the SA at those edges are only 1/4". I spent a ridiculous amount of time unpicking tiny stitches.
The side seam pocket construction was interesting and different from the typical side seam pocket construction from other patterns I used. I kinda liked this method, but it requires more accuracy in sewing, which is something I don't really strive for.
Side note/petty complaint: I really hate how the pattern pieces are hand drawn. Also, I don't like the font that is used in the instructions or that the instructions are all pictures.
Summary
Start date: March 25, 2020
Finish date: April 4, 2020
Pattern: Tessuti [Bondi Dress][bondi-dress]
Fabric: Robert Kaufman Essex Linen in Espresso (3 yards at $8.36/yd)
Notes for next time
This is a lesson I keep having to relearn… but pay attention to the seam allowance amounts!
Cut a smaller size next time!
I definitely want to make a tank version of this!