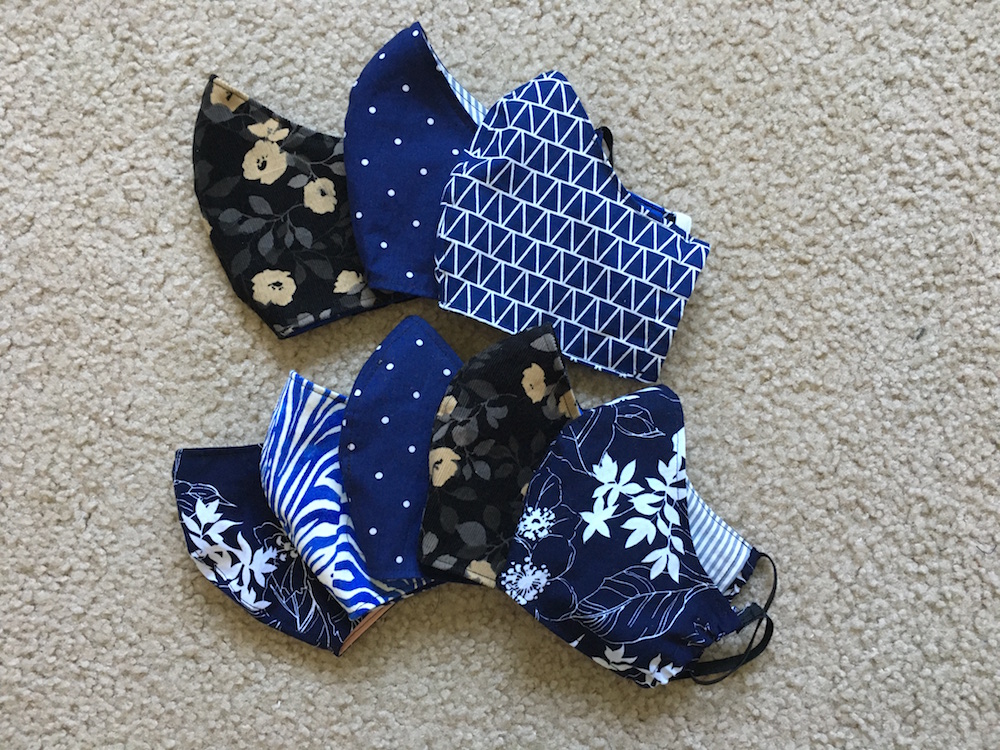 做了一些口罩!
全部都是用 scrap 布做的
剛好在抽屜裡找大一些鬆緊帶
有一些送給在匹茲堡和芝加哥朋友
另外一些寄給住在紐約市的表弟
I made some face masks! There were so many mask patterns to choose from, but I ended up using this fitted two piece pattern
Fabric
From left to right:
Row 1: Leftover dress/purse corduroy scrap from mom with dot lining, dot fabric used for Carolyn pajamas with failed Simplicity 1366 shirt leftovers as lining, leftover fabric from my failed attempt at the Emery Dress with Simplicity 8335 shirt scrap as lining.
Row 2: Carolyn pajamas scrap with Ginger Jeans pocket fabric as lining, zebra print stretch twill that I used for Teddy Bomber muslin with Simplicity 8335 shirt scrap , and as lining, Carolyn pajamaswaistband with Simplicity 1366 shirt as lining, mom's corduroy scrap with Simplicity 1366 as lining and finally Carolyn pajamas with Simplicity 1366 shirt leftovers as lining.
This was a totally unnecessary description but it's done and now I don't want to delete it after all that work.
Construction
I made the version with a hole to add a "filter". I looped the elastic through so that it can get scrunched at then but for the later ones I also tacked it down so that the attachment area of the elastic wouldn't slip out.
I put nose-bridge wire channels in two of them, which really help with the fit. However, I gave both of those away.
Summary
Start date: March 30, 2020
Finish date: April 3, 2020
Pattern: Craft Passion Face Mask
Fabric: LOTS OF SCRAPS!
Last words
I really hate assembly line sewing. This honestly just sucked but I'm glad I have face masks now. Honestly, I've used up all of my mask-appropriate scraps (or have given them to friends to make their own) so I can't really make more without cutting up good fabric. Also, this also reminds me, I should make a post with failed projects!