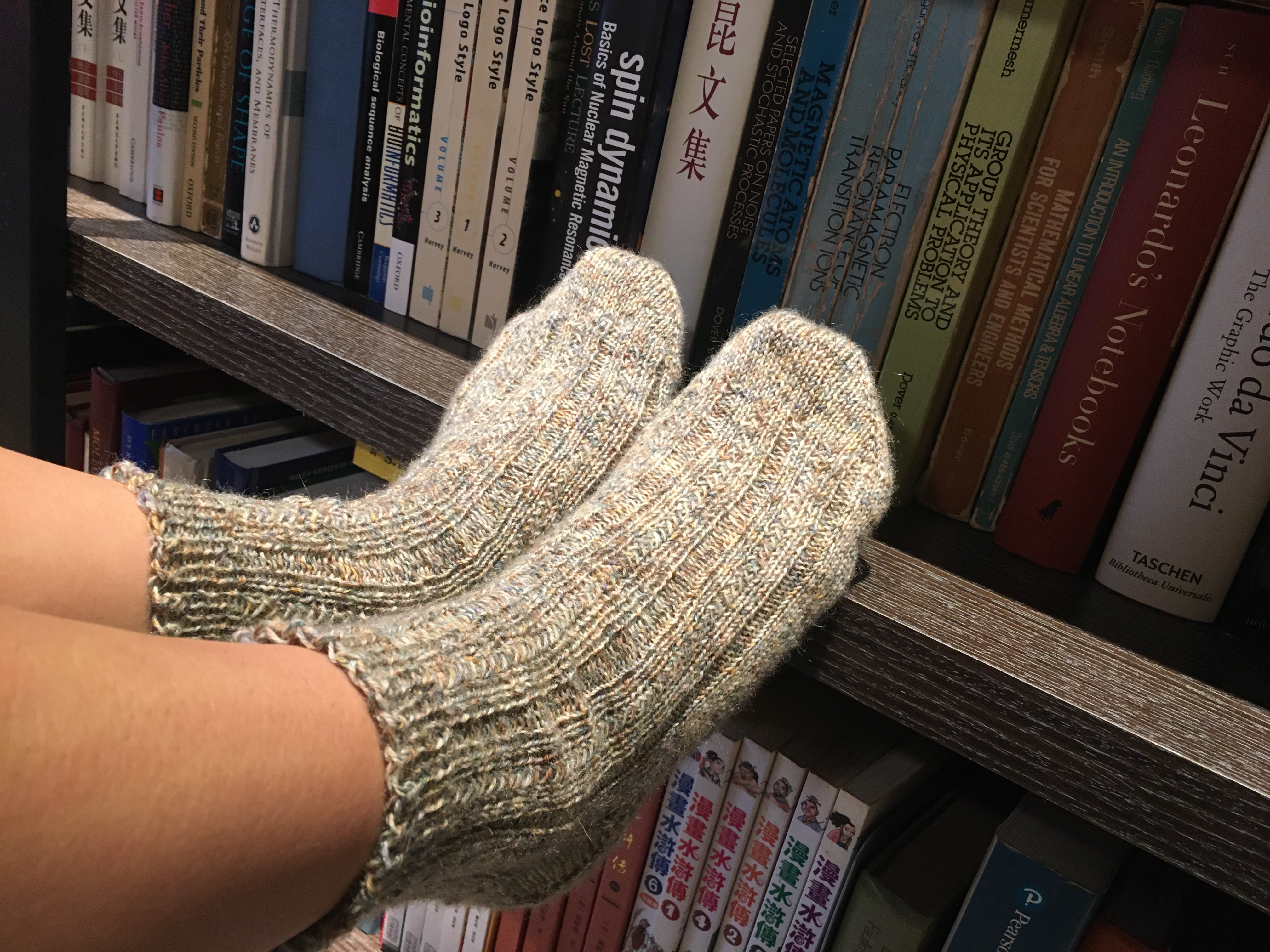 又完成一雙襪子了!
這次的襪子是 TOE UP + 兩隻一起打的
目前感覺這雙不怎麼樣可是穿幾次後才會知道怎樣
我會把這件襪子留到新年穿新衣(襪)
My mom bought this yarn during a trip to Europe. She can't remember where and I have no idea. I took it from her last winter (2018/19) and now it's back in Taiwan. This project also went with me on my trip to the Netherlands during Thanksgiving.
Construction
I used the Knit Picks Two At Once, Toe Up Socks instructions. I casted on using Very Pink Knit's Judy's cast on instructions (24 stitches) and increased to 64 stitches. The stitch pattern is from the Simple Skyp Socks pattern. For the heel construction, I followed the Knit Picks instructions. I'm not a fan of this heel construction. I think the height of the heel is too short and the instep is too tight.
I binded off using Jeny's surprisingly stretchy bindoff. I kept it fairly loose because I didn't want the bind off to be tight. Unfortunately, I think it just looks incredibly sloppy.
I didn't love doing the 2 at a time. The two strands of yarn kept getting tangled and I just found it to be incredibly annoying. I also didn't love having to do M1R and M1L increases for the toes and I definitely did not like how the bindoff looks. I will probably stick to cuff down socks or a while!
Anyway, I'm really happy I finished them before the end of 2019! Another completed project. YAY! I'm planning on saving these socks for Chinese New Years but maybe I'll add some thoughts after I've worn them.
Yarn: Katia Olé Socks Komfort Tweed in color 54
Start: September 2, 2019
Finish: December 28, 2019
Pattern: Knit Picks 2 At Once Toe Up + Simple Skyp Socks pattern
Needles: US sz 1, 2.25 mm
First time… knitting socks toe up and 2 at a time!