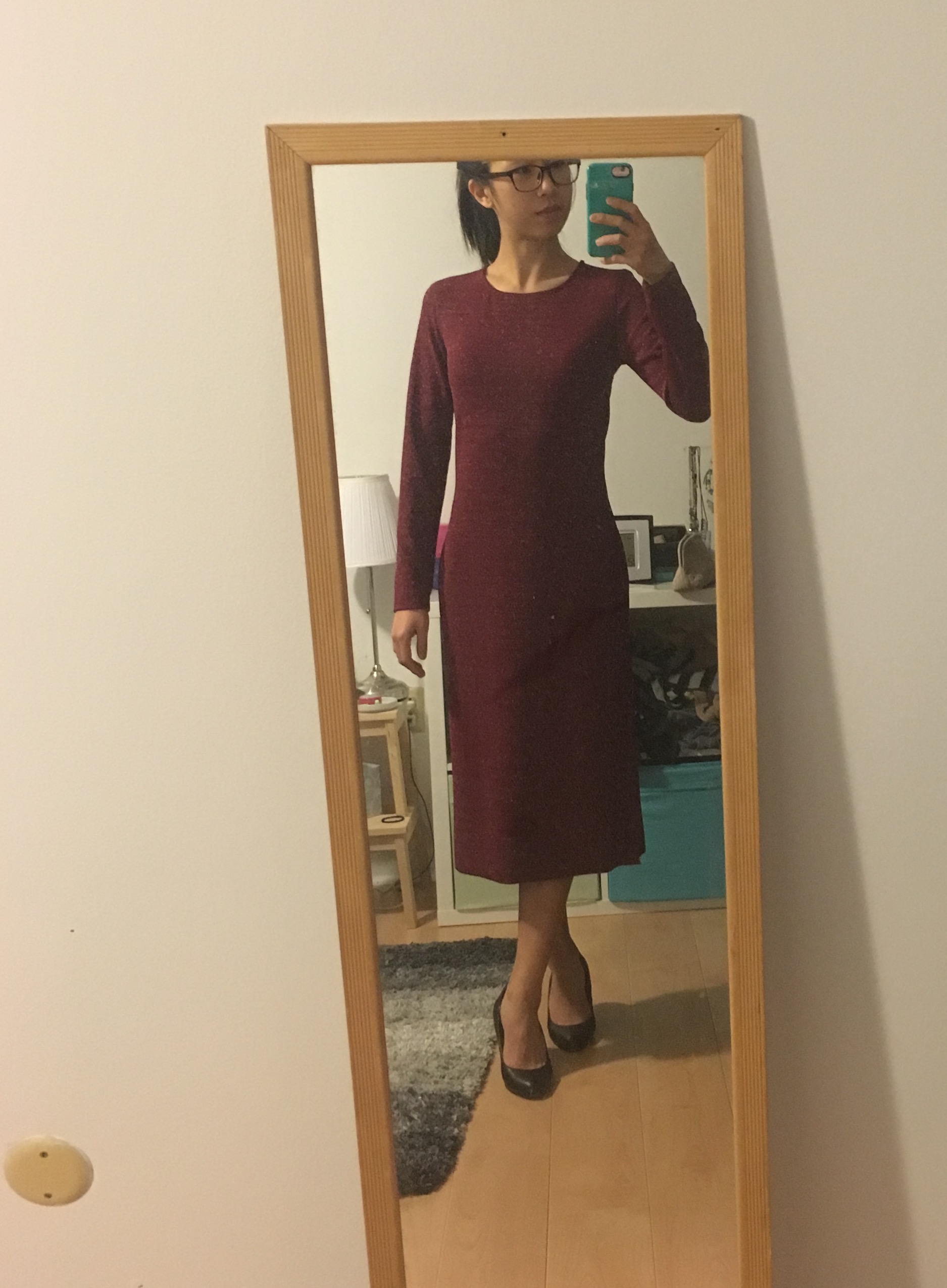 Pattern: 🌕🌕🌕🌕🌕 (4/5)
Completed Garment: 🌕🌕🌕🌕🌕 (5/5)
Size: US size 8
View: View B
Overall:

Not sure where I think I'm going with this sparkly dress but I love it!
在另外一個版型的封面看到一件亮亮的衣服很好看
後來在荷蘭的時候剛好走來走去看到一家布店
進去之後看到這個紅色亮亮布超級喜歡
這個 m6886 以前是做了一次可是沒有成功
這次做的我很喜歡!
I saw a Holiday McCall's patterns round up on a few blogs and came noticed the sample on the McCall's 7999, a beautiful sparkly dress with a side slit. I had to have it! I knew I was going to use my McCall's 6886 pattern, which I've had in my stash for a while but hadn't successfully made a garment from. All that was left was finding the perfect sparkly fabric.
Fabric
I was walking around Rotterdam during my Thanksgiving Netherlands trip and found myself standing next to a fabric store. Obviously, I had to go inside.
This red sparkly stretch fabric was draped on a dressform. The fabric also came in a few other colors, but the red sparkles was just too amazing to pass up.
Pattern + Construction
This is McCall's 6886 View B with a side slit. For the side slit, I just stopped sewing where I wanted the slit to start and then top stitched the seam allowance down.
I used a stretch stitch for basically all of the construction. I didn't even bother using a twin needle because of my last fail with the twin needle when making the Hey June Durango Tank. I had originally planned on making everythign on the serger but then I wasn't sure how I was going to deal with the slit. I trimmed some of the seams down with pinking shears, but honestly, it doesn't really seem like the fabric is going to unravel. I also didn't hem the dress.
I was skeptical about the neckline construction, which was just turning over the edge twice and stitching it down. I did it anyway because I couldn't really decide how else to finish the neckline. I actually think the result looks way better than expected. I had been debating between the stretch stitch vs zigzagging and after a few tests I decided the zigzag looked too homemade.
Summary
Start date: December 7, 2019
Finish date: December 10, 2019
Pattern: McCall's 6886
Fabric: Sparkle stretch from Rotterdam
Notes for next time
This was a super fast make so I definitely plan to make more. I think the main problem for me is still hemming knits! I need to figure out how to make the hem not look like crap!