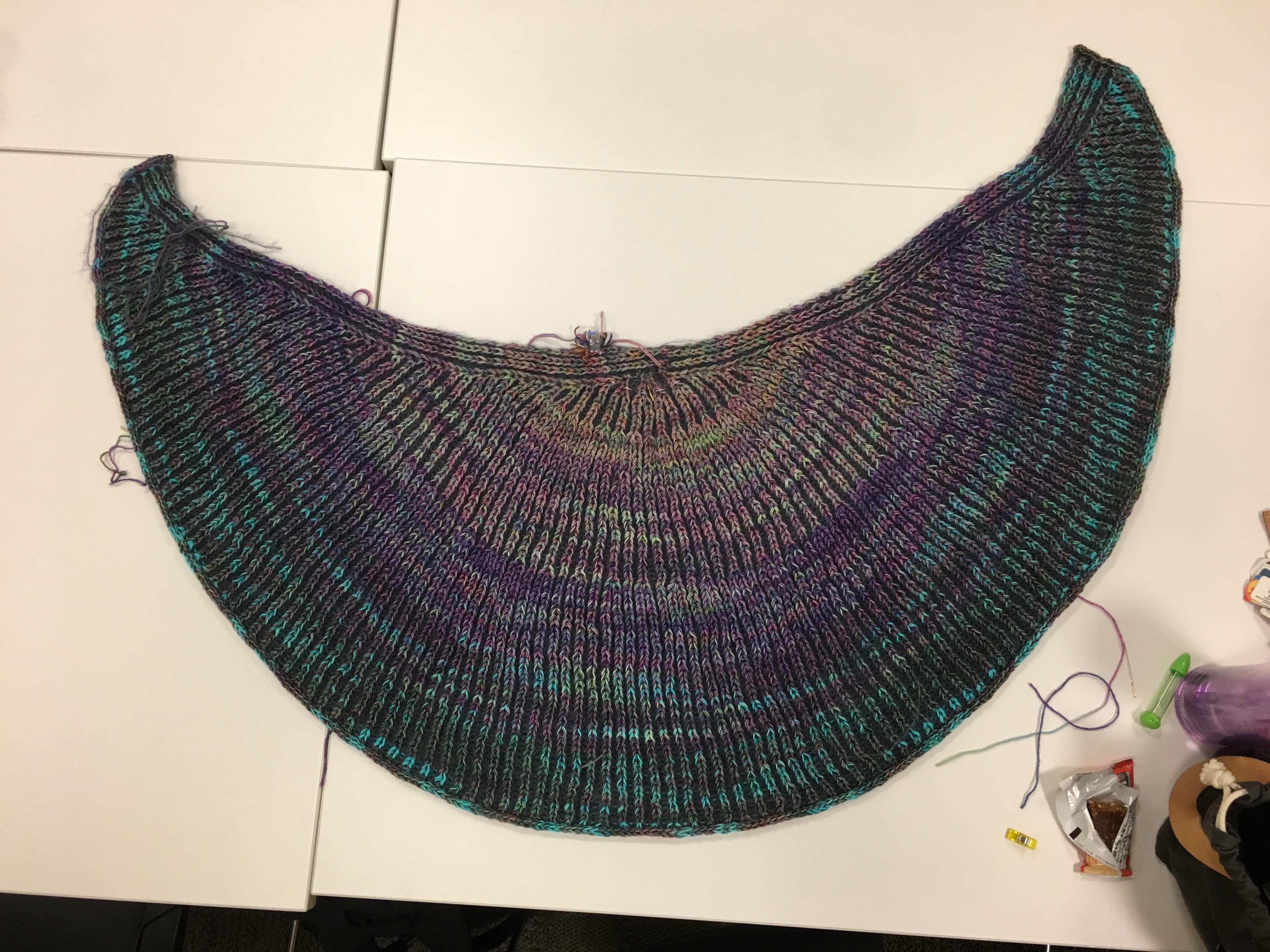 做了一件披肩!
我以前看 knitters 很愛打披肩覺得很奇怪
披肩好像是老太婆穿的
可是我去 barcelona 看到這件披肩太美了
只好自己也做一件
我覺得我顏色選得還蠻好看的
完成品很好看

When I was in Barcelona in May, I visited a shop called All You Knit is Love. I bought some yarn there, but also discovered the flowiest and drapiest shawl while I was looking at all the shop samples. Ok, so I never really understood the point of shawls, but this one was just so pretty I became quickly obsessed with it. I finally gave in and bought the yarn in June.
Now that's complete and I've had approximately one week to wear it, I mostly still don't get the point of shawls. But I get why people like knitting them – you don't really have to worry about it fitting and it can be so pretty! I'm going to try to not knit any more shawls. I have too many things on my knitting list anyway.
This is how I did the color changes:
A: Woodstock
B: Alberta Art
C: Vancouver
Rows 1-15 - AA
Rows 15-40 - AB
Rows 40-69 - BB
Rows 70-? - BC
Rows ?-? - CC
Apparently my notes are less complete than I remembered.
Due to poor planning, I ran out of the last color (Vancouver) as I was binding off. I ended up buying another skein of the color, for making the tassels.
I hadn't originally planned on making the tassels since the version I saw at All You Knit is Love didn't have them. But my mom thought that the edge of the shawl didn't look "complete" and thought finishing it with tassels would look better. For the tassels, I did 20 strands, 10 of vancouver, and 5 each (ish) of the first two colors. In hindsight, I should've cut the tassels longer and then trimmed them after tying them on. Live and learn I guess…
I wasn't sure if the colors were going to work when the stitches were still all bunched together on the circular needles. But when they're all spread apart, it's gorgeous. I love the final result.
Summary:
Yarn: Knit Picks Hawthorne Fingering Multi in Woodstock, Alberta Arts and Vancouver and Knit Picks Aloft in Carbon (total: about $57)
Start: June 29, 2019
Finish: September 25, 2019 bind off. Blocked and added tassels and finished on December 25, 2019
Pattern: Melted Mirage
Needles: US Size 8
First time… knitting brioche!