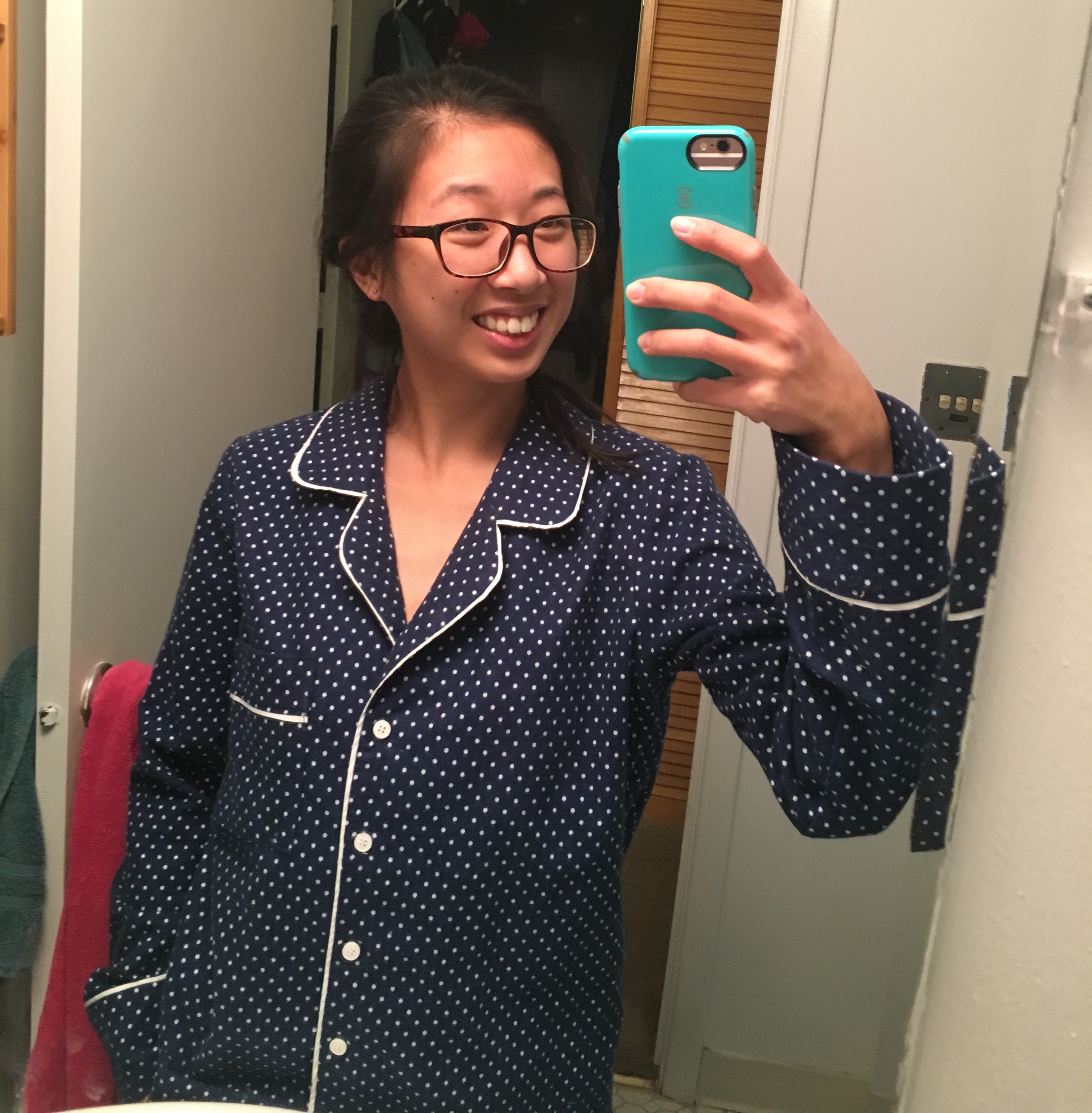 Pattern: 🌕🌕🌕🌕🌕 (4/5)
Completed Garment: 🌕🌕🌕🌕🌕 (5/5)
Size: 6
View: View A
Overall:

They are GREAT. LOVE THEM!
第一套衣做完以後天氣就開始冷了
在家裡穿短褲短袖實在是太冷了
只好再做一套睡衣!
這一套適用 flannel 做的
穿起來又好看又很暖
Soon after I finished my first Carolyn Pajamas , it got too cold to wear them in my apartment. I was bummed about it because they were so cute and it was delightful to lounge around in them! Anyway, after my failed Hey June Durango Tank, I decided to make something I really wanted to wear, which just so happened to be these pajamas!
Fabric
This is the Robert Kaufman Cozy Flannel, which I ordered from Fabric.com.
After I finished cutting everything out, I was listening to the Sew & Tell podcast about cozy sewing and they talked about washing flannel multiple times to fully preshrink it. I definitely did not do that. Anyway, I'm a little terrified I will accidentally shrink it.
Pattern + Construction
Again, the Carolyn Pajamas from Closet Case Patterns. I cut the same size as last time, a size 6, and made view A.
Instructions are super clear. The only missing thing is the finish the shoulder seam, but luckily I learned my lesson last time! I also did not turn under the facing since the fabric was pretty thick and I didn't want to add too much bulk there. I just serged it, which was super easy and fast.
For the interfacing, I used this woven facing from Joann's instead of the usual stuff I buy that feels like I could easily rip apart. Eh, I don't know if one is better than the other. I just wanted to try something different.
I had a hard time figuring out the front/back of the shorts version of the pajamas I made so this time I made sure to add the "THIS IS THE BACK" label from Kylie and the Machine, a gift from my dear college friend.
I sewed the buttons on using a sewing machine. It's the best!!! I will never sew a button on by hand. The button holes are a little tight but it works.
Summary
Start date: November 1, 2019
Finish date: December 6, 2019
Pattern: Carolyn Pajamas from Closet Case Patterns!
Fabric: 5 yds at $5.68/yard = $28.40
Notions: Waistband elastic from stash and white shirt buttons from Joann's ($1.99)
I'm delighted with how the pajamas look! They're so cozy and I feel so luxurious lounging around in a matching pajama set. I want to make some some sleep tank tops to wear under this and the other carolyn pajamas as well.