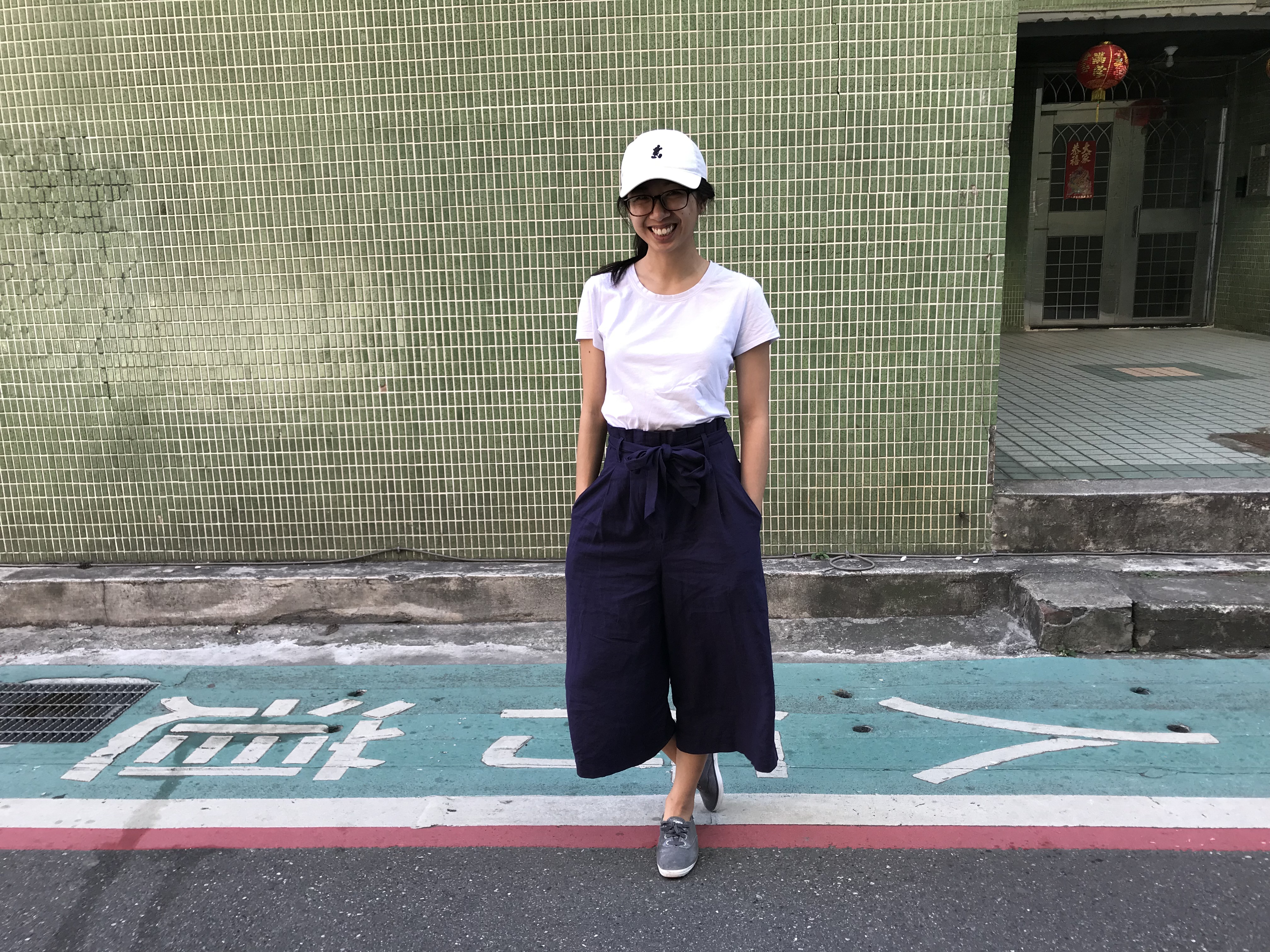 Pattern: 🌕🌕🌕🌕🌑 (4/5)
Completed Garment: 🌕🌕🌕🌕🌕 (5/5)
Size: Size 8
View: View D leg shape + View B waist
Overall:

Finished just in time to wear them for my birthday party!
我又做了一件高腰寬腿褲
做出來的褲子還蠻成功的
不過除了白色的 t-shirt
我還不太確定上衣可以配什麼東西
這個褲子的樣式現在好像很流行
我覺得四個 view 都很流行的樣子
下次我想做褲筒比較窄的 view D!
Pattern
These pants are a slightly modified McCall's 7726. I used the wide-legged view (D) but used the paper-bag waist construction from the tapered leg views (B/C).
I cut a size 8 based on the finished garment measurements. My actual body measurements would've put me in a size 12, but it seems like I'm finally starting to learn my lessons about choosing sizes and decided to pick based on the finished garment measurements instead!
Construction
I mostly followed Brittany J. Jones' youtube sew-along. The main things I changed are:
Cropped the wide-legged pants to culottes.
Used the paper-bag waist construction instead of the construction method for view D, which sews down the pleats.
Added a fly shield to the front zipper. I followed the instructions for the zipper from Brittany J. Jones' and the pattern instructions. I added the fly shield buy serging the sides of a piece of scrap fabric and then following the fly front instructions for the Closet Case Patterns Sasha Trousers.
Fabric
I got this navy linen from Joann's. Nothing too special. I just wanted something simple to make a simple pair of pants! The fabric seems to have loosened/grown a little since I first finished the garment. I had thought that the waist a bit tight, but after wearing them a couple times without washing, they definitely feel looser.
Summary
Start date: Sept. 1, 2019
Finish date: Sept. 16, 2019
Pattern: McCall's 7726
Fabric: Navy linen from Joann's
Notes for next time
I want to make this in the tapered silhouette as well! I don't have many different notes for next time. I'm happy with the adjustments I made for this version.
I also really want to make these pants (with the wide leg) out of some heavier winter weight fabric. I think it'll be super cute.