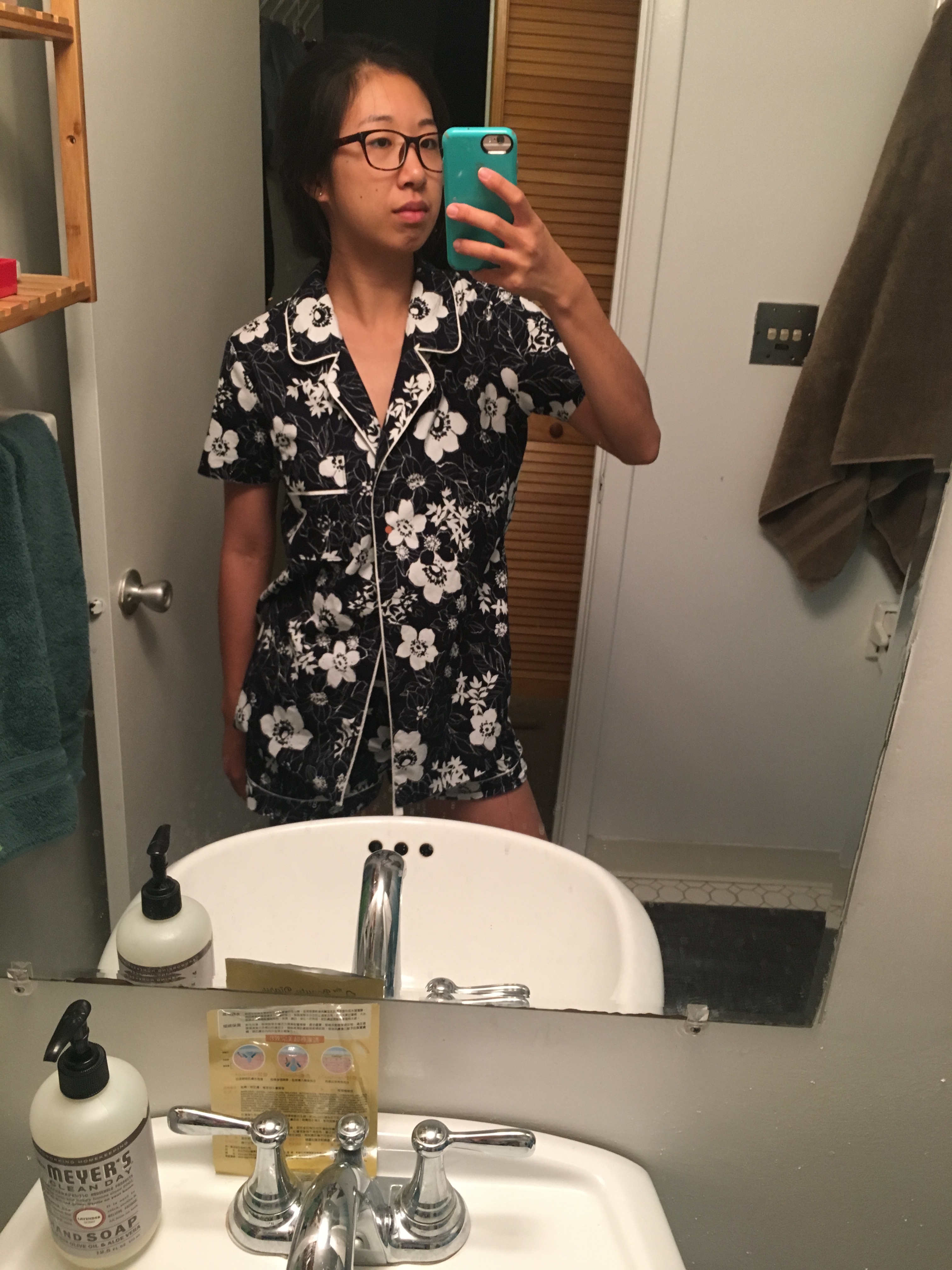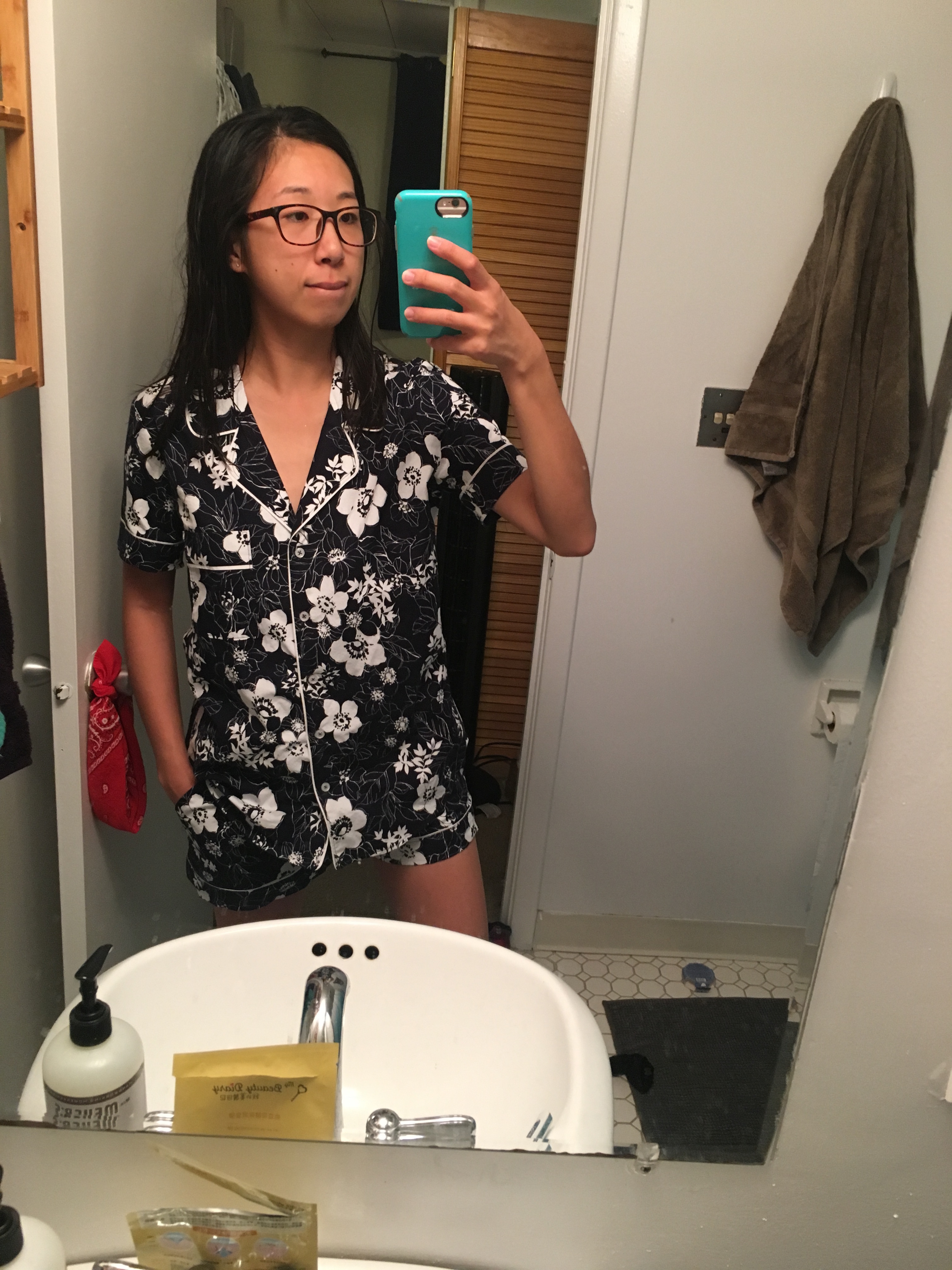 Terrible photos. I'll take better ones when I'm back in Pittsburgh. I just want to have all of these posts done before 2019 ends!
Pattern: 🌕🌕🌕🌕🌕 (5/5)
Completed Garment: 🌕🌕🌕🌕🌕 (5/5)
Size: 6
View: C
Overall:

Not the most comfortable sleepwear but super cute!
我平常穿的睡衣很簡單 可是這個睡衣套裝真的太可愛了 我在 instagram 上看到一大堆 versions 終於決定自己也一定要做一套 這是我第一次縫領子,縫的還蠻爛的 下次想用這個版型做一件穿出去的上衣
Fabric
One of my favorite people in Pittsburgh went on vacation in Thailand and brought back this fabric for me! The black and white florals are so pretty and I wasn't sure what to do with it. I thought about making a dress, but couldn't decide what kind of a dress to do. Anyway, I had the Carolyn pajama pattern and decided to try to make some fancy pajamas with the fabric! I didn't have enough, so I used a different fabric for the under collar and for the waistband. I think if I had tried harder to figure out which pieces wouldn't show from the outside, I could've squeezed the waistband out of the main fabric. Oh well!
Pattern
This, of course, is the Closet Case Patterns Carolyn Pajamas. I've seen so many cute versions of this pattern and have always wanted a set of fancy pajamas. I got this pattern during the Thanksgiving sale of 2018, which is apparently the one time a year that I buy all the patterns I want. Anyway, the pattern seemed really intimidating since I've never sewn anything with collars.
The instructions were super clear. The only thing that I was confused by was the collar. This was also my first ever collar! The instructions are missing the portion to finish the shoulder seam. I ended up finish that seam after I'd already sewn the collar on so it doesn't look great. I ended up finding this tutorial, which was super helpful. The bottom side of the collar doesn't look so hot, but as it turns out, I'm less of a perfectionist than I thought I was.
The shorts portion of the pattern was very straight forward. The faux fly front felt excessive and also barely visible in my floral fabric but I followed the instructions to make them anyway. I wish I hadn't forgotten to put one of my "This is the back" tags to the back of the shorts because I keep putting them on backwards!
Construction
I added flat piping, which was a LOT of effort but also totally worth it. I cut my own piping using the instructions from Allie's instagram stories.
I did a terrible job with applying the fusible interfacing. There is bubbling on the collar, which doesn't look great but also I have no idea how to fix it. Oh well… I don't think anyone else will notice. I still don't really understand how to pick interfacing properly. I usually just buy whatever is the first fusible interfacing that I see at Joann that says whatever weight the project asks for… Maybe it's time for me to look into interfacings a little more.
Summary
Shorts dates: April 1 - May 5, 2019
Shirt dates: August 30 - September 2, 2019 and then did the buttons + buttonholes on 9/16
Pattern: Carolyn Pajamas from Closet Case Patterns!
Fabric: Floral cotton from Thailand
First Time… sewing a collar and adding piping to a garment!
Overall, I'm happy with how this turned out! It's pretty cute and not at all practical. I've been wearing it to lounge around and then changing to different clothes for sleeping.
Notes for next time
I really want to make a non-pajama shirt from this pattern with pointy collars. When I do that, I plan to add a back yoke. Very ambitious thoughts. We'll see if and when this happens!