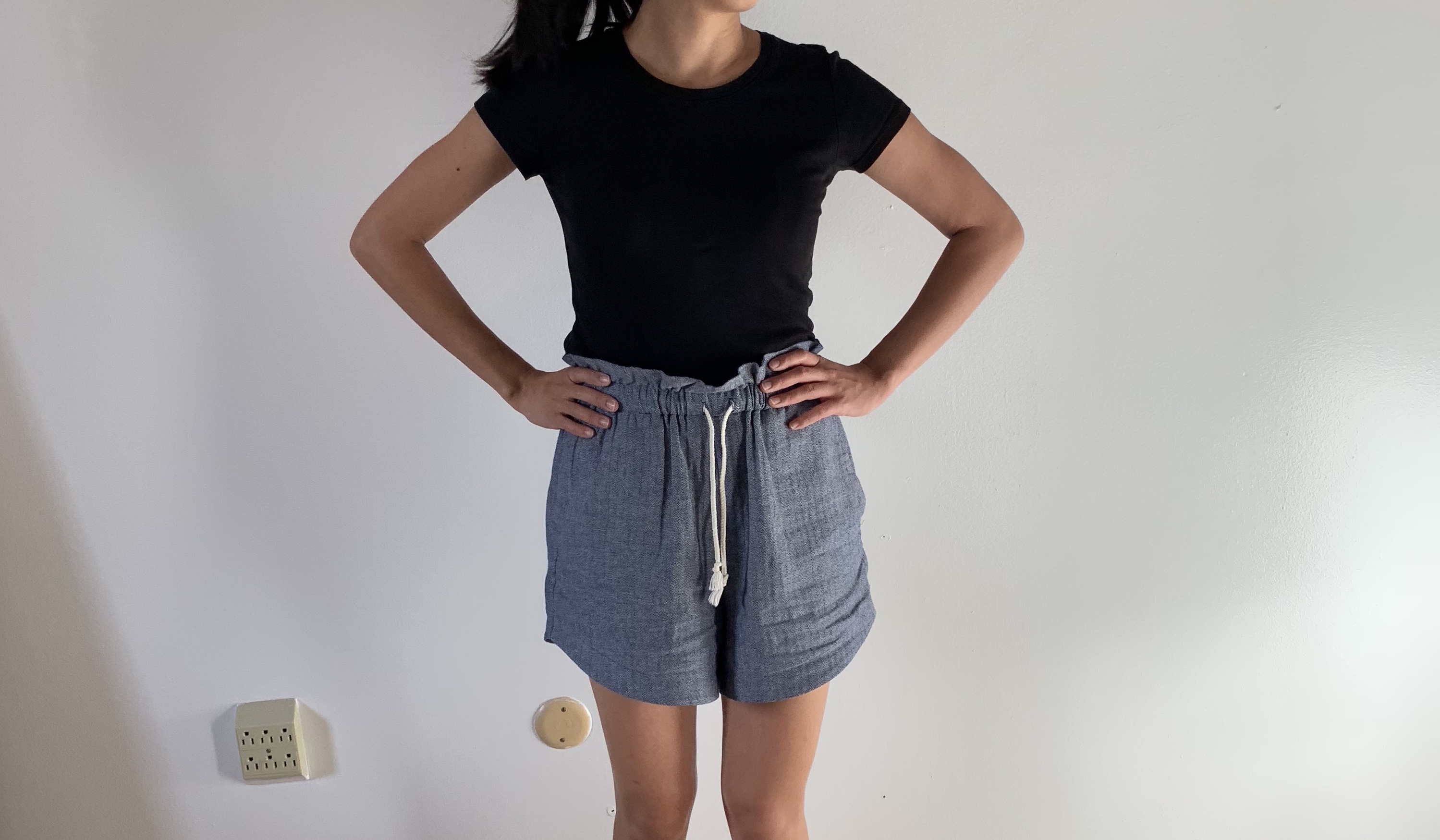 Pattern: 🌕🌕🌕🌕🌑 (4/5)
Completed Garment: 🌕🌕🌑🌑🌑 (2/5)
Size: 10
兩年前感恩節在匹茲堡的一家布店買了這塊布
去年夏天想把它變成一件短褲
後來暑假太忙,短褲還沒做出來就已經秋天了
上次剪布的時候剛好有時間就順便把這件短褲剪出來
做出來的成品覺得沒什麼特別的,還蠻無聊的
I had planned to make these shorts last summer but ended up not getting around to printing out the pattern till late August. By then, I was ready to work on a different project, aka my failed Lander Shorts that has not yet been properly documented anywhere. These shorts are fine. I like the paperbag waist but overall, the shape of the finished shorts just seem like it's too big. It's longer than I would normally choose for shorts and also baggier than I usually go for.
Pattern + Construction
I didn't have any issues with the pattern or construction. I did notice that there were some inconsistencies with the pattern saying to use a certain seam allowance (I think 5/8"?) unless otherwise specified but from what I could tell, all the seam allowances were sewn at the "otherwise specified" amount and not 5/8". That was a minor thing and I didn't have any real issues with the pattern.
Fabric
I got this chambray from the remnants bin at Firecracker Fabrics during Thanksgiving 2017. It frayed super easily, which was kinda annoying, but I didn't really have any issues with the fabric.
Summary
Start date: June 23, 2019
Finish date: July 27, 2019
Pattern: Spring Shorts from Peppermint Mag Sewing School
Fabric: Chambray from Firecracker Fabrics
Notions: Elastic for waistband and cord for drawstring, both from Joann Fabrics
Last Words…
I don't particularly love how these shorts look. They're fine. I don't feel super cool and don't want to tell everyone that I made these super cute shorts. But they are super comfy and I wear them at least once a week (if not more)! What else am I going to wear on a Sunday if not super comfy shorts?