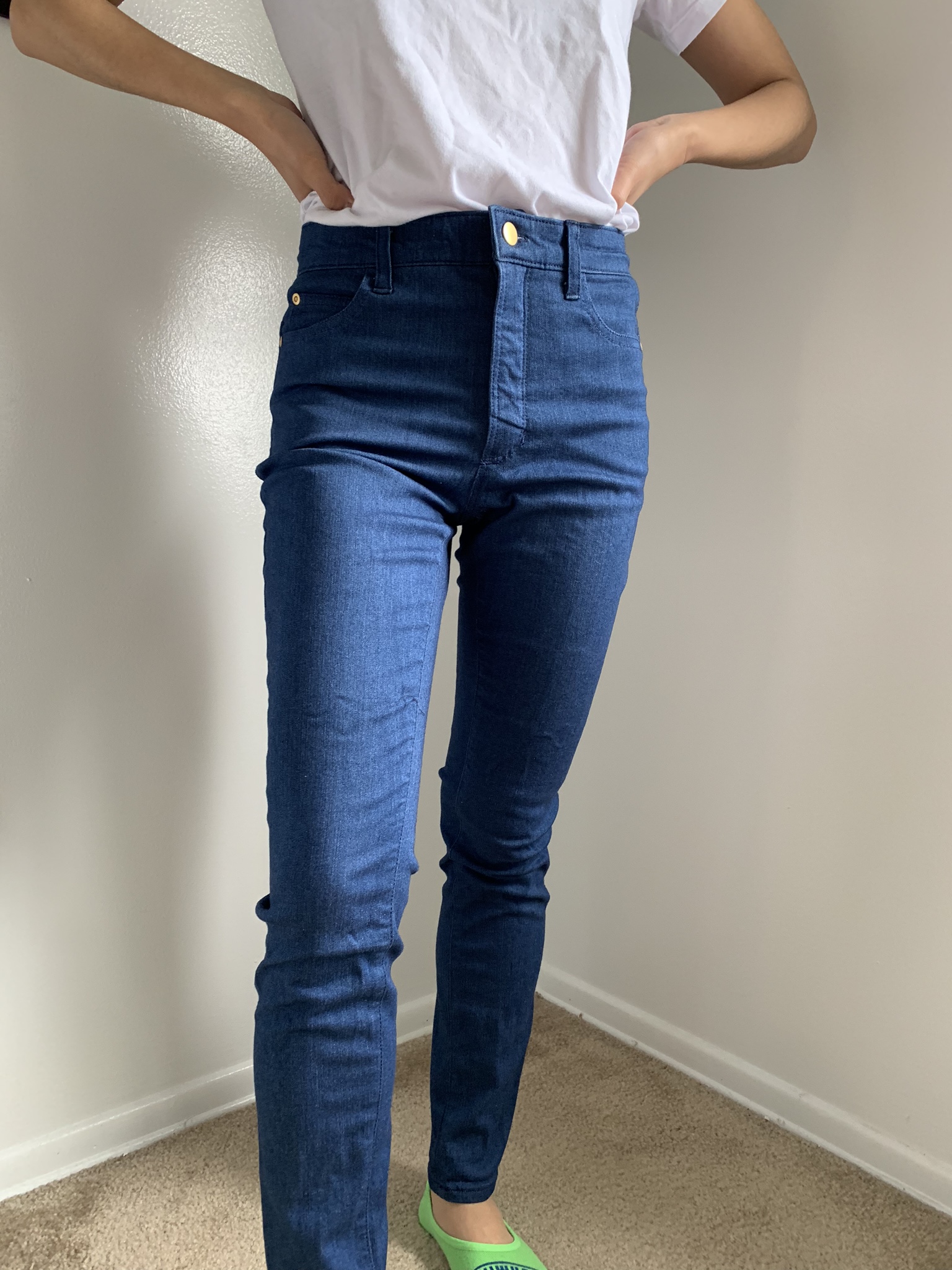 Pattern: 🌕🌕🌕🌕🌕 (5/5)
Completed Garment: 🌕🌑🌑🌑🌑 (1/5)
Size: 6
View: B (high rise, skinny legs)
Overall: feeling accomplished!

哇! 我竟然自己做了一件牛仔褲!
布料選的不太好,好像穿了幾個小時牛仔布就感覺沒彈性了。
還有,我覺得大小選的不對。下次大概會用小一號的 pattern 。
雖然對做出來的褲子不是非常滿意,我還是感覺很有成就感!
真的沒想到自己可以親手做出這件褲子!
WOW! I can't believe I MADE JEANS! I bought the fabric and pattern all the way back in 2017 with the goal of making jeans and was too scared to do it. Last Thanksgiving (2018) during my craft shopping spree, I bought the jeans notions kit from La Mercerie and purchased the Closet Case Patterns jeans making course as a motivation to just do it.
I had all of the pieces cut out and ready to go early back in January and promptly ignored this project for the next couple months. Then in April, Y and I went to an estate sale one early Sunday morning and I found myself in the basement, where there were buckets full of fabric and a sewing machine on the ground. It was a vintage Viking and it was red and SO pretty. An older man walked by, saw me looking at it, and helped me find all of the other missing parts and test to see if it still worked. It did! It was $40 and that was all the cash I had on me. It was perfect! Having a second machine dedicated to top stitching was definitely super helpful for making jeans!
OK, back to the jeans. I pretty much followed the instructions exactly. I baste fitted (waistband and all) in the very beginning and before topstitching the inseam. I chose to use a non-contrasting topstitching thread because I wasn't convinced I would be able to do a good job topstitching. Now that I've done this one, I do think my topstitching isn't perfect, but also I don't think it's bad enough I would notice even with a contrasting color.
Adjustments:
Take in the hip by 1/2" on each side.
Let out 1/4" on both seams at the calves. I guess I have muscular calves.
Otherwise I made no adjustment. In fact I didn't even leave the pockets till the end as recommended. I just sewed them where the pattern suggested and am fairly happy the placement.
The only thing that really annoyed me is how the pocket stay makes an imprint on the fly front. This is probably because my denim is relatively thin. Either way, I really hate how it looks and I also don't really care for the extra fabric on my tummy, so I will probably make regular pockets in the future.
I've had the jeans completed for a while now and have had many opportunities to wear them. I'm sad to say that they aren't one of my faves and I actually very rarely wear them. The denim I used wasn't the best quality and get baggy just moments after I put them on and don't recover unless I throw them in the wash.
Summary:
Start date: Jan 17, 2019 (taped pattern)
Finish date: April 26, 2019
Pattern: Ginger Jeans from Closet Case Patterns
Fabric: Stretch denim from Jo-Ann $23.94
Notions: Fly front kit form La Mercerie and topstitching thread
First time… sewing jeans!
Conclusion: While I'm not thrilled about how these jeans fit, I'm still really excited that I MADE JEANS!
Notes for next time:
Use better denim!
Use contrasting thread
Use regular pocket bags instead of the pocket stay
Maybe buy extra fabric to make "shorts" version first to test fit…
Maybe size down???